You don't need to live by the ocean to have a coastal family room that feels fresh and inviting. In fact, the relaxed style can work anywhere, even in a small city living room! Want to know how to incorporate bits of coastal decor into your own family room layout? Start by visualizing the main components of your favorite beaches and oceans.
Most of those seaside retreats are punctuated with sand, blue skies, and sunrays. You can bring versions of those things into your coastal digs with strategic furniture selection. Think light-filled spaces with pieces inspired by nature and organic textures that create layers. Jute, sisal, rattan, wood, and capiz shell are all key ingredients here; don't be afraid to bring the outdoors in, even with your rug choices. Here are eight coastal family room ideas to get you more familiar with the seaside spirit.
1. Make use of natural light.
An easy-breezy feel is a key feature in a coastal family room. So make the most of your natural light; don't cover it with heavy curtains. Incorporate a whitewashed color scheme, too. Take the creamy tones of this room from the Lily Pad Cottage. They create a great beach-hut vibe when coupled with all that sun.
2. Drop in blue hues.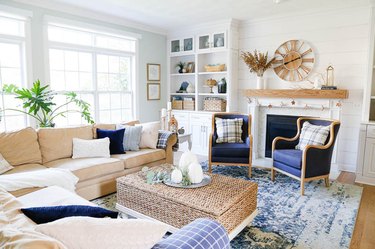 It might seem obvious to add blue hues to your coastal family room, and that's for good reason. This color just reminds you of the seaside. Navy tones, as well as greens and browns, will bring the natural world inside and make you feel more relaxed. Add a leafy plant to bring even odd-shaped rooms to life. This Sand and Sisal design got the balance just right.
3. Combine contemporary with coastal.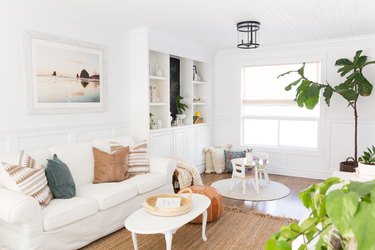 4. Champion reclaimed materials.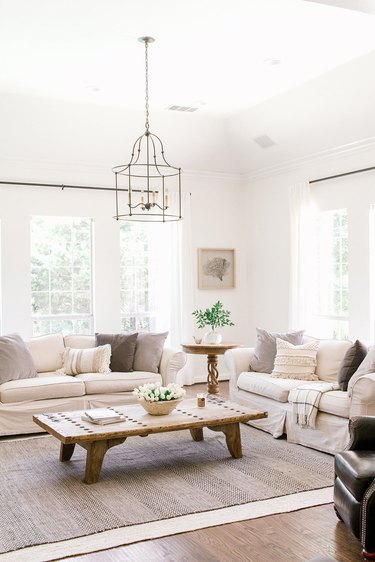 Materials like wood, linen, and metal are perfect for adding some coastal charm to your abode. And if you choose a reclaimed material instead of something new, even better! The Farmhouse Living team used an alabaster paint color as their base, then layered in a reclaimed wood coffee table and jute rug. Their iron ceiling light fixture finishes everything nicely.
5. Make way for texture.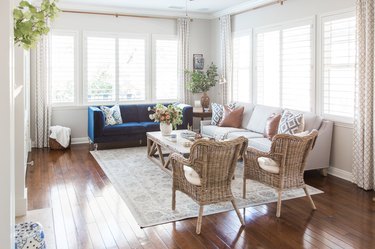 Natural woven textures will add a beachcomber feel to family rooms that have midcentury bones. Try layering rugs, adding greenery, and incorporating rattan to make it feel like the sandy dunes are right inside your home. Even smaller spaces can get in on the action and still have the perfect amount of feng shui.
6. Embrace rustic features.
If you're lucky enough to have exposed wooden beams in your family room, embrace them for a coastal touch. The planks in this design by Studio McGee look a lot like rustic driftwood. Consequently, they add a laid-back beachy charm. Feel free to lean in with a live-edge coffee table, too. It won't feel too heavy if you go for chairs upholstered in a light color and simple table accessories.
7. Bring the beach vibes.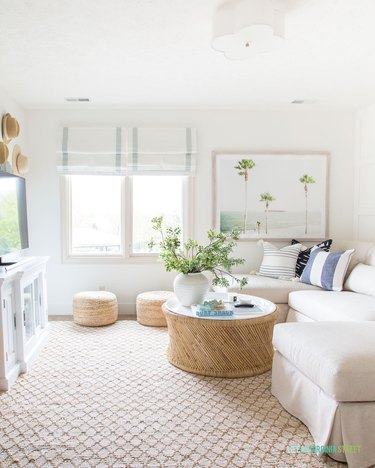 Too far from the coastline to actually see a sea view? Try adding beachy artwork to your room instead. We especially love this fresh take from Life on Virginia Street — the palm tree print and rattan details work beautifully with the nautical window dressings and minimal light. Throw a plant on your table, and you're done.
8. Say yes to seashells.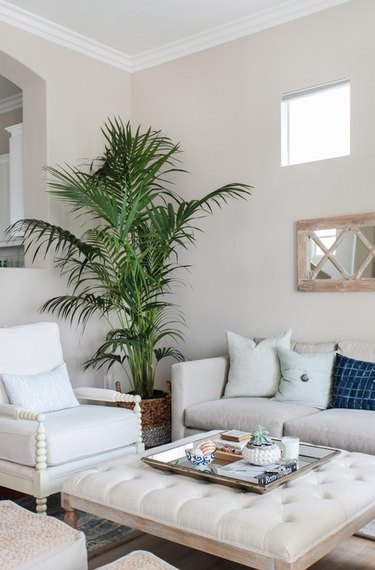 Listen, seashells belong somewhere in the room if you're going coastal. Go ahead and commit fully. They don't have to be cheesy, either. For example, Marissa Cramer kept it chic. There are subtle shell hints on the coffee table, but they don't overwhelm the tiny family room. And the large palm in the corner makes everything that much more lively. The mirror makes the room seem more open overall.