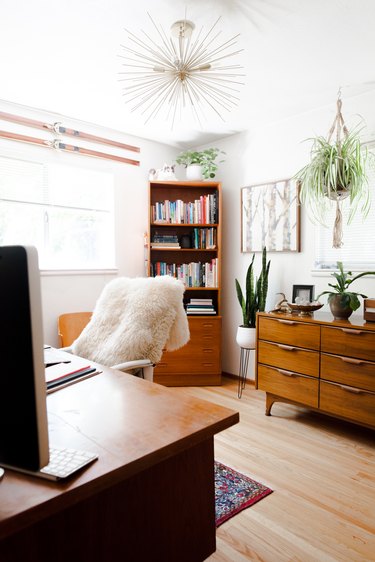 This year, the coronavirus pandemic has caused many of us to create quarantine-friendly offices in our homes. Since a lot of people are still working remotely (and will be for the foreseeable future), it's important that you take the time to curate a workspace that makes you feel comfortable and productive. To help with this, we spoke with HeyJune, an energy consultant, tarot reader, and business strategist, about the best work-from-home space for each star sign (also known as the sun sign or main zodiac sign).
For each sign, HeyJune started by pulling three cards from her Rider-Waite tarot deck. "They come together to create a story as far as what this particular sign might have to deal with in the upcoming future and how they could prepare their home to be more conducive to that energy," HeyJune tells Hunker. She adds that this is a two-part process: she can give the tarot reading, but it's up to you to do the work at home.
Aries (March 21 - April 19)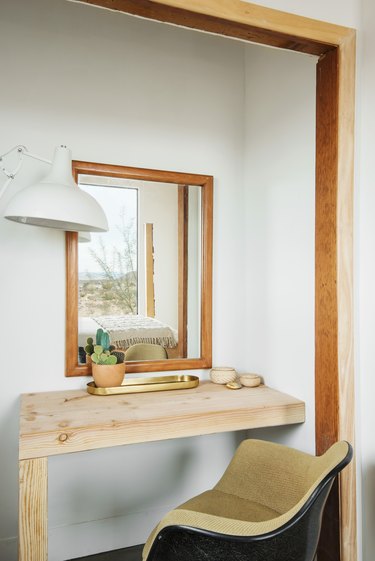 Cards: Nine of Wands, Six of Wands, Seven of Pentacles
The themes of security and protection come up for Aries. "Making their home a fortress but, at the same time, without isolation, [will be important for Aries going forward]," she says. For the office space specifically, HeyJune recommends succulent plants and a desk mirror (to reflect negative energy). A minimalist, nature-themed, or West Coast vibe would be ideal for Aries at this time.
Taurus (April 20 - May 20)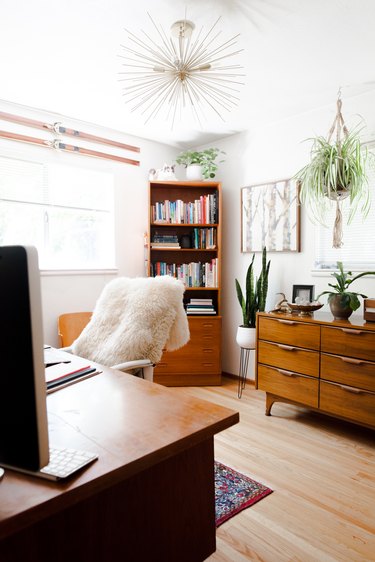 Cards: Five of Wands, The Chariot, The Magician
For Taurus, HeyJune says "the theme of decisiveness is huge." She recommends "a lot of handmade art, like ceramics." Taurus folks can also "display their trophies and certificates ... If they've gotten accolades, I would put that around their desk." With this idea of success in mind, HeyJune recommends gold elements as well.
Gemini (May 21 - June 20)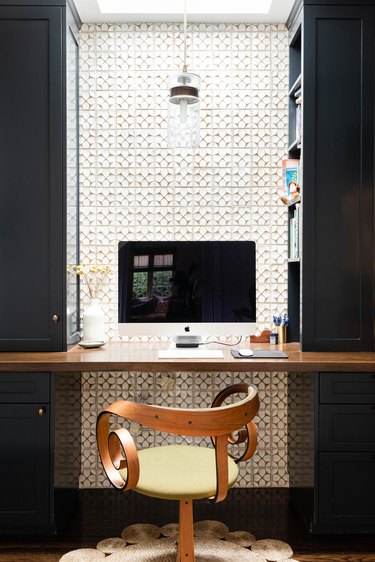 Cards: Two of Pentacles, Two of Wands, Ace of Cups
For Gemini, the theme is balance. According to HeyJune, this can manifest as art and decor that emphasizes symmetry. "For every piece of [decor], get another piece so that you can put them on opposite sides of the room," she says, adding that creating a space to promote teamwork is especially important. This can involve you investing in a speaker phone, guest chairs (for when it's safe to have people over), or a space where you feel comfortable having video calls.
Cancer (June 21 - July 22)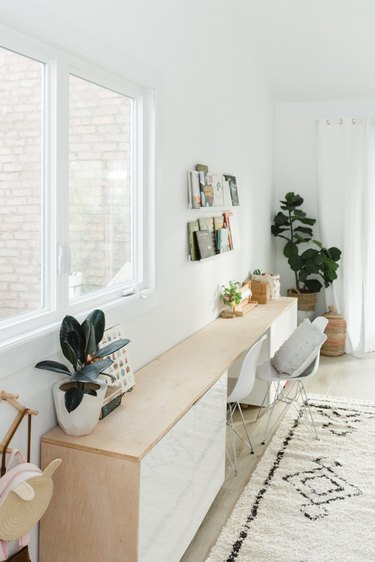 Cards: Six of Cups, Three of Pentacles, The High Priestess
Cancers should pay close attention to the ideas of harmony and family — "whatever they can do to prevent overthinking," says HeyJune. She recommends calming art or even considering a meditation space. "It's almost like anyone can walk into the room and feel immediately calm," says HeyJune. Items to consider for a home office would be candles and a foot rest, as well as meditation pillows and a yoga mat for relaxation breaks.
Leo (July 23 - August 22)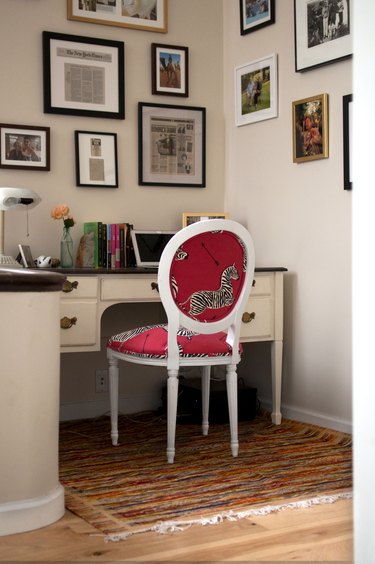 Ca**rds:** Nine of Pentacles, The Fool, Eight of Cups
In the upcoming weeks, Leos should focus on manifesting their dreams. "I would encourage them to have art that reminds them of their childhood dreams," HeyJune says. "A tip is to make their home a 3D vision board," she states. "So from room to room, I would try to put something there that reminds them of what it is they want to materialize in their life."
Virgo (August 23 - September 22)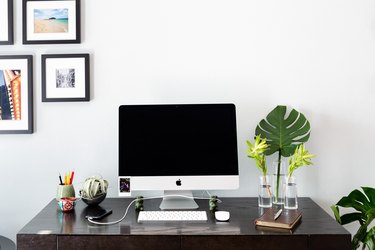 Cards: The Moon, Justice, Wheel of Fortune
At the moment, Virgos should be focusing on personal growth. "They need to create an environment that reminds them that they have to release things that they can't control," HeyJune advises. "A tip for their home is to have a lot of flowers and plants because they remind you that you can't control [everything] ... All things live and at some point, die, but [plants] also grow flowers and bloom." A Virgo could also consider adding a stress ball and deck of tarot or oracle cards to their desk space.
Libra (September 23 - October 22)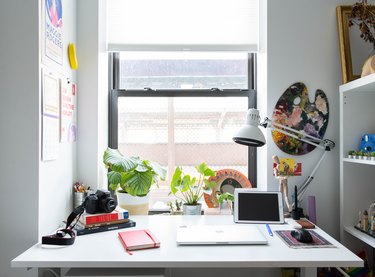 Cards: The Emperor, Ace of Swords, The High Priestess
"I didn't expect this for Libra, but clarity and executive power are going to be really important," says HeyJune. "They're going to have to be in an environment that kind of forces them to make decisions and be executive." In your work-from-home space, this can translate into upgrading your furniture and decor with neutral tones that calm your brain.
"I would also invest in a really good arm chair," she adds. Libras should also consider using a whiteboard, planner, and journals that will help them stay on track. HeyJune specifically recommends an amethyst crystal to promote clear-thinking.
Scorpio (October 23 - November 21)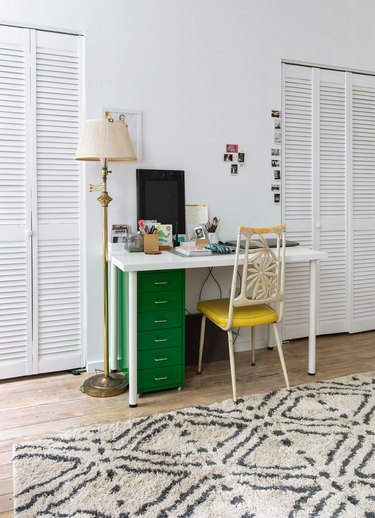 Cards: Four of Wands, Six of Cups, The Chariot
"Their big themes — kind of like Cancer, but a little bit different — are harmony and peace," says HeyJune. "So really invest in an update of pictures of family, friends, and pets. Invest in nice frames that hang off the wall."
For harmony in relationships, HeyJune advises that Scorpio put quotes up around the home — especially if they relate to love and relationships. Maintaining a sense of romance is also key, which can involve candles and flowers that are placed around their work-from-home space.
Sagittarius (November 22 - December 21)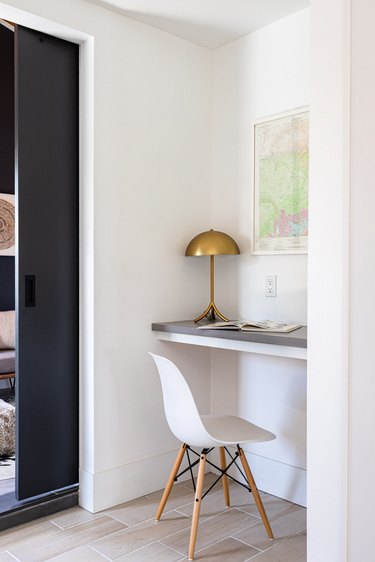 Cards: Six of Swords, The Hanged Man, Death
Sagittarians love new beginnings, so destination- or adventure-themed art would be perfect for their office space. "I think that many Sagittarians are about to enter a completely new chapter of their lives, whether they like it or not," says HeyJune. "I would even get a coffee table book that reminds them of new destinations or books that introduce them to something new, like new food or anything they haven't experienced before."
It's also important for Sagittarians to remember to take breaks. In particular, HeyJune suggests a treadmill or alarm that reminds them to go for a walk.
Capricorn (December 22 - January 19)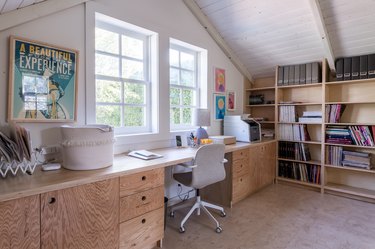 Cards: Ten of Wands, The Star, Five of Wands
"A big thing for Capricorn is light at the end of the tunnel. So, creating a space that evokes hope," HeyJune states, referencing natural light specifically. "Weirdly enough, what I got for them is: don't turn your home into a project." Instead, she recommends that Capricorn looks for items that make their lives easier.
"Maybe even get a coffee maker," she adds. "If they're so used to doing everything hands-on, buy gadgets that will do things for you."
Aquarius (January 20 - February 18)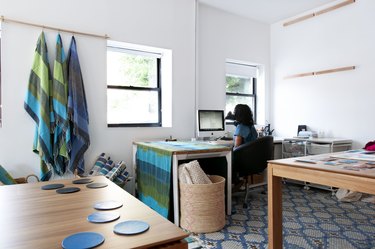 Cards: Knight of Pentacles, The Sun, The Hermit
Aquarius should focus on reflection and introspection as they keep tidy and organized. "They got a lot of mental cards, which means they're going to overthink," says HeyJune. "So for them, I would recommend bright colors and bright light. I would also recommend them to get an essential oil diffuser to help them pull out of that funk." She also advises Aquarius to invest in a quality stereo system to play frequency and meditation music.
Pisces (February 19 - March 20)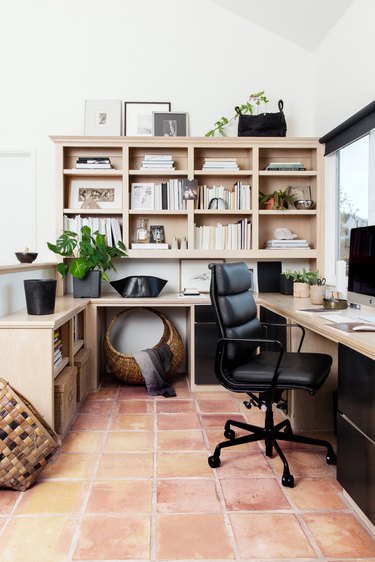 Cards: King of Cups, The Tower, Seven of Cups
Pisces should ensure that they are prepared for when a crisis hits. In other words, they should have emergency kits and contacts, their insurance information, and medical supplies on hand. "I would also have black tourmaline in the office space, by the desk, for protection," states HeyJune. To keep them grounded, Pisces should invest in sturdy materials (like a marble or faux marble desk).
"I think for Pisceans, if the office can look like a home, that's ideal," says HeyJune.