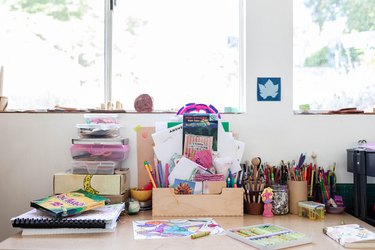 When schools across the U.S. abruptly closed down in March, families hacked remote learning as best they could — parents taking Zoom meetings in the bathroom, kids with iPads "learning" in bed. We've been there, done that. This fall, we know better.
According to a recent survey by online retailer Zulily, roughly three out of four families have already created some kind of dedicated space for kids to do remote learning — and a quarter of moms say they want to make that space more tidy, but also more exciting.
Here are eight ways to do just that, whether your child is six or 16.
1. Pick great task lighting.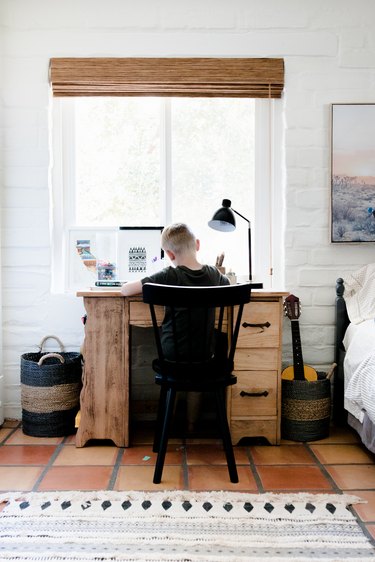 2. Make the dining room table work for everyone.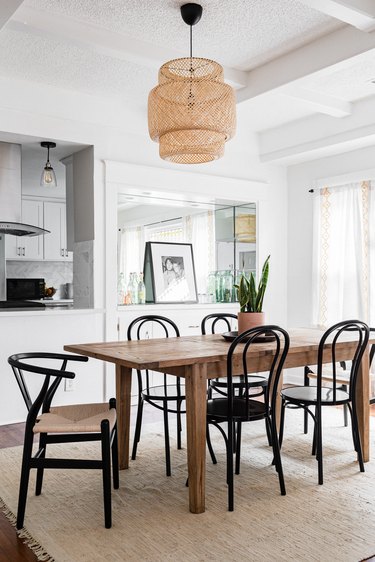 "Don't we always end up at our dining room table?" says Fleckenstein. "When you have multiple online learners, it is important everyone has their own space." She suggests placemats to define space, or trifold presentation boards if you need to create some privacy.
3. Be selective about your seating.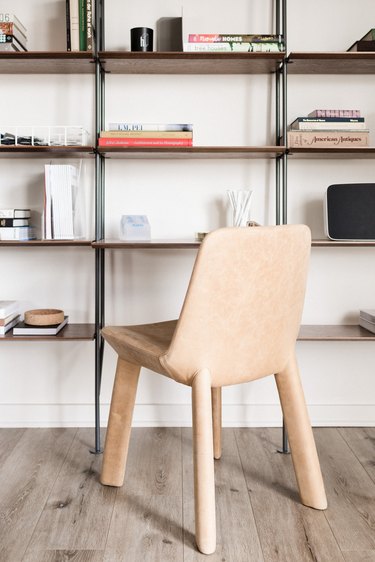 Fleckenstein goes one step further, suggesting you let your child pick out their own chair, in a color they love. "Article has some great plastic resin options in bright colors that are both chic and affordable," she says.
If you have an open floor plan, creating a remote learning workspace (or two!) can be a challenge. But everyone has a corner that's underutilized. You just need to be creative.
A deep console table — around 16 to 18 inches deep — can always double as a work space, if you add an office chair and some lighting. "The back of the sofa or loveseat can also make a good partition," says Ambekar. Even tall plants can be used to define space. Just be sure that the space doesn't face a TV. You want to create a space where kids can focus.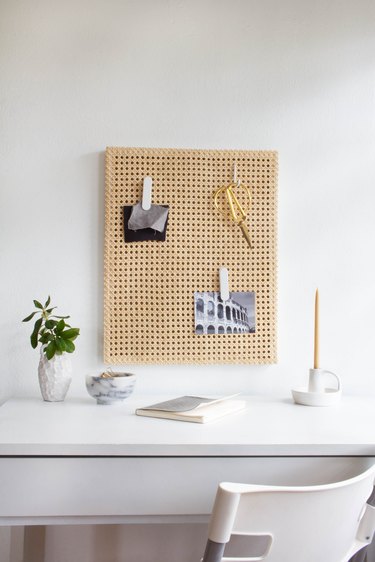 "You want your kids to feel good in their space," Lindsay Reynolds, Zulily shopping expert, tells Hunker. "You can let kids create name tags for their chairs, design the placemats to help define their space at a shared table, or, for older kids, post photos, notes and assignments on a cork board — even in a shared space"
6. Establish a command center
A shared family calendar can do wonders to keep Zoom conflicts to a minimum. And for smaller kids, especially, a big visible wall calendar makes home feel a bit more like school.
"At school, kids have their daily schedules as well as school events to keep them on track and give them something to look forward to," says Reynolds, a mother herself. "Use calendars to create that same sense of anticipation at home."
7. Centralize your supplies
Make paper, pens, and pencils easily accessible to everyone. One well-stocked supply station — ideally on a tray — can make things smoother during "work" hours. Plus you can stow it away each night to clear the visual clutter.
8. Keep the back-to-school spirit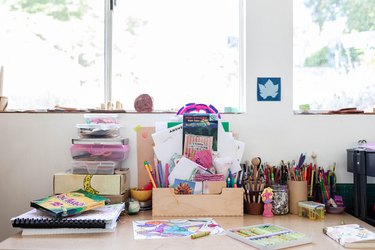 "Back-to-school shopping is a big part of gearing up for learning," says Fleckenstein. Even if you're ordering everything online, you can let them pick out supplies like pencils and folders. "Don't let your child miss out on this just because they aren't returning to the physical school."