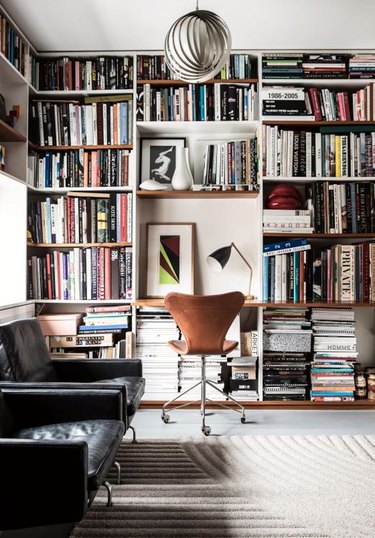 If your home office setup hasn't changed much since everyone went on lockdown in Spring 2020, now's the time to level-up. It's no longer adequate to sit with a laptop on the couch (or, worse, in bed). You need ergonomic seating, noise-cancelling earphones, and some home office lighting ideas that don't just help you focus but also reflect your style.
All too often, the light fixture comes last. It's the forgotten touch that can actually bring your space to life. Layered lighting — a mix of a natural glow, chandeliers, and task lamps — doesn't just feel better in a room or office nook, it can relieve any eye strain that comes from being online nearly 24/7.
Here are eight home office lighting ideas that might make all the difference for your productivity and peace of mind.
1. Anchor a small space with a large pendant.
This chic little office nook has big pendant energy, thanks to the large, black Scandinavian light fixture from Modern Komfortfand ex. Erin Conway of Kismet House used this statement piece — along with a classic desk she found for $40 on Craigslist and an of-the-moment cane chair — to transform a drab and dated bar space into a sleek and efficient work area.
2. Go traditional with just a desk lamp.
In this large modern farmhouse-style home in Amenia, New York, relaxation is key. But since work still calls sometimes, Chango & Co. created a sleek and productive office space along a wall of gorgeous windows. When the natural light doesn't cut it, there's a traditional desk lamp to provide the necessary task lighting.
3. Create a perfectly modern mix.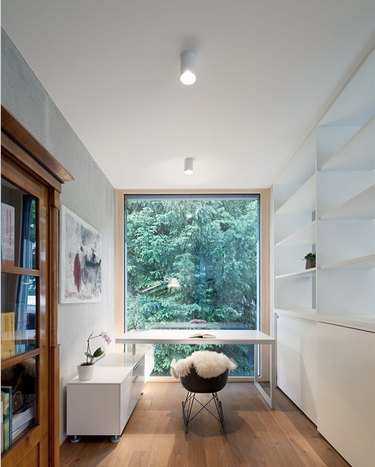 Layered lighting is always key, and that's especially so in a home office. In this modern nook, designed by Spado Architects of Austria, natural light pours in through the floor-to-ceiling window. But there's also a sleek architectural desk lamp and bright LED cans (from Belgium lighting company Wever & Ducré) overhead, which let you work into the wee hours of the night.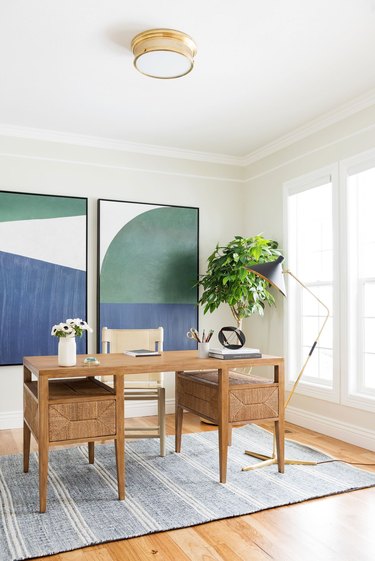 It's not like floor lamps are anything new, but as a home office lighting idea, they can be a bit unexpected. Be sure to choose something that fits the scale of the desk and the room, as Studio McGee did here. The McGee & Co. Mayotte Offset lamp is not only visually interesting, it's also able to provide an efficient glow. A table lamp and ceiling fixture provide alternate lighting options.
5. Keep it easy and affordable.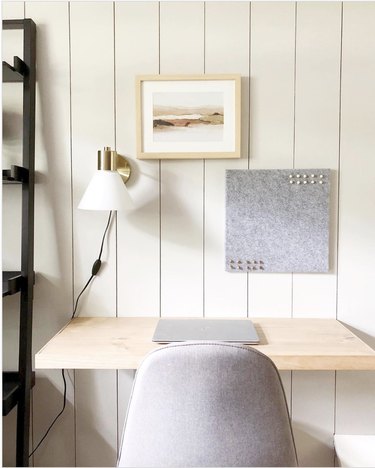 Modern wall sconces are great in small spaces, but they can be a pain to install. One option for an impromptu home office — which is the norm these days — is an affordable, plug-in fixture. The one here is from IKEA and only $19.99. Sara of Sara Lynn Home picked it because she "[loves] design on a budget,"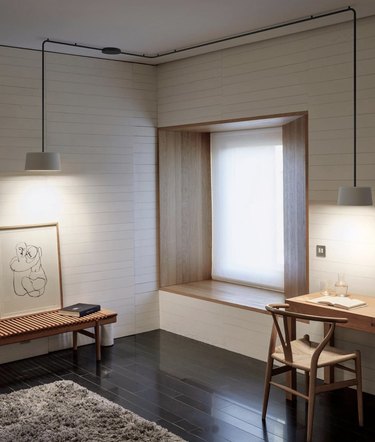 When there's more than one work space in a home office, you can get really creative with your lighting. The Tube pendant here, created by Ichiro Iwasaki for Vibia, can be customized to accomodate different work-from-home needs. And the design perfectly suits the minimalist desk and sleek decorative bench.
7. Let the lamp define the workspace.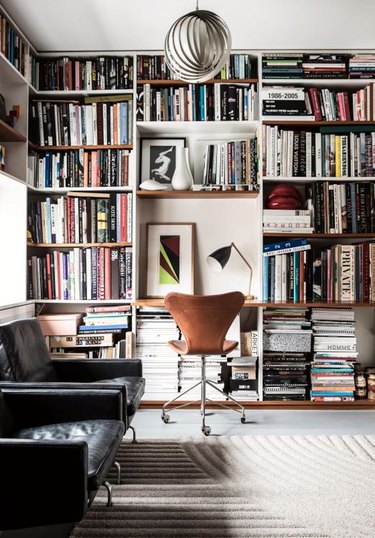 Space for a home office is often at a premium. But all you really need is a place to sit, a surface to work on, and something to light the way. In this fashion director's remote zone in Sweden, the sleek desk lamp establishes the space, while the book collection creates visual interest.
8. Don't be afraid to add flair.