On the design front, basements are about as versatile as they come. They're the equivalent of the proverbial "blank check," allowing us the opportunity to transform the space into whatever our needs may be. From playrooms and full-out apartments to game rooms complete with a bowling alley (yes, really!), the decorative possibilities are seemingly endless. And as exciting as all of that might be, settling for something as simple as a cool libation station can be just as great.
Think about it, the atmosphere is perfect for building out your very own home bar — dark, ambient, and delightfully cozy. With just a few thoughtful additions, you can easily channel your favorite watering hole or speakeasy, transforming your basement into the ultimate spot for entertaining. Intrigued? Read on for a few of our favorite basement bar ideas.
1. Build out a wine cellar.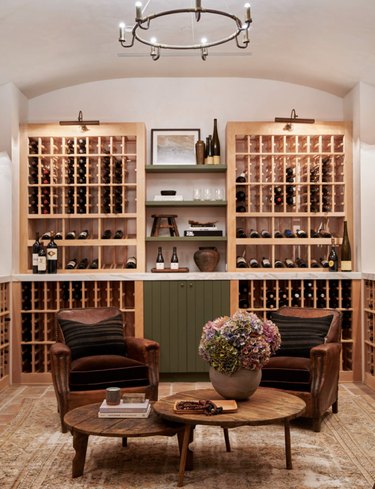 Amber Lewis knows cozy and this dreamy wine cellar that she designed is all the proof we need. Rustic touches, earthy hues, and custom built-in storage combine to form a truly laid-back atmosphere. If you're less into the cocktail craze and more about a relaxed evening spent with a glass of red in hand, this is the basement bar idea for you.
2. Transform an awkward nook.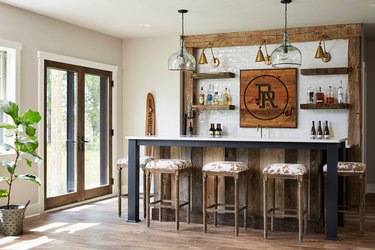 File this under basement ideas we can't wait to replicate. Sneek Peek Designs' take involves a transformation that looks just like the real thing. A sleek, white-on-white subway tile sets the backdrop for the rustic shelves, primed to show off all sorts of spirits. Overhead lighting, beer on tap, and stylish stools surrounding the spanning bar seal the deal.
4. Put it all out on display.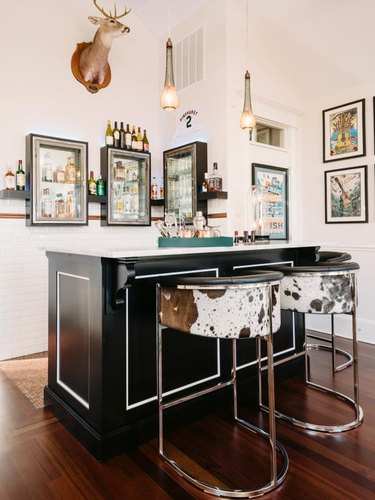 Designer SuzAnn Kletzien's version of a basement bar is about as Instagrammable as it gets. Sleek, wall-mounted glass liquor cabinets combine with a set of floating shelves to keep libations easily within reach and doubling as a decorative accent in their own right. The freestanding bar, with its sleek cowhide stools, is a laid-back spot we'd happily spend happy hour in.
5. Amp up drama with black.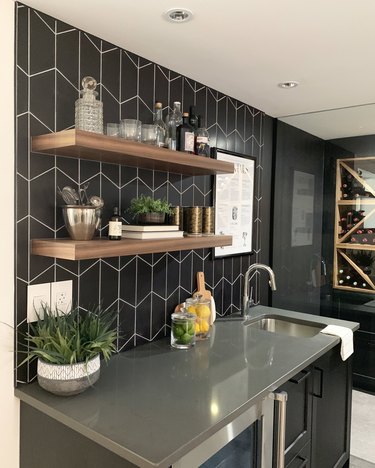 If a basement bar isn't an excuse to start jumpstart a wine collection we don't know what is. This small underground tavern by Kresswell Interiors is serving up all sorts of drama thanks to a moody, all-black palette. Pops of greenery and floating wood shelves add a dash of warmth, but the pièce de résistance is the wine room seen behind the glass partition. Swoon!
6. Channel your favorite watering hole.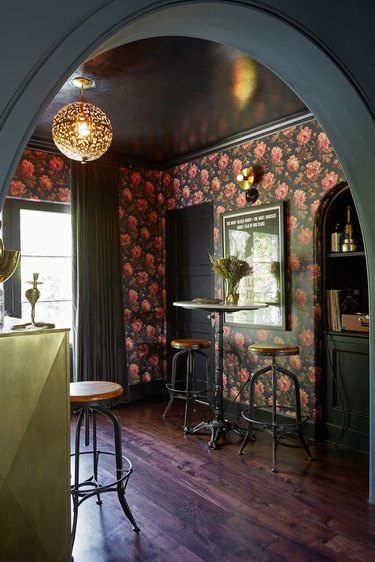 When Leanne Ford designed actress Shay Mitchell's home, we knew good things would be in store. High up on that list? A cozy, colorful basement bar complete with a bistro table and stools, a brushed brass bar, and an intimate built-in nook with a record player to boot. Choice lighting, on-theme posters, and the moody floral wallpaper transformed the room into the ultimate hangout spot.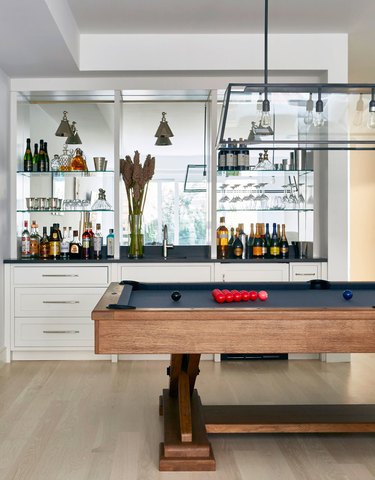 Make the most of an above-ground basement by using mirrors to transmit the natural light throughout. In this swoon-worthy spot, the designers of Chango & Co. kept things light and airy by using mirrors in lieu of tile for the backsplash. Glass shelves and polished chrome fixtures help reflect light and accentuate the uncluttered feel of the basement bar.