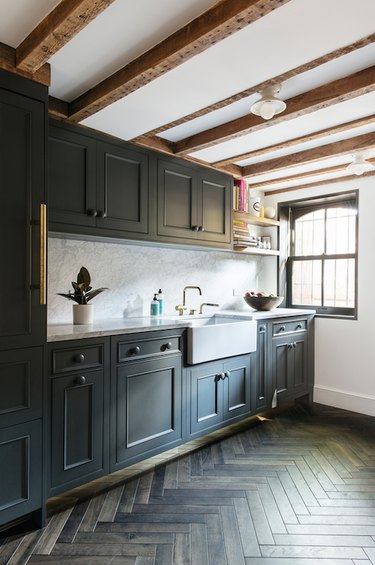 If you're lucky enough to own a home with a lower level, don't waste the space. Make it practical by installing a basement kitchen or wet bar. An addition like this might feel like a splurge, but if you're even just a little bit handy you can DIY so many features to cut costs. Hire a professional to help with the complicated stuff like electricity and plumbing. But you can lay fun kitchen tile, mount floating shelves, and paint the cabinets yourself.
And what do you do once the reno is complete? Of course, you can enjoy your basement kitchen. It would be great for gaming parties and movie nights. But, you can also convert the entire downstairs area into a basement apartment. If you rent it out, you'll likely earn back your initial investment in no time.
However, whether you decide to rent the area or keep it all in the family, you'll need some ideas to get the basement kitchen remodel started. Here are some of our favorite tricks.
1. Take the tile up to the ceiling.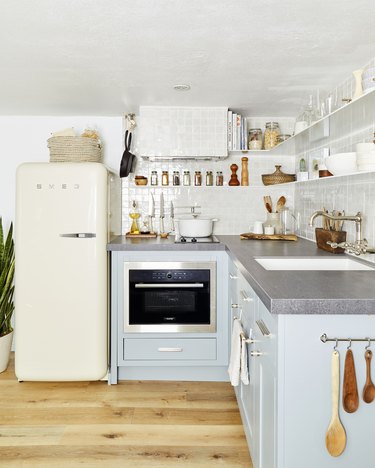 This basement kitchen by Velinda Hellen, a design contributor with Emily Henderson, is fully functional and stylish even though it's tiny. We love every feature, (obviously, the Smeg fridge is complete goals), but the zellige backsplash is especially impressive. Try taking your own tile up to the ceiling, too. There will likely be less square footage to cover, so the cost won't be as high.
2. Ditch the bar cart.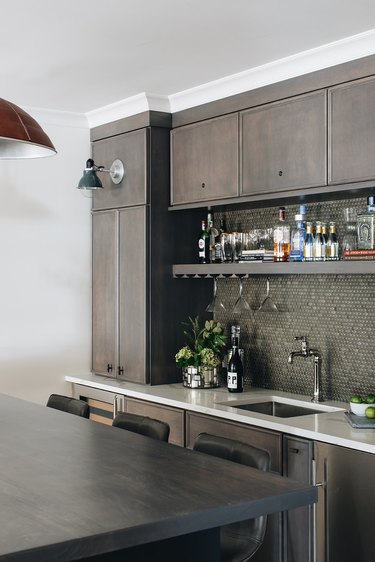 Now we're not saying you shouldn't have a place to store those prized bottles in your basement kitchen. But instead of adding a bar cart to the design and taking up valuable floor space, hang a liquor shelf. You can style it with gorgeous drinkware and bar accessories, too.
3. Line things up on one wall.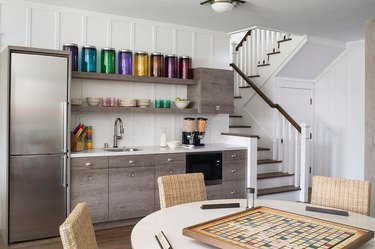 4. Contrast dark cabinets with white walls.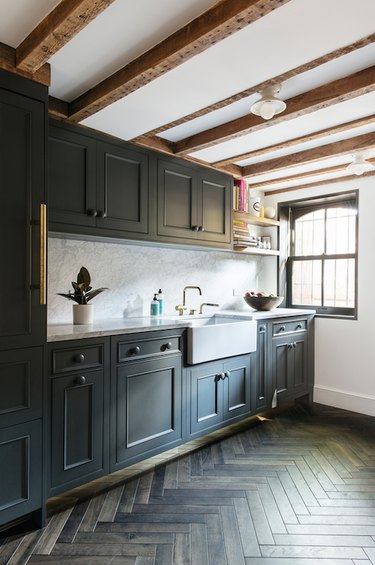 5. Go for glam accessories.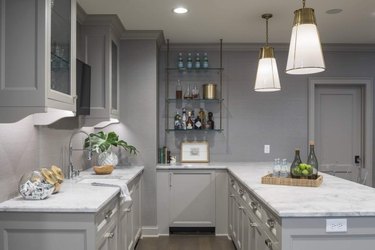 Interested in a modern glam look that feels luxe and intentional? Well, then this City Homes basement kitchen is the perfect inspo for you. They paired soft gray cabinets with marble countertops and gold pendant lights. If you go this route, sprinkle in a bit of warm wood and greenery to give the space extra character.
6. Keep things (mostly) monochromatic.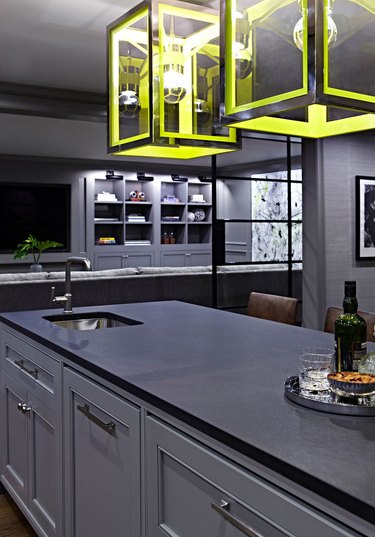 Who says you have to paint your basement walls white or another light color? Dark monochromatic shades can actually feel way cozier and more intimate. And if you want your basement kitchen to fit in with the rest of the space, go for an island that matches the moody tones.
---
Lowe Saddler is a Design SEO Editor at Hunker. She also writes, does affordable DIYs, and constantly rearranges the furniture in her apartment in her spare time.