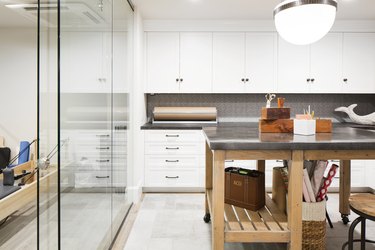 So you're hoping to convert your basement apartment into a living space that's equal parts cozy, stylish, and inviting. Revamping this particular space will take a bit more ingenuity than the usual apartment makeover, though. That's because there are inherent challenges that come with living below ground. The good news is that you can overcome these challenges with a good lighting, great color choices, and a little creativity.
Follow along with these seven basement apartment ideas, and find some inspiration on how to turn your subterranean digs into the envy of anyone who comes to visit.
1. Use multiple light sources.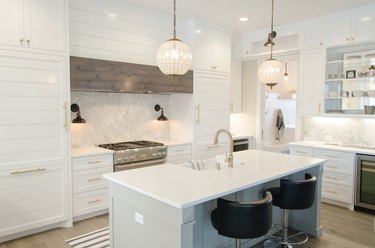 Unless your basement apartment is equipped with clerestory windows, you'll need to add good lighting to the space. Pendants combined with recessed LED fixtures will work especially great in a basement kitchen. And to really up the illumination, throw in some under-shelf lighting and a pair of sconces over the range.
2. Choose furniture that fits the space.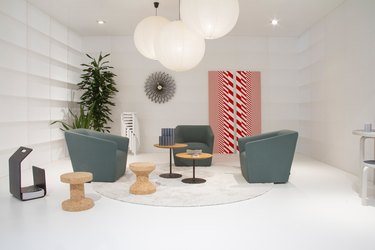 When square footage isn't a commodity in your basement apartment, it's important to choose double-duty furniture that won't overwhelm the small space. This minimalist apartment easily accomplishes that feat by forgoing the traditional sofa for three matching barrel chairs and using stools instead of a full-sized coffee table.
3. Add accent walls.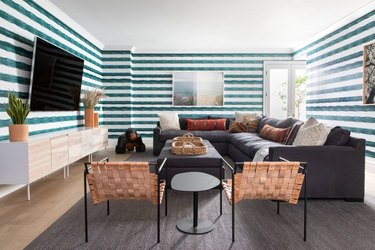 Accent walls will make any space feel fun. In this basement, Chango & Co. added bold teal stripes to the walls and balanced out the look with a dark gray sectional and leather side chairs. You can create a similar effect with wallpaper or even a metallic paint. Finish the space off with a single painting or a mounted TV.
4. Keep it simple.
Busy patterns and too many colors can quickly overwhelm your space. So if you're not ready to commit to a dramatic interior, stick to simple, pared-down patterns. Go for furniture with solid upholstery. And if your basement apartment is a studio, similar to this one, look for a light wood dining table and classic Eames chairs that will never go out of style.
5. Hang large artwork.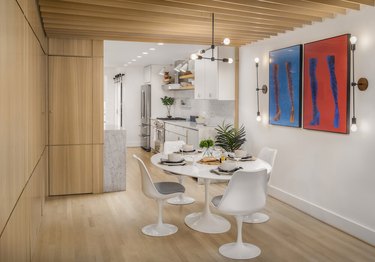 When it comes to basement wall art, bigger is better. We love how the Zoe Feldman Design team incorporated these colorful pieces. They inject instant personality into the space. Get a similar look by framing your art with modern light fixtures.
6. Go with glass.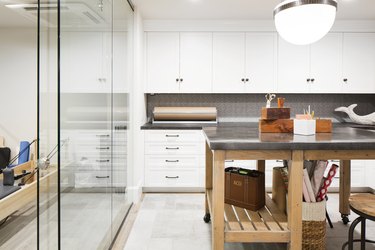 Glass walls can diffuse light in your basement apartment and open up the space at the same time. We love this look from Kelly Nutt Design for anyone brave enough to install a glass room divider. But it would likely only work if you're not too concerned about losing that security deposit. Light floors, natural wood furniture, and white cabinetry will complete the airy look.
7. Take full advantage of any vertical space.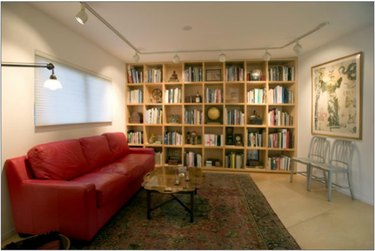 This polished basement apartment by Busch Design perfectly illustrates how to take advantage of vertical space. The floor-to-ceiling bookcase is great for additional storage and a fun visual moment. Add a fun leather sofa like this one if you want a pop of color.