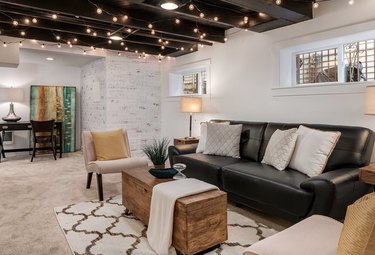 How you choose to light your basement really comes down to how much or how little natural light you have available. The rule for basement lighting is usually more is more. Whether you use the space as a family room, playroom, screening room or all of the above, you'll want to consider multi-purpose lighting for what is often a multi-purpose space. Flexibility is key. Go bright for playtime, go moody for movie night, and keep it cool for when you just want to chill.
Functionality can still be super chic, though. Think about mixing and matching styles, shapes, and types. Go ahead, and put that dining room light in your lower level. And let loose, the basement is definitely the room where you can have a ton of fun with decor.
Here are eight basement lighting looks to inspire what to do with your subterranean space.
1. Go for recessed lights everywhere.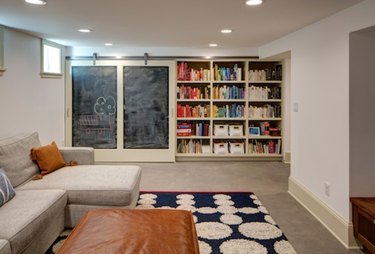 If you want to keep things simple, take a cue from this cute family room from Hammer and Hand and install recessed lighting in your basement. Make sure the space is open with minimal furniture and evenly lit (for when you want to get creative on the chalkboard).
2. Look for fun pendants.
3. Keep everything light.
If you're lucky enough to have windows in your basement or are able to add a couple, pick light filtering window treatments to accompany them. That way, the room stays bright. And you can find a matching set of reading and floor lamps that are subtle yet stylish. Make sure to put the bulbs on dimmers for peak coziness, though.
4. Combine industrial and zen.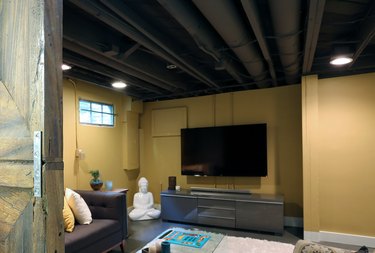 5. Make it modern.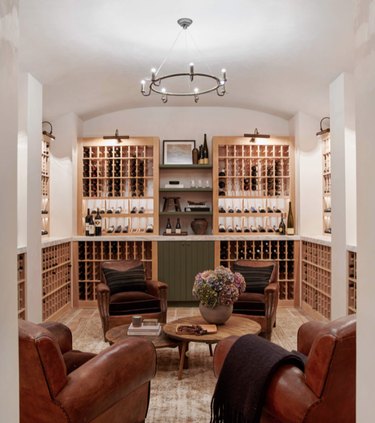 If you have a wine cellar like this one designed by Amber Interiors, go ahead and invite us over. The leather furniture and built-in storage are spectacular. But the basement lighting here takes the cake. Picture light sconces brighten up the shelves while a modern chandelier makes everything seem fresh.
6. Use multiple light sources.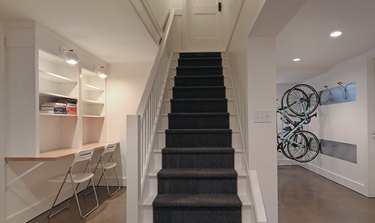 Multi-purpose basements that double as offices are smart because almost everyone could use a little more room at home. Even if your basement is small and snug like this one from Arciform, you can use different lighting to spruce up your workspace. Chic sconces will light up a nook for homework, while recessed options will illuminate storage.
7. Go super moody.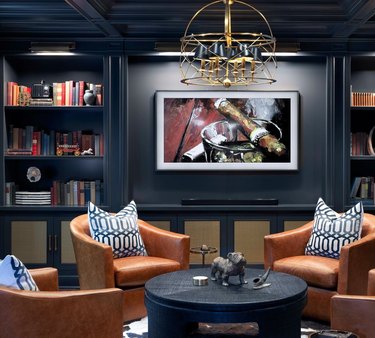 Many people reimagine their basements into chic caves for hanging with friends and escaping reality. And the lighting in this moody chill zone from Rae Duncan is as functional as it is high on style. Picture lights show off books and art. And a luxe ceiling light provides the perfect centerpiece for a good conversation.
8. Add a little bit of whimsy.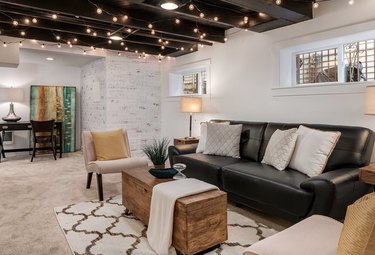 Add a little whimsy to your basement by hanging some white string lights on your ceiling like UNIQUE did in this room. This sweet touch made a lovely transitional space even more inviting.