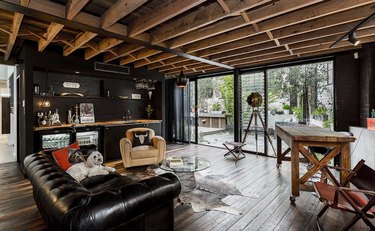 Believe it or not, Father's Day is right around the corner. And while we think the man in your life should be celebrated every day, this particular occasion is the perfect time to show him some extra love. But every year, without fail, we are confronted by the same question: "What do I get him?"
You could get him a set of golf balls or a funky tie ... again. Or, if you're looking to up the ante — and impress him with your interior design chops — why not surprise him with a stylish man cave?
Of course, designing a space with your No. 1 man in mind doesn't mean you have to subject him to an expensive and intrusive renovation. The good news is there are plenty of easy ways to bring masculine charm to any space. So move over she shed, below you'll find six fun, dad-approved man cave ideas — and how to recreate the look in any space.
1. The Great Outdoors
Convinced you don't have enough space for a man cave? Think again! As interior designer Laura Santos proves, you can turn any space into a designated room for the guy in your life — she transformed this Pennsylvania garage into a chill zone. The rollup garage door offers easy access to the great outdoors, while the wood-paneled walls and patterned area rug keep the space from looking too much like a garage.
2. At-Home Happy Hour
If the special guy in your life enjoys a stiff drink after a long day, show your appreciation by creating a stylish home bar just for him. We love how this unassuming alcove from Emily Henderson is packed with beers, bottles, and all the right accoutrements. Recreating this idea in his space can be as easy as clearing out a closet, removing the doors from the hinges, installing a plywood countertop, a floating shelf, adding a few clamp-style wall sconces, and a marble-inspired peel-and-stick backsplash. We'll cheers to that!
3. Game On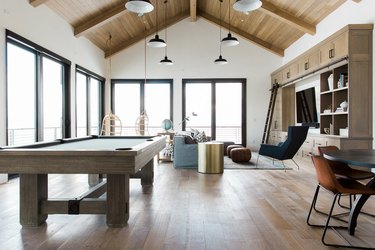 A man cave should be a space where your guy and all of his friends can unwind and have a good time. While a flat-screen television and surround-sound speakers are essential, give his refuge a competitive edge with a few games. We love the pool table in this space designed by Shea from Studio McGee, but if you're short on square footage, a dart board, or elevated chess set would work just as well. And if you're thirsty for more, here are some additional ideas.
4. Hit a High Note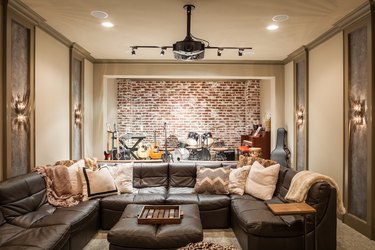 If your guy spends his free time binge-watching the latest Netflix series, tuning his guitar, or playing a classic vinyl record on repeat, pack his man cave with well-appointed entertainment. You can keep it simple by mounting a projector on the ceiling or take a cue from the team over at Chairma Design Group and build a makeshift stage. We'd certainly give this idea a standing ovation.
5. Get Personal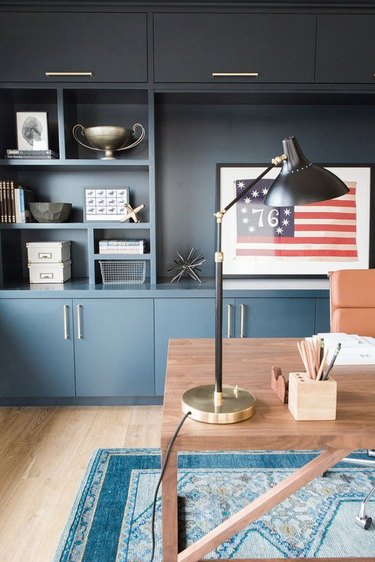 We all have an idea of what a man cave looks like — dark wood paneling, a neon sign of a beer company, and a few humidors scattered on a leather ottoman — but it's important to make his space feel like him, not some cookie-cutter design. One way to give his quarters a personal touch is to add mementos to the mix à la Shea from Studio McGee. Trust us, framing his childhood baseball jersey or a poster of his favorite movie will tug at his heartstrings.
6. Take a Seat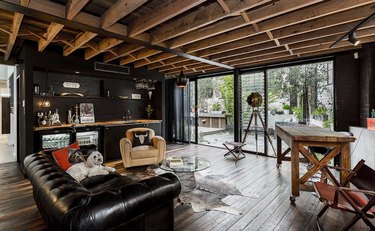 No man cave is complete without a comfortable place to kick back and relax. But between Joey and Chandler's barcaloungers on Friends and Martin Crane's recliner on Frasier, the usual seating suspects are, well, unattractive. Give his man cave a stylish edge with a cool alternative. In this Australian-based warehouse belonging to Spatium, a leather armchair and tufted sofa are handsome without sacrificing comfort.