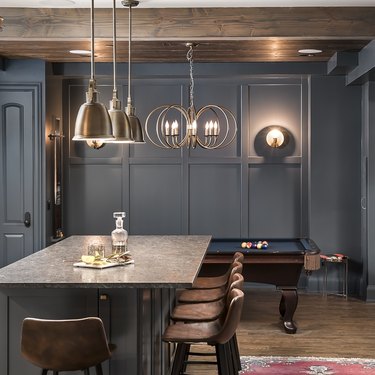 We love when every member of the family is able to have a room or unique space of their own, whether it's a play area, a chic office, or even just a very zen bathroom. And it's no wonder that dads and brothers like to sit back and unwind in their basement man caves. But these spaces don't have to be just for men. Anyone can enjoy them.
Additionally, man caves, like their owners, vary drastically according to individual tastes. But you don't have to sacrifice style for comfort.
These basement man cave ideas feature everything from industrial elements to vintage decor, and they're perfect for ultimate relaxation, watching sports, or playing video games.
1. Jersey art is essential in any man cave.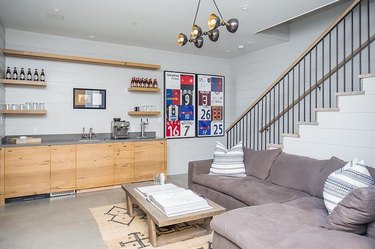 If you have too many jerseys to count, mount a few of them in picture frames. You can hang the wall art in front of the basement stairs, so visitors know which sports teams your household loves. Add in an industrial ceiling light and neutral rug to up the style factor.
2. Make sure there's a pool table.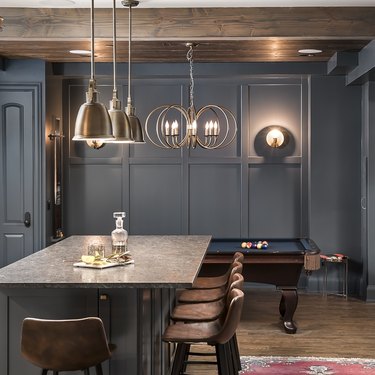 With a convenient setup, like this one from Amy Storm & Company, it'll be super easy to go from having a few drinks and snacking on game day to playing pool. The wall sconces add some much-needed illumination to this converted basement space, and the blue paint makes it homey.
3. Go for a statement chandelier.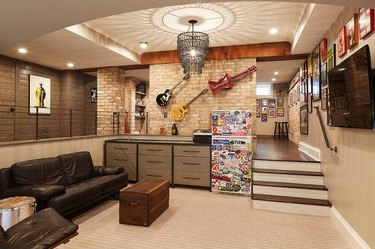 This space features some of the more classic elements of a man cave — guitars mounted on the wall, a separate refrigerator just for brewskis, and a large television for sports and games alike. But the iron chandelier draws the eye upward and elevates the room, making it feel mature. And all that storage seems pretty handy, too.
4. Add in a bar if you have the space.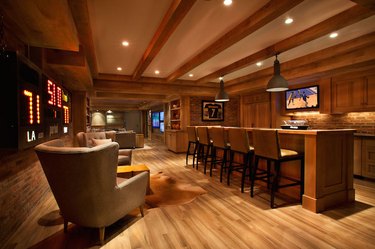 If you have a massive basement man cave, consider putting in a full bar. That way you don't have to go out to spend time with friends. You can have an icy drink in the comfort of your home. Throw in a large wingback chair for the ultimate relaxation experience. And bonus if you're able to leave your wooden ceiling beams exposed or add decorative ones.
5. Keep it understated if you're low on square footage.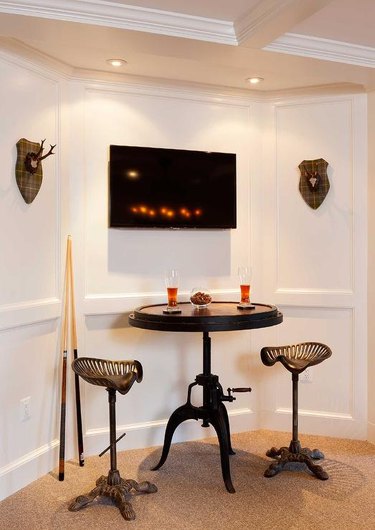 You can still relax even if your basement is on the smaller side. Carve out a small corner, like the Erica Burns Interiors team did here, and make it look super cozy and classic with crown molding, mounted antlers, and a petite fireplace. An industrial table and sporting accessories will add a unique, modern touch.
6. Add neon signs.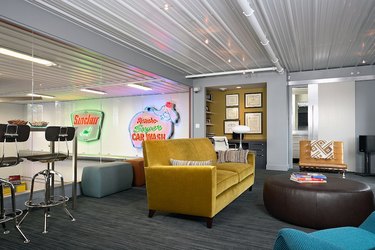 The psychology is simple: Everyone loves neon signs. They're fun and add a burst of colorful light to any space. Paired with a velvet couch and leather ottoman, the vibrant signs give this plush man cave a vintage feel.
7. Make the game zone look stylish.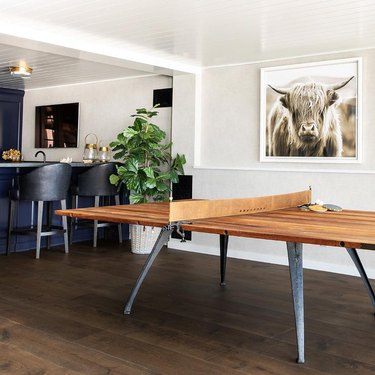 When choosing pieces for your man cave, remember that even your ping pong and pool tables can be cool. For instance, the wooden ping pong table gives an industrial energy to this basement game room from Waterleaf Interiors. The cow photograph above it draws out the warm hues and ties together the black and brown furniture. We also love the convenience of that mini kitchen.