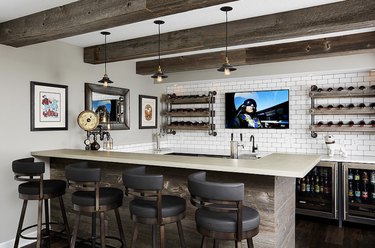 If you know your martinis from your margaritas, having your very own home bar is probably something you think about a lot. Well, perhaps it's not as out of reach as you might think. Some carefully considered design features such as open shelving, an island with bar stool seating and a statement backsplash could have you on your way to becoming a host with the most. Want to recreate your favorite watering hole or speakeasy in your abode? Take note of these rustic bar ideas for inspiration. And hey, future bartender, we like ours shaken not stirred.
1. Use reclaimed materials.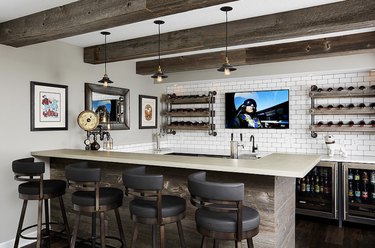 Natural materials are part and parcel of rustic design. And if you can reuse and repurpose older materials, your bank balance will thank you for it, too. Custom-made wine racks are key features in this rustic-meets-industrial basement bar from Sneak Peek Design. Plus, the reclaimed wood is also used in the bar back panel, visually connecting the area to the wooden ceiling beams above.
2. Bring on the cozy vibes.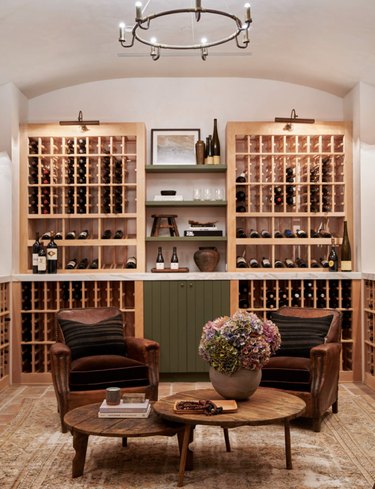 Bring a little French charm to your rustic basement with a bar that has all the wine storage you could ever need. Amber Lewis created this rustic wine cellar-come-bar and opted for tactile furnishings and warm tones to really emphasize the cozy ambiance. There's just one thing missing — a cheese board to pair with our glass of red.
3. Set the tone with lighting.
Ambiance is everything when it comes to creating a successful bar, even if you're in the comfort of your own home. That's why this cozy space by Stirling Mills is the perfect spot for a dark n' stormy. There's low lighting which means no harsh glares will kill your vibe. And you can get comfortable sitting on the mixed material bar stools.
4. Make the most of every space.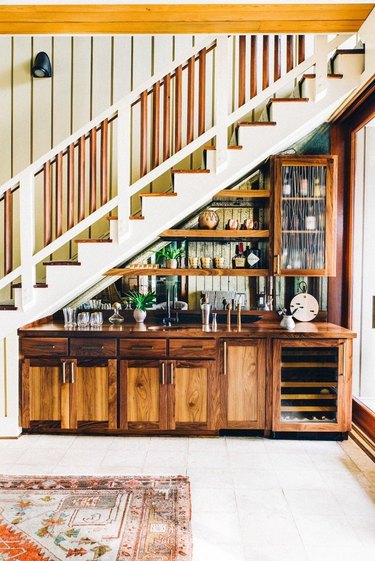 Not everyone has a basement ready-made for a drink station, so think outside the box if it's something you'd love to have in your own home. Make like Cortney Bishop, and create a full-service wet bar under the stairs — the area isn't just for storage! This rustic bar idea features wooden cabinetry, open shelving, and a mirrored backsplash that creates the illusion of more space.
5. Add a touch of rustic glam.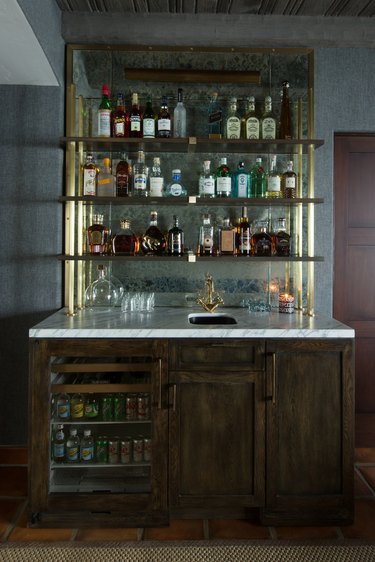 Talking of mirrored backsplashes, this wet bar from Ryan White Designs is the perfect combination of rustic and glam. The dark, stained oak cabinets are topped with a white marble counter and an antique brass faucet. Plus, the gold shelves make room for all the fancy glassware and bar tools.
6. Give it a little modern appeal.
Looking for a modern approach to rustic design? Keep the look fresh with white walls and lots of wooden features a la Timothy Godbold. This fresh take on a rustic bar has shelves, and it's located below the stairs. And the concrete counter rests on white cabinetry and a wine fridge for good measure.
7. Don't forget the ceilings.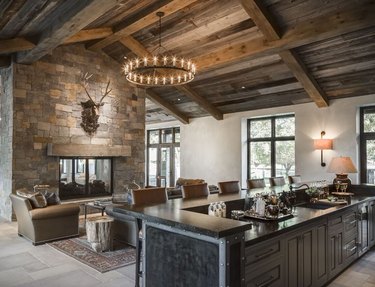 The ceiling can make all the difference to the aesthetic of your home bar and this rustic wood-plank vaulted ceiling is quite the showstopper. Additionally, this ranch from Tiffany Farha features leather bar stools, deep accent chairs, and a statement fireplace. Bartender, we'll have an old fashioned please!
8. Work in playful elements.
All you need for a barn-inspired home bar are wood cabinets, wine storage, and a chalkboard wall — just don't forget to personalize it with fun elements and art. This design by Bezamata Arquietura merges modern and rustic design with integrated wooden storage and a peninsula that's perfect for two. And you can hack the feature wall look with chalkboard wallpaper.