You've finally gotten your subterranean space in order: It's a place for streaming your favorite series, hosting big game nights, and crafting cocktails for much-needed wind-downs. But you still need an area to put all of your stuff. Whether they're original to the room or new additions, smart basement storage ideas are a serious must. And the key is to keep things stylish and organized so the room doesn't lose its luster and you don't lose your mind.
Chill out, we have some hot basement storage ideas and inspo to turn your space into a serene oasis. It won't matter if you're a minimalist or a maximalist; these tips will help you keep your things in place.
1. Work with a whole wall.
You want space to screen, to chat, and to just chill out, but your basement isn't exactly roomy? Put your foot down, and make one wall do it all by installing built-in cabinets, shelves, and a TV nook. Add a sectional, too, if you want to recreate this casual and cozy look from RailiCA Design. We see afternoon naps happening here all the time.
2. Add small shelves if you want big style.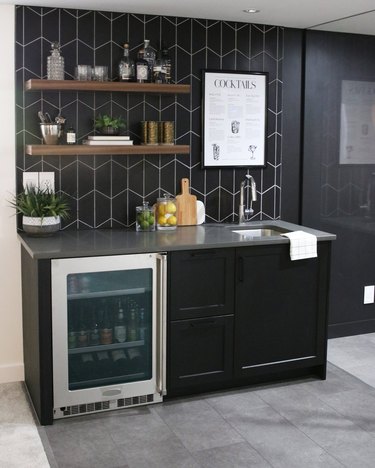 You may not have the room for a huge basement bar, but you can still enjoy an adult beverage in your lower level from time to time. Try installing floating shelves or sleek cubbies for optimal storage. One or more will give you a chic look. And that way, your favorite glassware and spirits will always be within reach.
3. Use every nook and cranny.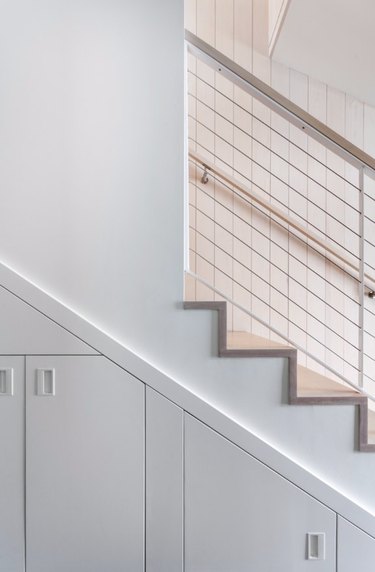 What makes a good basement design can be subjective, but using every bit of available space is always smart. Can we get a hell yeah? These cabinets under the stairs almost disappear, just like all those random toys, games, and books will when you reset your space each day.
4. Frame your fireplace.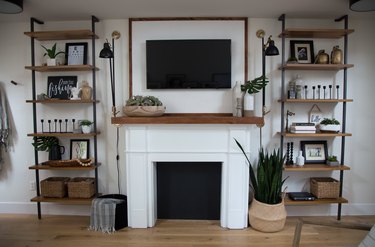 5. Invest in a credenza.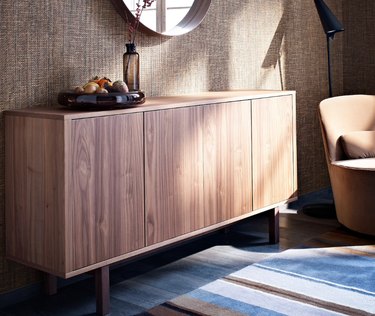 When it comes to chic and functional basement storage (or anywhere storage for that matter), you can never go wrong with investing in a credenza like this one from IKEA. It can hold electronics, board games, or even snacks. Yes, we said snacks. Because if you're already invested in a Season 10 binge, the last thing you'll want to do is press pause and go to the kitchen for something crunchy.
6. Cover the room with cabinets.
We mentioned using a wall in your basement for storage earlier. And we especially like these floor-to-ceiling cabinets from Studio McGee. The dark paint contrasts with the rest of the room and says, "Please clean up after yourself" with authority and style. And presto, the cabinets hide things away when you don't want them out in the open.
7. Add big baskets for a big storage solution.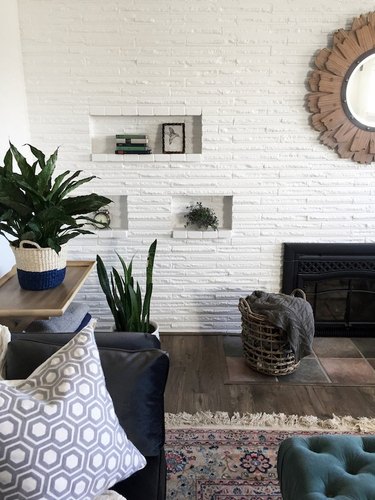 You can never go wrong with some large handwoven baskets. They're perfect for adding a little splash of personality and functionality. West Elm has great options that are big enough to solve your basement storage issues (because sometimes you need a break from that weighted blanket) but compact enough to fit into any corner.
8. Get double-duty furniture.
Your basement is probably the most multi-use space in your home. From sleepovers to homework to entertaining, the room meets endless needs which means it holds endless stuff. So it should have double-duty furniture like this bench from West Elm. It's good for both seating and storage. And extra space will always be a must for those guests who show up on movie night or during a slumber party.