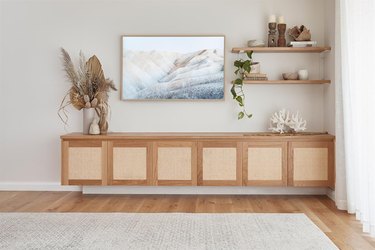 Take a breath. There are many ways to meet everyone's modern family room needs and keep things neat without sacrificing style.
1. Group it all together.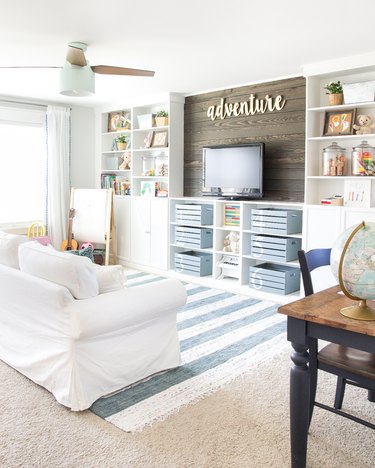 Pick a wall in your room that can store all of your essentials like in this space from Bless' Er House. From shelving for photo displays to matching bins where toys and games can be hidden, this coastal family room look can be incorporated anywhere for playtime and screen time.
2. Make things roll.
Committing to built-ins is, well, a big commitment. But these sleek rolling shelves from Hayneedle work great as storage and room dividers in a snap. You can even use one as a side table.
3. Do a basket and bench combo.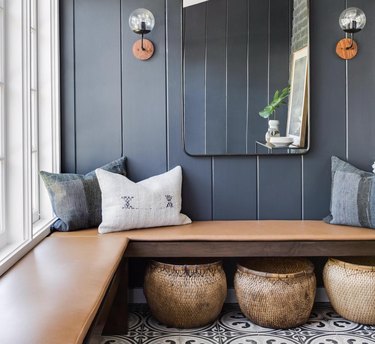 Grab a corner in your family room and install a bench for both seating and storage, because who doesn't love a double-duty design feature? This idea from Jen Samson keeps things chic by adding some oversized baskets below a space to sit and chat. But you can also add drawers or open shelves too.
4. Float the furniture.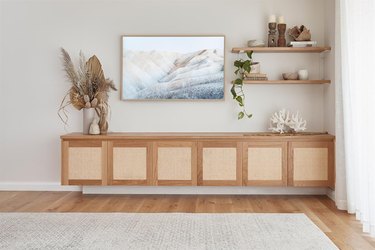 We love a minimalist look, and this idea from Loughlin Furniture is everything. The floating console is the perfect place to store stuff, the open shelves add some flare and the TV looks like a piece of pop art.
5. Deck out the credenza.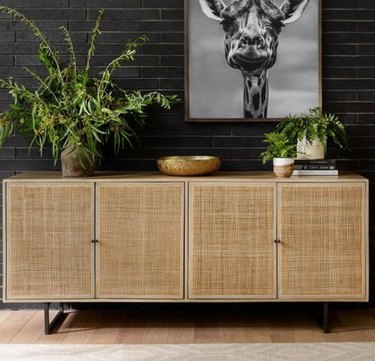 6. Use the sofa for storage.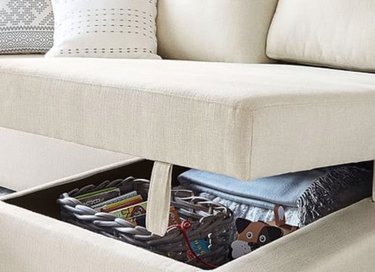 7. Go from floor to ceiling.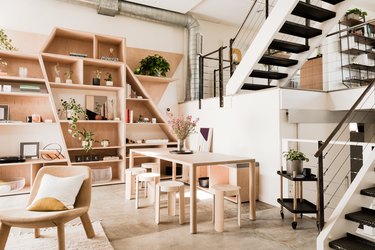 8. Outsource items to the ottoman.
9. Don't settle for a regular coffee table.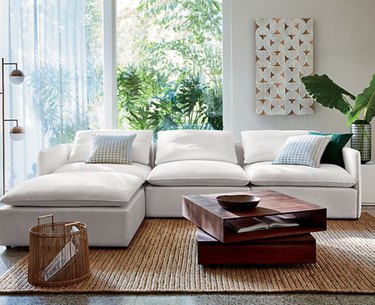 If you're adding a coffee table to your family room, consider an option that works in more ways than one. Take this wood table from CB2. It has two levels of storage and spins for when you need to share your snack plate but are too cozy to move anything more than your arm.
10. Any old accent won't do.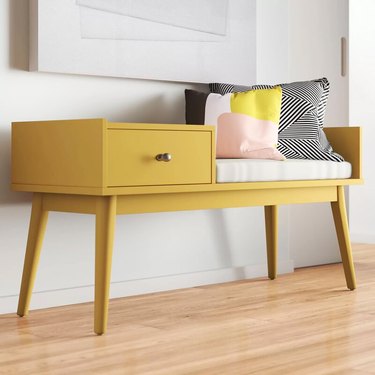 If your family room is on the smaller side, you'll want very functional furniture. Try adding a little more seating, storage, and a pop of color all at once. This cute bench from AllModern could become the "everything" drawer you've always needed.