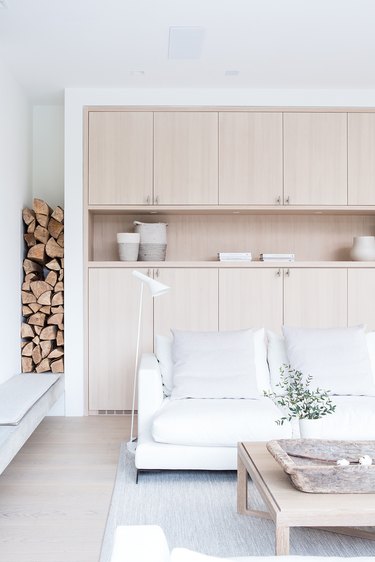 Between throws and decorative pillows, it's surprising how many decor accents make up a living room. But finding places for all of those items can be a huge challenge, especially if you're strapped for space. Yeah, you probably have a drawer in your coffee table that's perfect for storing remotes, and maybe a bookshelf or two ideal for displaying decorative items, but that won't exactly solve all of your storage woes.
To truly have a space that's brimming with storage solutions, it can take a bit of creativity, or sometimes, all it requires is buying a few extra baskets. Either way, it would be nice to finally have the dedicated space you need to store all of your stuff. We've got your back, keep scrolling to discover seven living room storage ideas that will solve all of your dilemmas ... OK maybe not all of them, but you get the idea.
1. Track down a credenza.
A credenza is kind of an old-school living room storage idea, but it still holds up today. You could find a modern option, but tbh, we're kind of partial to the vintage versions. Mandi of Vintage Revivals refreshed this antique credenza, and it's the perfect storage piece to display right below the TV.
2. It's all about baskets.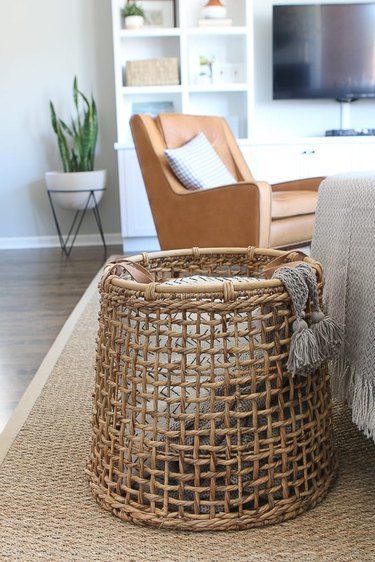 We're all guilty of literally throwing our throws willy-nilly around the living room, but there's an incredibly easy way to keep them contained — baskets. Place one next to your couch, the TV, or by the stairs to quickly and easily stash your cozy textiles. We particularly love this modern, woven option in a living room styled by Casey and Bridget of The DIY Playbook.
3. Bring in a ladder shelf.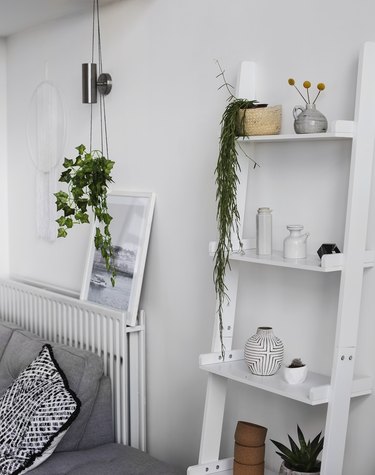 A ladder shelf (or any shelf for that matter — we just think the ladder version looks cool) is a straightforward living room storage idea perfect for displaying small objects for all to see. Tuck it alongside the sofa like Teri of The Lovely Drawer did in her home to showcase her vases, knick-knacks, and other tiny treasures.
4. Include storage in unexpected spots.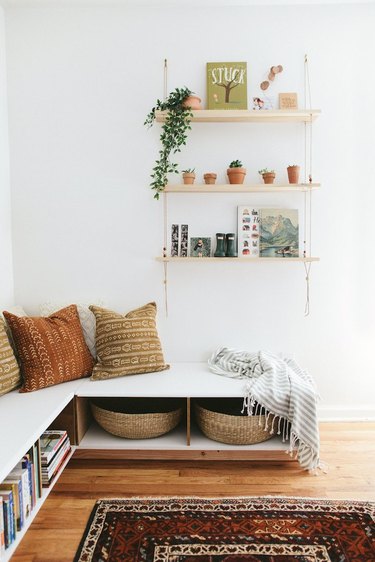 In a diminutive living room, creativity is key, and you need to be on the lookout for under-the-radar spots to stash stuff. For example, take a look underneath your seating — it might just be a treasure trove of space to squirrel things away. In this living space belonging to photographer Paige Jones, there's some ingenious storage below a corner bench.
5. Utilize the space around the TV.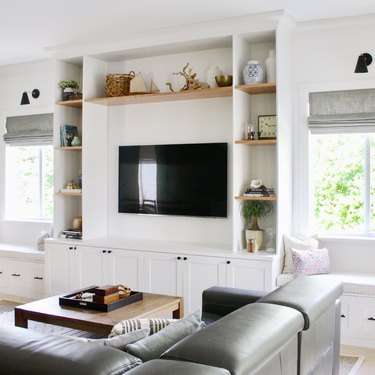 The space around your TV is likely underutilized, but it could be the living room storage idea you've been searching for. In this room designed by the team over at The Habitat Collective, open shelving that frames the television contains beloved tchotchkes and books.
6. Create cozy built-ins.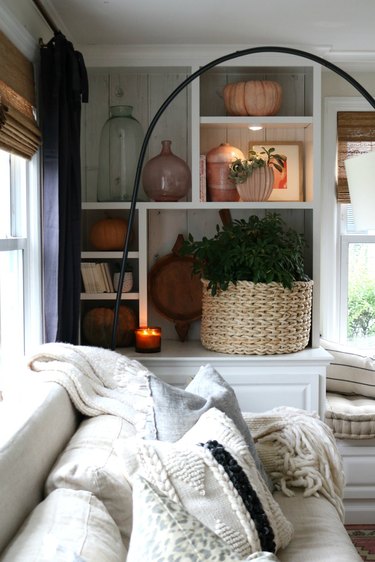 Even if you're working with a small space, you can always find a cranny or two that will accommodate built-in shelving. In this living room belonging to Brooke of Nesting with Grace, well-loved built-in shelving takes up residence in the corner and holds small essentials and pretty decor.
7. Incorporate floor-to-ceiling cabinetry.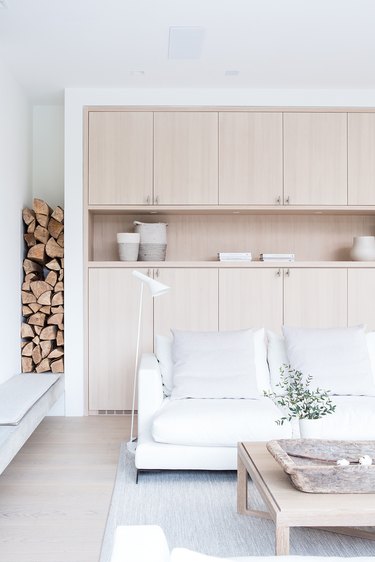 Kitchens and bathrooms shouldn't have all the fun — you can bring storage-solving cabinets into your living room and make them look chic in the process. In this fresh-meets-rustic space created by Sophie Burke Design, upper and lower cabinets in oh-so-light wood are functional and flawless. Bonus points for adding a nook to hold firewood, too.