Ready to put out the perfect snacks, settle on your cozy couch, and catch up on that binge-worthy series with your busy teens? What better space to do it in than a family room with a TV? In fact, if the kitchen is the heart of the home, the family room is the soul. It's where everyone hangs out and settles in for game nights, homework, or that years-old animated flick.
Probably the most "user-friendly" zone in the house, the family room is the perfect place to install your TV for the above-mentioned movie night. Go ahead, flop on the sectional in your sweats; it's natural.
But how can you rework your lounge area so that it's stylish and functional? We've got some family room ideas with TVs to inspire your very own dream screening space.
1. Corner It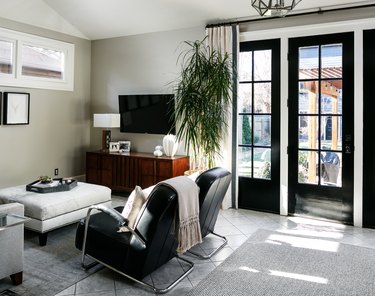 If a separate family room just isn't an option in your home, carve out a corner in your small living area for some streaming. We love this nook from Lisa Cotters with comfy loungers and an oversized ottoman.
2. Divide and Conquer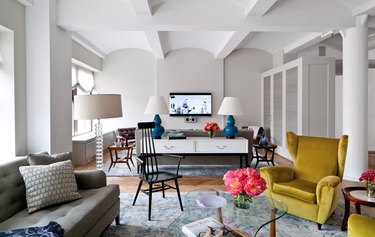 Loft-dwellers usually know how to get the most out of an open space. We like how this look from Wunderground is divided into both a living room and family room to suit everyone's needs.
3. Customize It
If a big screen and ample storage space are the main priorities for your family room, consider adding seamless cabinets to the wall where you install the TV. This sleek iteration from Linton Architects does it perfectly.
4. Front and Center
This fabulous fireplace from Black Orchid creates the perfect backdrop for a mounted TV. In fact, the room just begs us to relax, read, and maybe revisit all of our favorite rom-coms.
5. Get Creative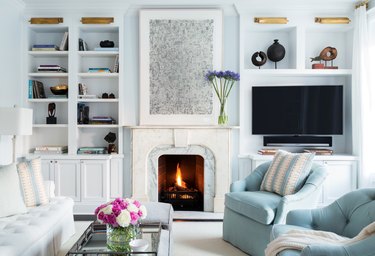 When your living room doubles as the recreation zone, you might have to get creative to maximize the space. Install your TV on a pull-out shelf like this one in this design from Chango & Co. That way you can point the screen where you want it, when you want it.
6. Slide In
While we all love our screen time, it's nice to be able to tuck the TV away in a snap. And this shelving design from Lisa Schmitz took creative storage to the next level. A panel can slide to completely cover the screen when it's not in use. The reclaimed wood adds some rustic warmth to the room as well.
7. Try Some Tradition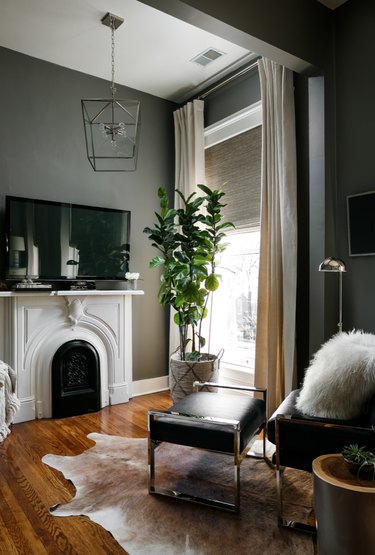 When it comes to fireplaces and big screens, they go together like peas and carrots. That's why we love this traditional style from Lisa Cotters; the television's size matches the width of the mantle perfectly. The old school lines of the of the white hearth are an awesome contrast to the TV's modernity. And those dark grey walls tie it all together.
8. All Together Now
When you're tucked into a small space, like this charming apartment in Ireland, you'll need some creativity to make the most out of close quarters. Consider finding furniture that multitasks. A vintage console, for example, can hold your TV and store all of your extra stuff.
9. Multitask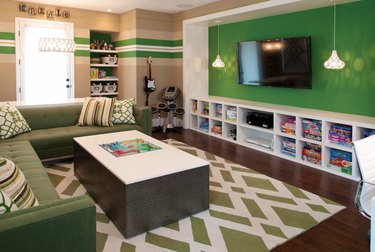 We love the idea of using your family room for TV-watching and playtime. You could do both in this fun space from Robeson Design. From the built-in cubbies for toys to the glossy green wall behind the flat screen, the area combines just right the amount of function and extreme coziness.