Although Pantone announced its color of the year back in January, that doesn't mean we've stopped taking applications for runner-up. (ICYMI: The winner was "Living Coral," a pretty, beachy hue.) With a bold pop or swipe of color, any room can go from blah to va va voom. Lately, we've been eyeing green living room ideas, since the color is more unexpected than your traditional blue and gives off positive connotations. Think, growth, serenity, and nature.
Below, find six unexpected living room ideas that will make anyone green with envy (we know we are).
1. Sitting Pretty
If you want to anchor your living space around this gorgeous shade, why not make it the focal point? A colorful sofa done up in forest green velour contrasts with bold blue walls in this room designed by Shea of Studio McGee. To weave the verdant hue throughout, opt for smaller pops of green like a piece of artwork (florals are a go-to), as well as a plant on the coffee table.
2. Give Drapes a Whirl
When it comes to subtle green living room ideas, drapery is the way to go. Designer Amber Lewis successfully employed the tactic in this West Coast abode using an opaque floor-to-ceiling style that will also block out the sun when it shines just a little too bright. For those who don't want to rearrange the rest of their decor just to accommodate the dreamy hue, it's a simple and inexpensive way to add a little drama without dropping a pretty penny (and it's perfect for renters).
3. Make It Practical
"I don't need more storage space," said no one ever. Legitimately any room will look better with the help of a muted green credenza like the beauty in this living room designed by Katie Hodges. It can stash all of the odds and ends you don't want in plain sight, and if wall-mounted isn't your thing, you can also perch your TV on it. Not in the market for a new piece of furniture? Give an existing piece of furniture a gorgeous green makeover — just consider it your next DIY.
4. Go for Greenery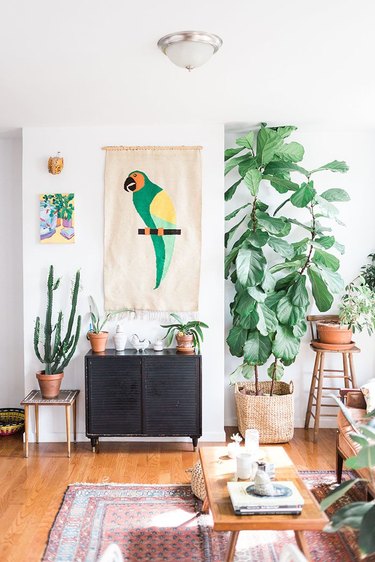 Pro tip: Adding a touch of green to your home is as simple as showing off some lush foliage. The first step is deciding how much of a "wow" factor you want. This living room designed by belonging to illustrator Leah Goren utilizes an abundance of potted trees and plants, but if your space is smaller, you can try a few eucalyptus branches in a tall vase. (Added perk: The aroma will also be amazing.)
5. Follow the Rule of Three
Has anyone ever told you that if you hear about something three times, it's considered a trend? Well, it's sort of the same with this design rule: Instead of making one large statement with a color, inject three subtle hints to incorporate the shade. In this green living room idea designed by Shea of Studio McGee, the choice accents are a table lamp, a throw pillow, and a vase of fresh blooms.
6. Play with Paint
As you likely already know, a fresh coat of paint can do wonders. And it's also the basis behind one of our favorite (and simplest) green living room ideas. Take style notes from the team over at Three Birds Renovations and opt for a statement wall in an emerald hue. If you have the option, choose rattan furniture that'll pop against the rich jewel tone.