It's time for Fall at Home: Hunker down, bundle up, and make the season as cozy as possible with our foolproof guide to autumn.
Autumn is one of our favorite times of year. And decorating is a big part of that. Who wouldn't want to bring those beautiful fall hues into their home? An easy way to do just that is to give your fireplace mantel a quick seasonal makeover. Take a peek at these 10 eye-catching displays and get inspired to infuse some autumnal flavor into your space. All that's left to do is kick back and relax with a cup of hot spiked ... ahem, we mean spiced apple cider.
1. Take advantage of every inch.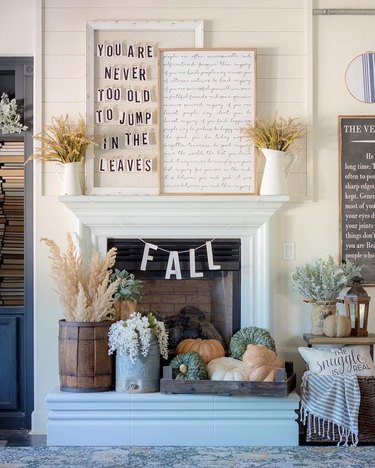 Blogger Jessica from I Dream of Homemaking utilizes the mantle and base of her fireplace to incorporate autumnal accents. We love the mix of pumpkins, signage, and fall foliage. It's simple yet seasonal.
2. Blend in lots of autumnal florals.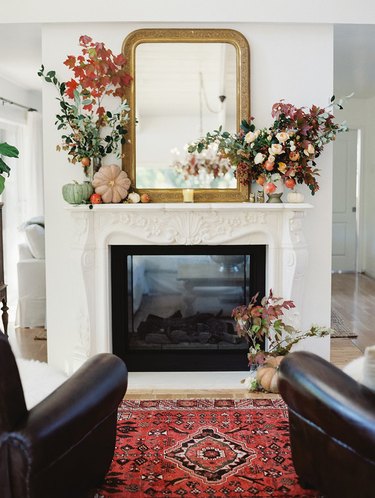 Fall meets romantic glamour in this sweet abode. A carved fireplace surround topped with seasonal fresh blooms and a gilded mirror sets the scene for the perfect fireside date night for two. Complete with a cozy rug and comfy lounge chairs.
3. Go bright and colorful.
Why stop at autumnal hues when you can enjoy the whole rainbow? Kara from A Kailo Chic Life stacked and arranged an assortment of brightly painted pumpkins on her mantel to give her fireplace a playfully festive makeover. And a leafy green garland is the perfect complement.
Start with a round mirror. Then layer mini pumpkins, greenery, and wooden lanterns à la Michelle Janeen. The result is sophisticated with loads of depth and dimension.
5. Go rustic for the win.
Take a cue from blogger Nelly Friedel and turn your modern farmhouse mantel into a fall fantasy. All you need to recreate this gorgeous display is a round mirror, a little greenery, some white mini pumpkins, and a handful of old weathered books for extra rustic flair. Complete the look with an assortment of books and pumpkins on the hearth below.
Fans of a more modern aesthetic will fall head over heels for this mantlescape from Camille Styles. A crisp white palette and minimal yet cozy accessories keeps this gathering space feeling warm and inviting.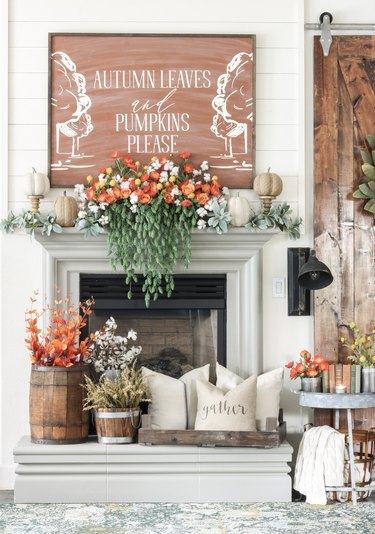 Hosting friends and family for Thanksgiving? Create a space for loved ones to gather with a festive sign like Jessica from I Dream of Homemaking did. Bonus points for adding pumpkins, a stunning floral arrangement, and an earthy garland.
8. Bring the outdoors in.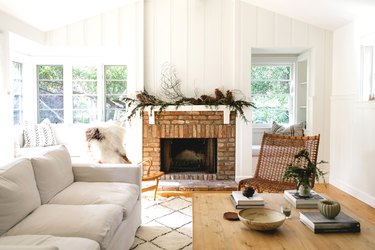 Celebrate the season like Jenni Kayne and bring the outdoors in. With the help of Kristen Caissie from Moon Canyon Florals they used "winter branches, hemlock, and sugar pine cones" to give her mantel a minimal and fall-inspired refresh.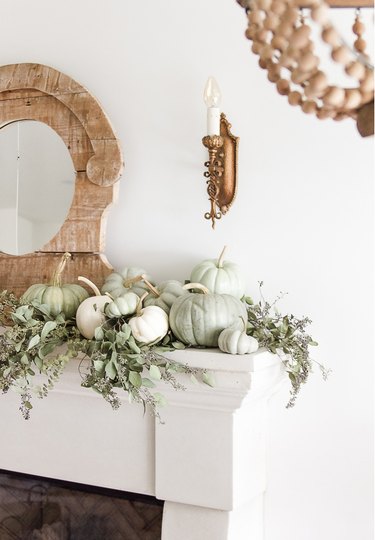 10. Create the illusion of a mantel.
Don't have a traditional mantel over your fireplace? No problem! This DIY by Amber Thrane is a beautifully clever way to create the illusion of a mantel decked out with autumnal foliage. And bonus, this installation will still work even if you have a mantel.
---
​Lindsay Cohn is a freelance writer with a penchant for design and travel. Follow her on Instagram @​lindsay_cohn.