Aside from their aforementioned Parisian-cool-girl allure, dried floral arrangements are low-maintenance (i.e., they don't require any water and are therefore impossible to kill) and they're exceedingly cheap (after all, who can afford to buy a bunch of fresh peonies every week?). Ahead, we're sharing inspired ways to get in on what's already shaping up to be the hottest decor trend of the season.
1. Instantly elevate your mantel with dried florals.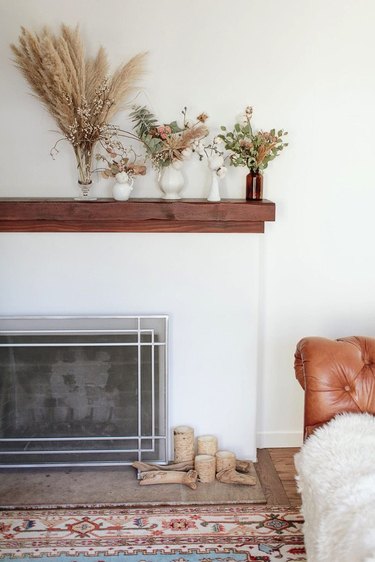 One of the easiest ways to get in on the trend is to simply line your mantel with vases filled with a variety of dried florals. Here, antique milk glass bud vases and amber jars boasting dried wheat, eucalyptus, and tallow berry impart a vintage vibe.
2. Opt for vases in varying heights and patterns.
For an effortlessly chic arrangement that looks downright Parisian, make like Belinda Evans and fill an eclectic collection of vases of varying heights and patterns with flowers and greenery. A mixture of dried and pre-dried Banksia makes for an unusually beautiful display here.
3. Curate a mixture of filled vases and empty vases.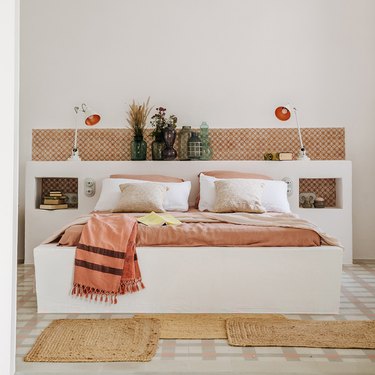 Gain inspiration from this bedroom at Es Bec d'Aguila and style oversize vases brimming with dried grasses and flowers alongside empty vases with sculptural silhouettes. Get the look by arranging them along a headboard, bedside table, shelf, or windowsill.
4. String together dried flowers for a vertical display.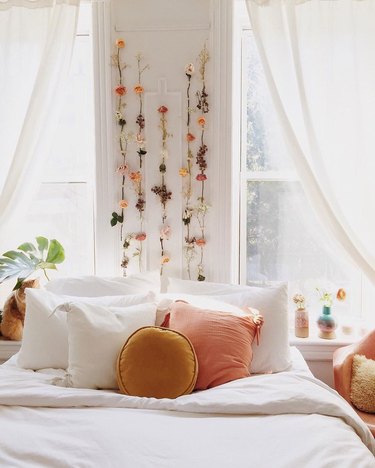 Part of the beauty of dried blooms is that they don't require water, which allows for creating unconventional arrangements like the pretty vertical display in this bedroom designed by Mallory Fletchall of Reserve Home. Here, dried roses and baby's breath make for a beautiful boho array.
5. Set the table with a dried floral arrangement.
A long-lasting dried floral arrangement is an ideal centerpiece for your fall table, especially if you're hosting a large gathering for Thanksgiving. The best part? You can display a vase filled with dried wheat and bougainvillea all season long like Cassidy Freitas.
6. Make a statement with dried pampas grass.
Dried pampas grass, though not technically a dried floral, makes just as stunning a statement. In fact, we're willing to bet you've spotted vases full of this It plant in a number of enviable interiors via your Instagram feed, including this gorgeous living room.
7. Use dried florals to lend texture to your living room.
Fall is the perfect time of year to layer textured decor into your home to make it look and feel cozier and more inviting. In this living room designed by Stefani Stein, a vase filled with dried Desert Yearning Amaranthus and bleached Japanese Umbrella Fern checks all the boxes.