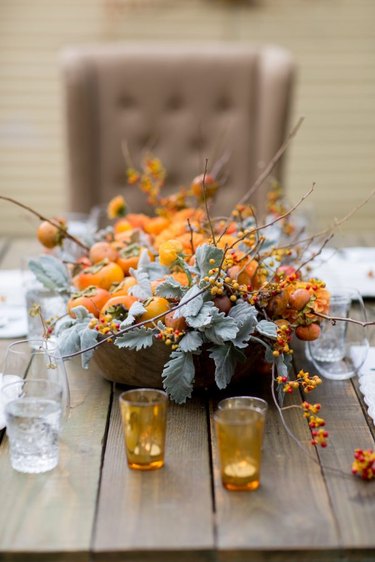 The holidays are a time to be shared among family and friends, to load up on your mom's sweet potato pie, and to try your hand at making your very own decorations — and no, we're not talking about those hand turkeys you made in kindergarten. This year, get inspired and make a Thanksgiving flower centerpiece that's sure to wow your guests. Your Thanksgiving will be beautifully in bloom thanks to these nine arrangements that are not only gorgeous, but modern, too, displaying unexpected color palettes and inventive presentations.
1. Amp up the drama.
This dramatic arrangement designed by Mary Love Richardson of Rosemary and Finch Wedding Floral Design steals the show with deep burgundy, juxtaposes deep burgundy with whispery greens and elegant pastel roses. It's a departure from your standard autumnal fare.
2. Don't limit yourself to just flowers.
Sarah Sherman Samuel was thinking outside of the box when she created this Thanksgiving centerpiece. By using produce and greenery from the market — such as artichokes, pears, gourds, and a little eucalyptus — she designed a visual display that celebrates the harvest in style.
3. Let a container spill over with blooms.
Gone are the days of straightforward arrangements. Nowadays, designers let their imaginations go wild, creating attention-grabbing displays that quite literally spill out from their containers, like this dramatic Thanksgiving flower centerpiece crafted by Jennie of Love 'n Fresh Flowers.
4. Display a vintage vase.
We all know that vintage anything immediately makes a space more unique. That's proven by this centerpiece imagined by Sarah Winward from Honey of a Thousand Flowers. She placed these blooms in an etched copper vase — something that can easily be picked up at an antique store or flea market.
5. Embrace neutral shades.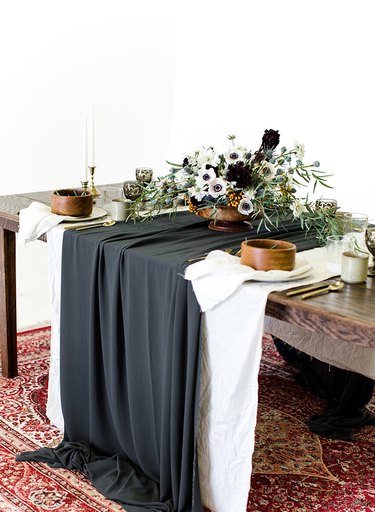 Thanksgiving doesn't have to be all about the oranges, yellows, and browns — it can also be subtle with quiet shades like whites, blues, and greens. This bohemian tablescape, created by Cheyenne and Lisa Rae of Wildbud Creative, takes a fresh turn in tousled greens paired with black and white blooms.
6. Or, go with classic hues.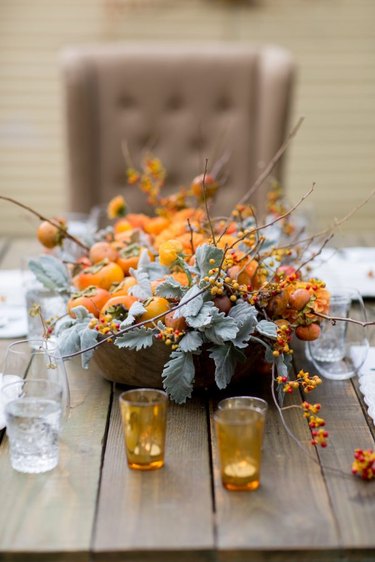 This fall-inspired centerpiece by Cyd over at The Sweetest Occasion is proof that classic autumnal hues can look oh-so-current with the right accents. The persimmons, ranunculus, dahlias, and dusty miller arranged in a shallow wooden bowl look especially charming alongside the amber votive candleholders.
7. Opt for red instead.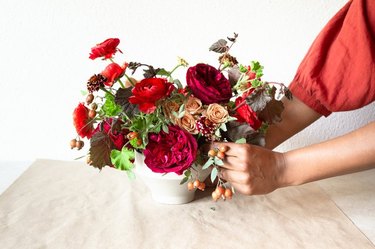 8. Weave in soft pastels.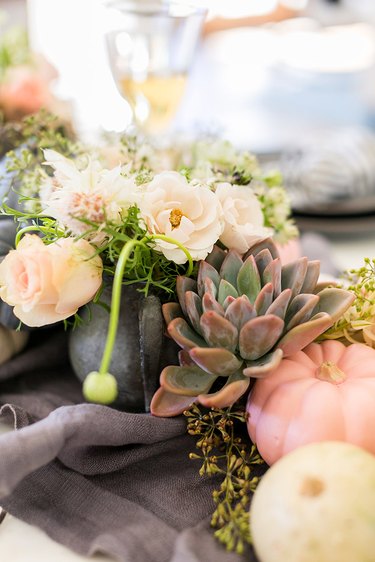 9. Create a work of art.
Becky from Daly Digs is pretty inventive, especially considering she whipped up this centerpiece for a last-minute Thanksgiving feast. She cleverly placed an assortment of fall flowers in a large, round candleholder, resulting in a beautifully sculptural look.