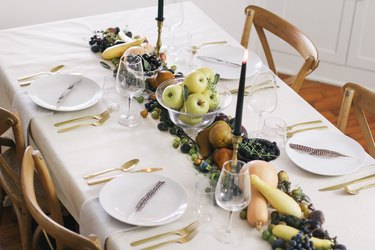 When it comes to Thanksgiving, tradition reigns. Predictability in the main meal offers a certain kind of comfort as people look forward to eating greatest hits such as turkey, mashed potatoes, and stuffing. So where do people turn to when they want to add some personal flourishes to their holiday celebration? The table. If you're looking for some creative inspiration around Thanksgiving table settings, use these gorgeous images as inspiration ... and then, make it your own.
1. Use jeweled-tone fruits for pops of color.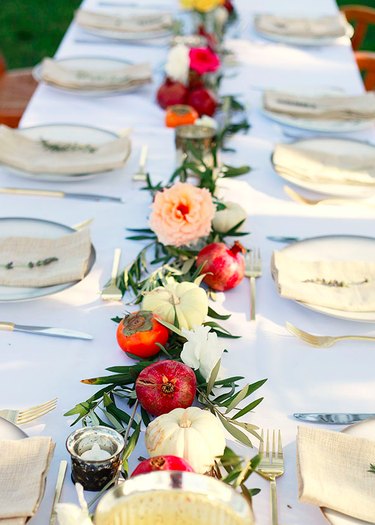 We love how Marina from Yummy Mummy Kitchen used seasonal fruits like persimmons and pomegranates as pops of color among mini white pumpkins and olive branches.
2. Add succulents for natural texture.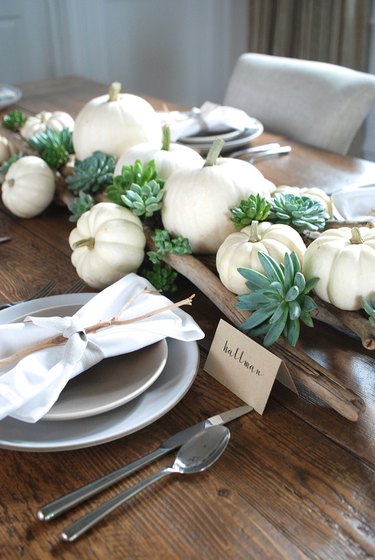 Succulents don't always come to mind this time of year, but Ashley and Hallman from Jane Can show that these plants will beautifully add texture and color to an all-white pumpkin display. Rustic touches like driftwood, thin manzanita-adorned napkins, and simple dinnerware add to the natural appeal.
3. Make a table runner that's good enough to eat. Literally.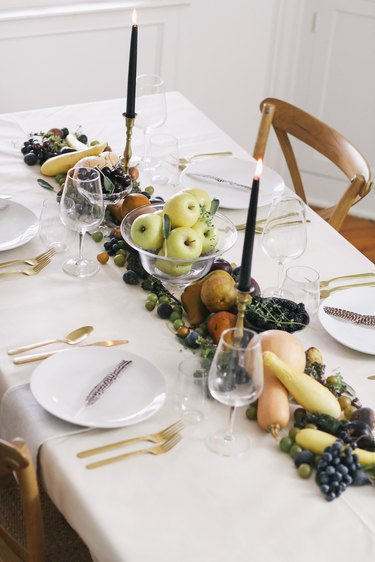 Hunker contributor Trisha Sprouse takes the cornucopia concept to the next level with this edible table runner. It's a stunning focal point that pulls double-duty as elements of the meal. Figs, anyone?
4. See-through seating lets everything else stand out.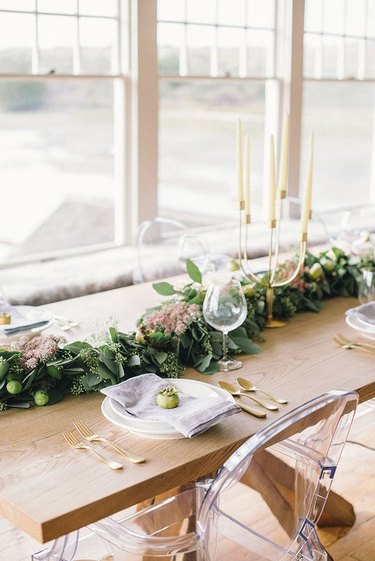 5. Invite Mother Nature to the table.
Jenni Kayne shows how to maximize fall's bounty by creating a Thanksgiving table setting that combines the best of Mother Nature's in-season vegetables, including beets, persimmons, berries, artichokes, and mushrooms. Wood chargers and pillar candles add to the rustic charm.
6. Paint pumpkins for visual interest.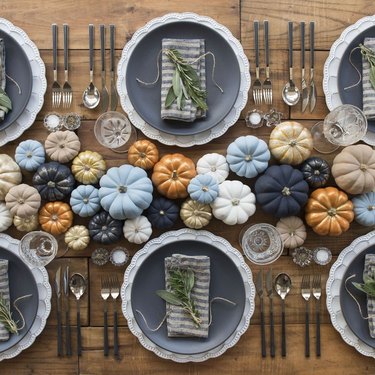 Painted pumpkins in various miniature sizes and colors are an unexpected twist to a universal autumnal accent. We love those matte black and blues! The gray linens and dishes, scalloped chargers, and simple napkin adornments, pulled together by Casa de Perrin, add elegance and warmth.
7. Feature drama from above.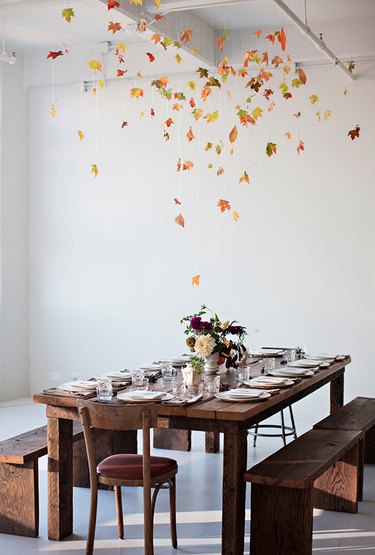 The Style Files show how to keep a Thanksgiving table setting simple while adding all the drama and color you need from above. Cascading leaves are hung on fishing wire from the ceiling.
8. Assemble an unexpected color palette.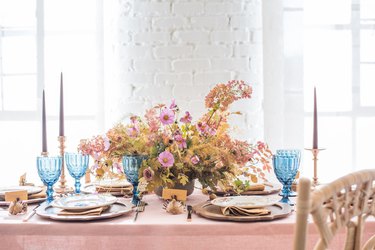 The blush tones, blues, and mauves in this display are a show-stopping departure from traditional Thanksgiving colors. The House That Lars Built demonstrates the beauty in using foraged blossoms, greens, and golden fern. Dreamy.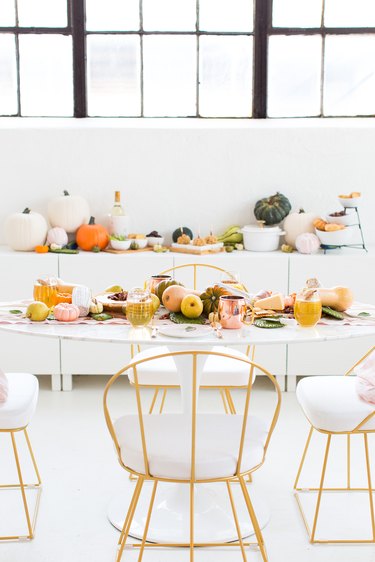 Saturated colors, minimalist chairs, and an always in-style Saarinen table offer a modern twist to this tablescape, designed by Ashley Rose from Sugar & Cloth.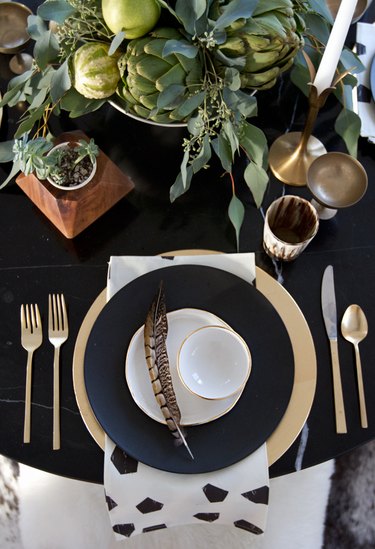 Sarah Sherman Samuel shows how to elevate your table with layered dishes and gold, gold, gold (here as a charger, flatware, and candlestick holders). Patterned napkins and a monochromatic centerpiece created with artichokes and gourds add texture. A single feather on each setting serves as a subtle symbol of the holiday.
11. Go full speed ahead with seasonal colors.
12. Incorporate black for dramatic results.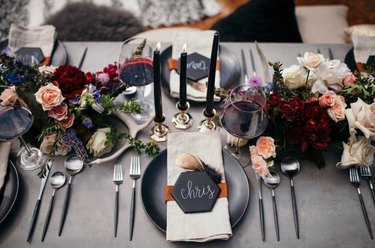 Black isn't just for Halloween. We love the dramatic appeal of black plates, taper candles, and place cards as seen on All Lovely Party. Orange napkin holders are a nod to the holiday.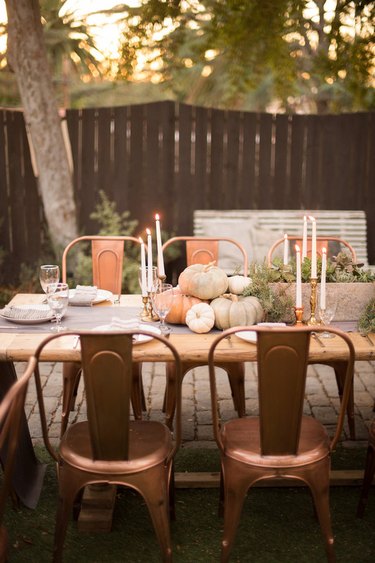 All that glitters is gold ... and copper. For this Thanksgiving backyard feast thrown by Jeni of Found Vintage Rentals, she paired copper chairs with gold candlestick holders. (Don't be afraid to mix metals, people!) Along with some seasonal gourds, a brown runner, and some striped linens, she's created a beautiful table. The outdoor setting doesn't hurt, either.
14. Don't underestimate the versatility of butcher paper.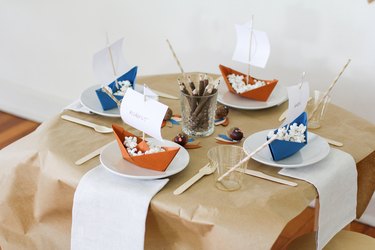 We say, why not cover the kids' table with butcher paper and then let the little ones doodle away throughout the meal. By placing a container holding colored pencils or markers, you'll create an interactive and engaging evening fit for all ages.