While spring might get all of the glory when it comes to nature's bounty — stone fruit, anyone? — we are looking ahead to autumn, when richly-hued (orange, amber, green, yellow, purple, and of course, red) florals and foliage take center stage. But this beauty doesn't have to stop at the front door. Bring them inside and make dramatic fall flower arrangements that will infuse your home with a stunning dose of color. Check out the following nine displays for a little seasonal inspiration.
Citrus is a harbinger of cooler months ahead. Take notes from Bri Emery of Designlovefest (who knows a thing or two about color), and incorporate kumquats into your floral display. Pair with ranunculus blooms in brilliant seasonal tones, for a vibrant fall flower arrangement that will come in handy at snack time.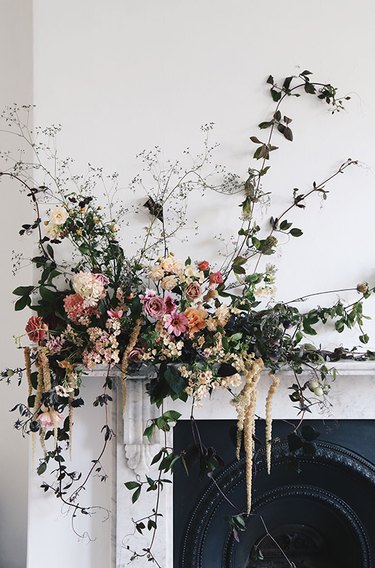 It's hard to resist a romantic fall flower arrangement like this one by Vervain Floral Design, so don't! Its oversize, free-form composition, which includes verdant branches, pastel blooms, and hanging foliage, makes for an eye-catching mantel display.
Autumnal jewel tones like deep berry, forest green, and amethyst take center stage in this fall flower arrangement by Roxanne Dried Flowers. The dimpled garnet vase adds weight and contrast, without distracting from the star of the show.
Show your walls some love and hang a vibrant wreath bedecked in the season's finest colors. This welcoming option from West Elm has harvest undertones with an assortment of wild grasses and herbs that will be a great addition to any room.
5. Keep it light with pastels.
Pastel tulips and roses are elegant options all year long, and when they're paired with sculptural blooms boasting a rust hue, and placed in a ceramic vase, they take a decidedly fall bent. Farm Girl Flowers created this fall arrangement using a trio of smaller vases which perfectly complement a rustic table.
For a low maintenance and long-lasting fall arrangement, look no further than a combination of succulents. While not technically flowers, they come in a range of shapes and seasonal hues, many of which bloom, and introduce a dose of modern desert decor. The Sara and Nicole from Simply Happenstance put together a mix of earth-toned beauties and displayed them on top of a pumpkin.
7. Embrace a monochrome palette.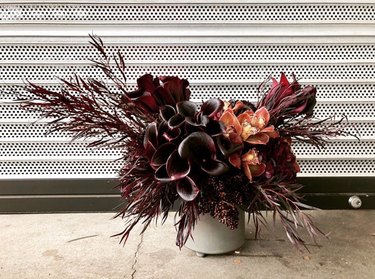 Showcase your favorite color by creating a monochrome fall flower arrangement using a variety of picks in a single hue. We love this tonal maroon creation from Floral Rush that features a mix of saturated florals like calla lilies, leaves, and berries.
8. Ditch the planter, and create a table display.
Does a fall flower arrangement just land short if there aren't pumpkins involved? Consider a sophisticated tablescape like this one from Sand and Sisal which features white gourds, along with pewter candleholders, hydrangea, and a burlap runner for ultimate farmhouse vibes.
9. Pepper-in dried leaves and berries.
Dried leaves and berries bring a surprising amount of depth and texture to fall flower arrangements. Moon Canyon Design used them in this elegant composition to add warmth and to help balance the feminine quality of roses. Mustard table linens and colorful gourds add to the festive display.