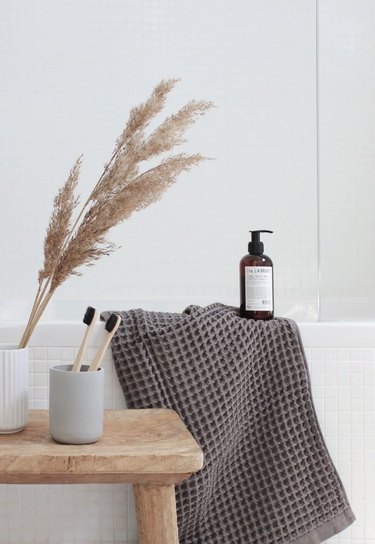 The turn of the season provides the perfect opportunity to redecorate. Autumn inspires pumpkin-themed tablescapes, rustic vases filled with feathery gold grass, and wreaths of burnt-orange and rust-red leaves. But what about the bathroom? Why should it miss out on all of the fall fun? Here are 10 bathroom decor ideas to keep your space looking both spa-like and seasonal, just in time for the changing weather.
1. Play up rustic accents.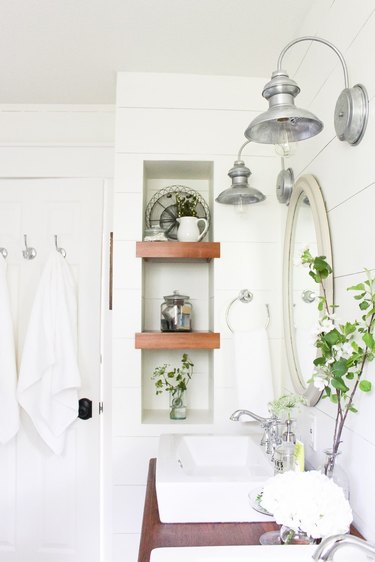 Fall recalls hayrides, pumpkin picking, and that crisp, turn-of-the-season farmhouse scent. To give your bathroom an autumnal feel, add industrial wall sconces and fill your shelving with rustic accents like Kristi from Making It In The Mountains did using thrifted jars and greenery.
2. Throw down an area rug.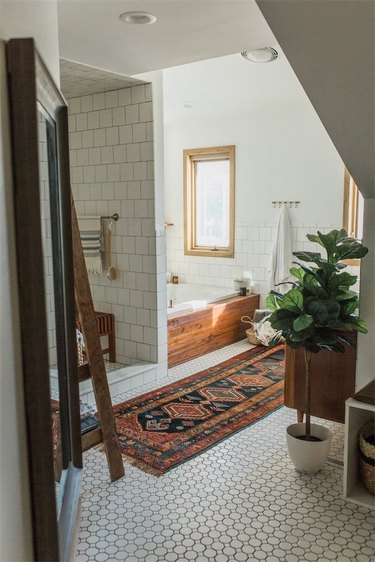 Sure, a rectangular bath mat will get the job done in a small bathroom. But if your master suite is a little larger, throw down a cozy runner. Bre Bertolini from Brepurposed did just that in her bathroom makeover, and we can't get enough of its fall-inspired colors.
3. Change your shower curtain.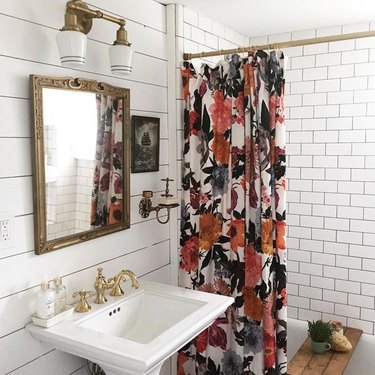 From pumpkins to leaves to flowers, autumn is full of beautiful vibrant colors. And lucky for us, we can enjoy nature's beauty every day ... in our bathroom. All we need is this Massachusetts Airbnb's perfect fall bathroom accessory: a floral print shower curtain ( $88 ) decked out in rich autumnal hues.
4. Embrace natural elements.
5. Transfer your bath products to amber bottles.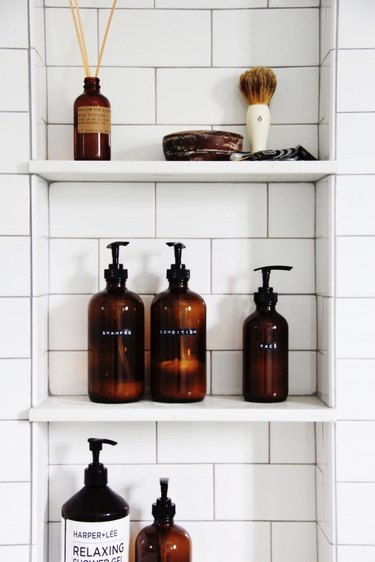 Give your fave shampoo and conditioner a little face-lift by transferring them to these dramatic amber-brown bottles. Not only will the new look add a little fall bathroom decor flair, but everyone will also think you spent a fortune on fancy indie brand bath products. Sarah from Pastiche shares her DIY how-to here.
6. Stock up on candles.
There's nothing more relaxing than soaking in a warm bubble bath surrounded by candlelight and the sweet aroma of some of your favorite comfort foods. Stock up on fall scents such as pumpkin spice latte, apple pie, and cinnamon buns. Jo Malone's travel candles ( $36 ), which are the perfect size for a small bath tray, are the bath-time go-to of blogger Kate Spiers from Kate La Vie.
7. Make some tea ... for your bath.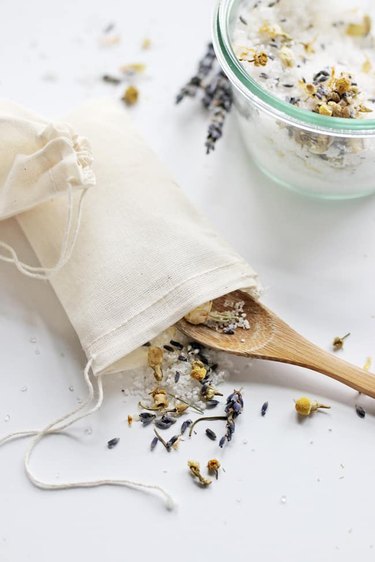 It's important to give your skin a little extra TLC during the fall and winter months. And Stephanie from Hello Glow has the perfect solution: DIY tub tea. Just fill a tea bag with the skin-soothing mixture and drape it over the faucet to let it steep as water fills the tub. Your skin will thank you and you don't have to worry about cleaning up a mess when you're done.
8. Swap out your towels.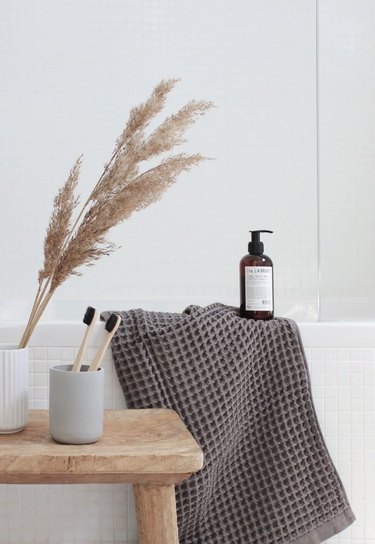 Let's face it: Your usual lightweight Turkish towels don't feel terribly autumnal. Considering the chilly air and gray skies, you'll be happy you invested in a fluffier and cozier set when you step out of the shower. Opt for a darker hue like burgundy or gray to really set the fall bathroom mood.
9. Get dramatic with your wallpaper.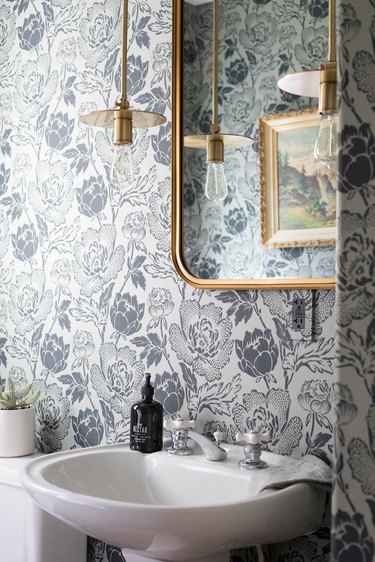 Why shouldn't your bathroom feel fall-like all year round? Brittany from The Vintage Rug Shop used this dramatic floral print wallpaper in her master bathroom redux. It creates a picturesque autumnal ambience perfect for primping and washing the day away. But if you're looking for something a little less permanent, opt for removable wallpaper.
10. Hang a cozy robe.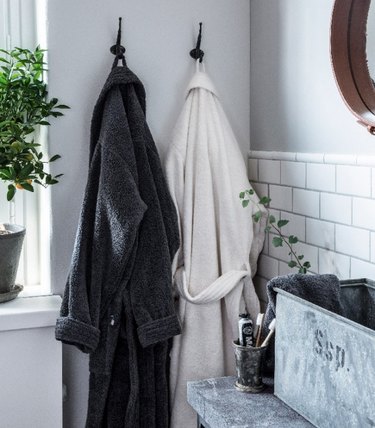 This fall keep the warm vibes rolling after your shower. Keep a cozy robe at your fingertips for quick and easy access. Warning: Once you put it on, you might not want to take it off.