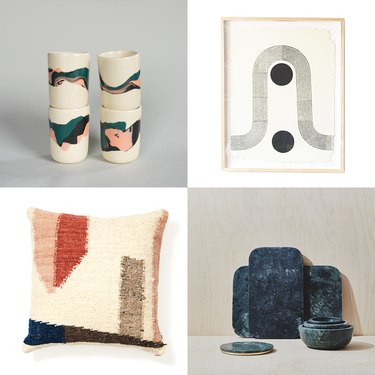 Here at Hunker, we're kiiiinda obsessed with the zodiac. After all, what is more interesting than, uh, yourself? And yes, we've been known to make decor decisions based on our astrological signs. So today, let the stars lead you to discover something new — an indie brand or artisan that you'll love because it vibes just right with your sign.
Aries (March 21-April 19) - Poketo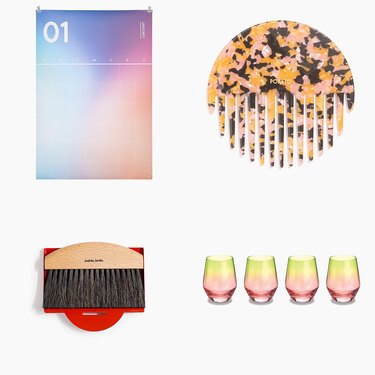 Aries loves to be organized and no one does design-savvy organization better than Poketo, which is known (among other things) for their attractive planners, notebooks, and calendars. And, as the first sign in the zodiac, Aries is all about being first to things. Poketo — which is constantly launching new products or sourcing cool, emerging designers — is where we look for trends, so it's likely that Aries will enjoy refreshing Poketo's "new" page for goods that feel completely unique.
Taurus (April 20-May 20) - Hem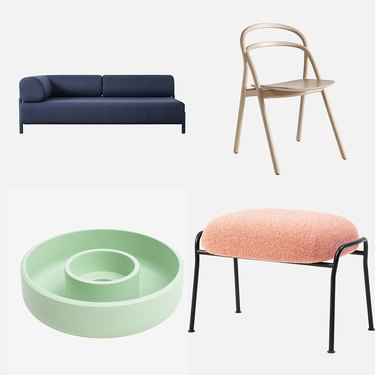 You can always count on a Taurus to be grounded, practical, and responsible. So when it comes to making substantial purchases for their homes, they are looking for items that are top-quality, worth the money, and functional — all while still being beautiful. Enter Hem, the Swedish furniture retailer we like to think of as "where you go when you graduate from West Elm." The pieces aren't exactly cheap, but they're within a doable realm if you're looking for something you're really going to have forever. Plus, Tauruses will love that Hem's sofas are all modular — you can break them down, split them up, or add on to them. (Talk about practicality!)
Gemini (May 21-June 20) - Dusen Dusen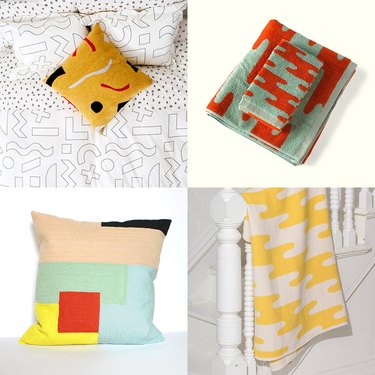 Gemini's curiosity and creativity can't be contained — and they're often moving at lightning paces. So Brooklyn-based Dusen Dusen is the perfect fit. Ellen Van Dusen's towels, sheets, pillows, throws, and poufs are covered in bright and energetic patterns. She's one of those designers who truly embodies the Gemini mindset — her designs feel guided by intelligence and reason, but are at the same time extra-fun and spontaneous.
Cancer (June 21-July 22) - Hasami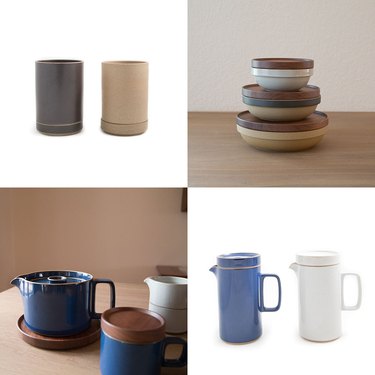 Hasami is a Japanese stoneware line that's all about modern, minimal, and organic-feeling design. As a water sign, Cancer vibes well with the extremely particular mix of clay the items are crafted from. Also: Cancer folks like their solo time, and Hasami's focus on mugs and teapots mean their wares are often used at the most solitary and reflective times of day — like your morning coffee or before-bed tea.
Leo (July 23-August 22) - Hawkins New York
Leo loves to feel like royalty, and likes to indulge in things that are only the best. So we think this sun sign will adore Hawkins New York, a homewares company that prides itself on small, artisanal production. If we could replace all of the basic stuff in our homes — like everyday sheets, dishes, and tableware — with something of supreme quality and aesthetics, we'd get everything from Hawkins. It's not that Hawkins' goods are all insanely expensive, but if anyone were to spend $120 on a marble paper towel holder, it'd be a Leo.
Virgo (August 23-September 22) - Kelley Burnett Pottery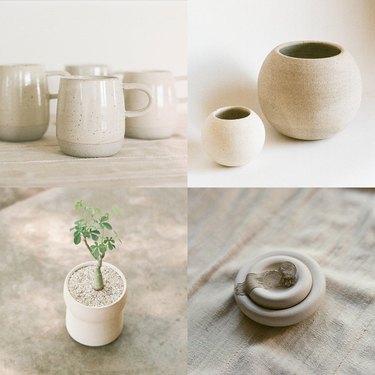 An earth sign, Virgo is always admiring handmade ceramics. But because he/she is so obsessed with perfection and detail, Virgo will especially love the wares created by L.A. artisan Kelley Burnett. Her aesthetic is simple, but intensely focused on form — think perfectly rounded incense dishes, vases with impossibly satisfying lines, and planters created for specific plants. (Available online and IRL at General Store.)
Libra (September 23-October 22) - Heather Taylor Home
Libras are super social, and thrive in gatherings where they're surrounded by great company, delicious food, and stimulating conversation. Heather Taylor's textiles collection, comprised mostly of table linens, is what you take out for dinner parties with people you cherish the most. And because Libras live for balance and symmetry, they'll find Heather Taylor's prints — built on lines and squares in traditional-inspired motifs — very pleasing.
Scorpio (October 23-November 21) - Block Shop
Scorpio: You can be secretive and mysterious. And like you, there's something about Block Shop's prints — which appear on pillows, throws, rugs, linens, and art — that feels slightly symbolic and cryptic. The designs use simple motifs to make large statements, much like the power that fuels your passionate nature.
Sagittarius (November 22-December 21) - Minna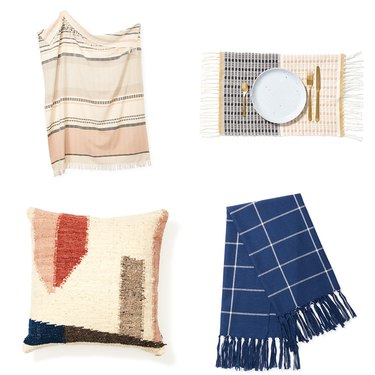 Thanks to a passion for travel, Sagittarius views the world through a global lens, so they're bound to appreciate Minna. This small home brand works directly with artisans in Mexico, Uruguay, and Guatemala to craft goods that use traditional techniques and take design inspiration from feminist art and vintage textiles.
Capricorn (December 22-January 19) - Bend Goods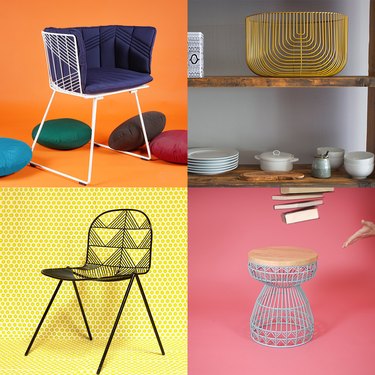 Capricorns are defined by their discipline, love of rules, and exacting vision. And those things can sometimes lead to Caps getting a reputation for being hard people; but just because you're focused doesn't mean you don't have a sense of humor. All of this really reminds us of Bend Goods, whose metal chairs and furnishings are based on linear formations and geometric motifs that almost feel mathematical. And while each metal piece may at first feel kind of serious, there's always a detail — like a pop of color or the addition of a textile or natural material — that lightens the mood.
Aquarius (January 20-February 18) - Floyd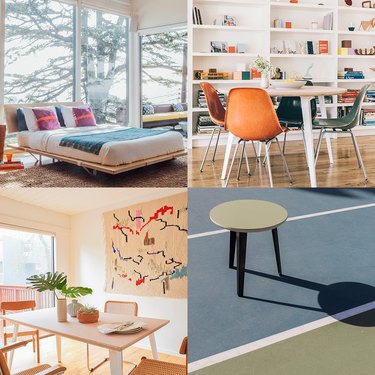 Aquarius pushes us all to do better. The humanitarians of the zodiac, they fight for justice and their beliefs. So when they furnish their homes, they want to make sure the goods they choose come from likeminded people. Floyd, a Detroit-based furniture maker, appeals to this sensibility completely: Their philosophy is all about combatting disposable design. Floyd only makes four items (all engineered in the U.S.), but each is clearly a product of hundreds of hours of thought — from the top-quality materials to the timeless design.
Pisces (February 19-March 20) - Helen Levi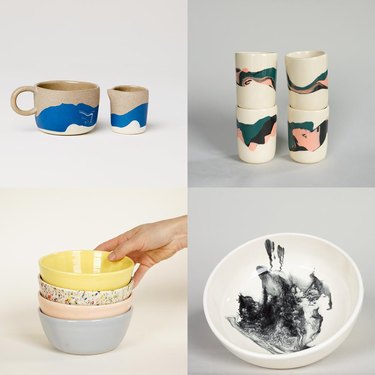 Fueled by artistic instincts, Pisces is the dreamiest of the water signs. And Helen Levi's ceramics couldn't do a better job of embodying Pisces thanks to the signature motif — soothing swirls of color that look like pigments being dragged through water — that appears on her bowls, mugs, and tumblers.
---
Leonora Epstein is Hunker's Senior Director of Content. She has previously served as Executive Editor at HelloGiggles and as BuzzFeed's Deputy Editorial Director. She is the co-author of "X vs. Y: A Culture War, a Love Story" (Abrams, 2014). Feel free to reach out at leonora@hunker.com.