When it comes to home office decor we are alllll over that. The only teeny problem is that motivating ourselves to do actual work in there can be pretty tough. After all, when your workspace is so pretty, sometimes all you want to do is sit and twirl in your swivel chair shouting "I've made it!" ... or maybe that's just us.
In any case, when we have writing-heavy tasks, there's one way we can find concentration and pleasure — with Poketo's pens. Now, if you're unfamiliar with Poketo, what you need to know is that they're an independent, L.A.-based company famous for their paper goods and planners. Of course, they also sell lots of other things, but overall, they've created a recognizable aesthetic that combines minimalist design with fun colors. While we love everything Poketo makes, their pens are PERFECT. We wish we could think of a more eloquent way to say it, but, uh, they just write good. And they're easy on the eyes.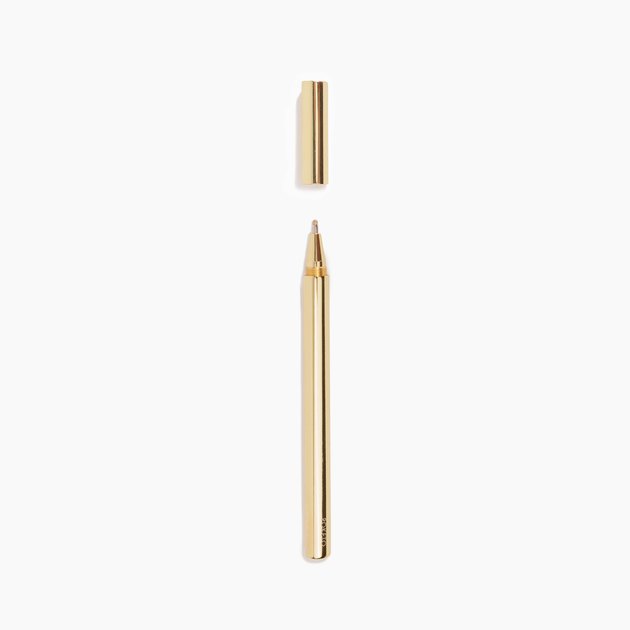 If you want to feel like you're one of those fancy people who carries a legit pen, try their Criterion brass pen with a rollerball point, which is $22. If that's a bit too much money for you, there's the Prism rollerball for $6, which comes with an ultra-fine tip and fun metallic color options.
So, if you're looking to add the perfect writing utensil — one that's stylish and amazing to use — to your home office, trust us when we say these work.
---
Leonora Epstein is Hunker's Senior Director of Content. She has previously served as Executive Editor at HelloGiggles and as BuzzFeed's Deputy Editorial Director. She is the co-author of "X vs. Y: A Culture War, a Love Story" (Abrams, 2014). Feel free to reach out at leonora@hunker.com.
View Work