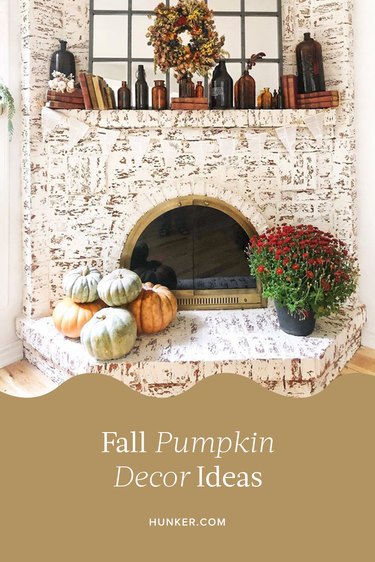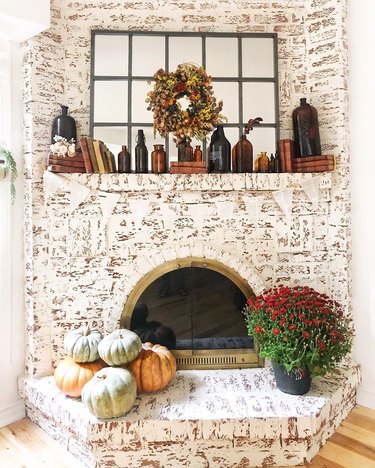 When we think of autumn, we think of fall pumpkins. And not the manufactured pumpkin spice stuff that is both too strong and bland at the same time. We're talking the real deal — huge gourds in varying shades of orange, rust, and white.
In fact, these vegetables are synonymous with the cooler months just before Christmas and Kwanzaa. People make pies and savory dishes with them; they roast the seeds for random snacking. But if you want to go a little next level, we recommend incorporating pumpkins into your fall decor.
Here are a few ways to liven up those tablescapes and fireplaces with the infamous orange veg. And the best part is, you can cook your decor when you're ready for a new look.
1. Go for a sprinkle of glam.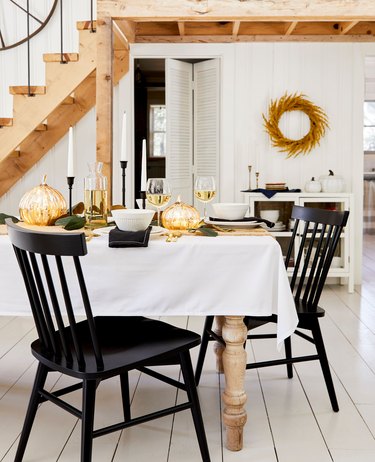 This dining room scene from Emily Henderson feels a little Scandi and a lot stylish. And the decor is minimal but not scarce. We really like this look, though, because the fall pumpkins are metallic. They add a touch of modern glam that can work for most tablescapes. To get a similar effect, you can spray-paint your pumpkins in shades of gold, copper, or silver.
2. Enhance your entryway.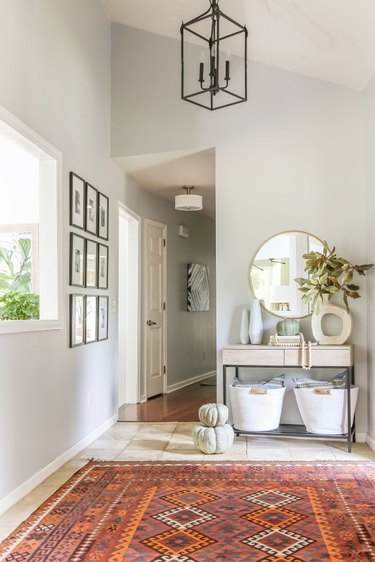 Bring a few fall pumpkins into your entryway to make a subtle statement. Stack a few on the floor and on the console where you drop your keys. This space from Designing Vibes already has a lot of color thanks to that stunning patterned rug. So while the light gourds create dimension, they don't feel overwhelming.
3. Make the mantel a focal point.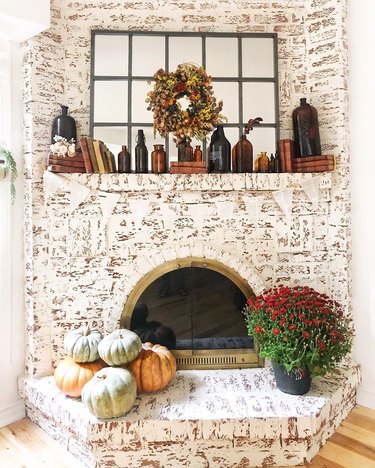 If you have a fireplace and hearth as jaw-dropping as Wendy's from The K Wendy Home you should decorate it every single season. For the fall months, Wendy decked hers out with amber glass bottles and a wreath. But the pumpkins really deserve the spotlight. The light green tones complement the more classic orange ones. And even though they're off to the side, they feel incredibly intentional.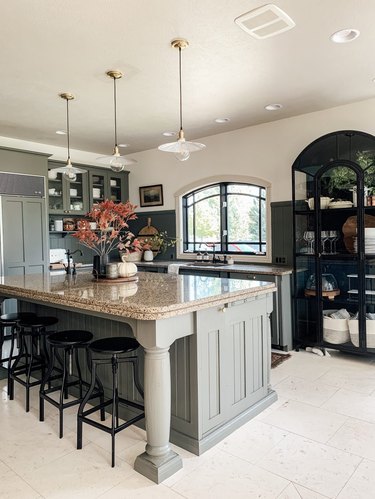 You might miss the single fall pumpkin in this kitchen decor at first glance. But once you spot it, you'll love it. By placing a single gourd on the island, Chris Loves Julia brought in a little holiday cheer without going overboard. And this is proof that, sometimes, simple is super impactful.
5. Sprinkle them on your stairs.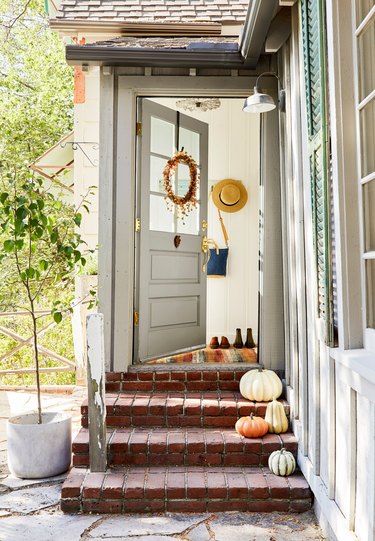 Whether you welcome a lot of visitors in the fall or you're the only one who travels in and out of the front door, a few outdoor pumpkins will make the entrance to your home feel cozy. Sprinkle a few on the steps, and don't worry about following a particular color scheme or design. The more eclectic the gourds, the better. Throw a squash into the mix, too, if you want to switch it up.
6. Bring them to the bar cart.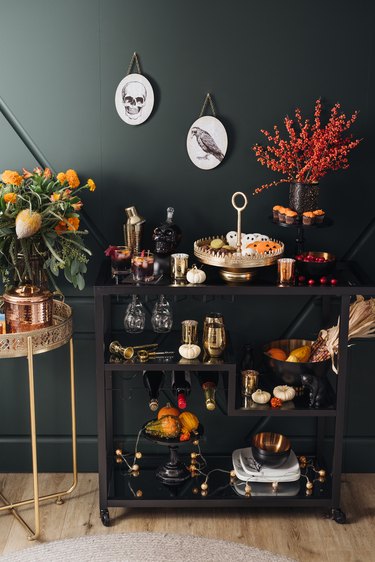 The dark backdrop in this room is fantastic, but the perfectly-styled bar cart is what we're here for. Sure, your drink trolley needs to be practical and actually house cups, beverages, and maybe a few snacks. But it can also handle a little fall decor. So scatter small pumpkins on the shelves to fill in empty space. Then your cart will be picture perfect.
7. Have a monochromatic moment.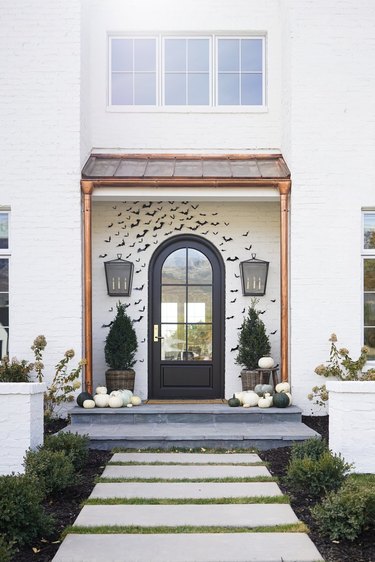 There's something about a classic front porch in fall that just needs monochromatic pumpkins. Here, Studio McGee decked out the entry with mostly white ones in various sizes. And instead of feeling stuffy or too precious, the styling moment is fresh. The faux bat stickers even add a bit of whimsy.