Are you on the hunt for curb appeal projects that you can pull off in one weekend? We've got you covered with 10 easy to-dos that add functionality and style to your front door. From beautiful handmade house numbers to a fun custom doorbell cover, you'll learn how to put your home's best 'face' forward. After all, first impressions are everything!
1. Make It Welcoming
First things first, make your front door look cheerful to visiting guests by incorporating accessories that literally spell out some sort of "Welcome." Bonus points for adding personality, like one of these cheeky doormats.
2. Paint Your Front Door With a Pop of Color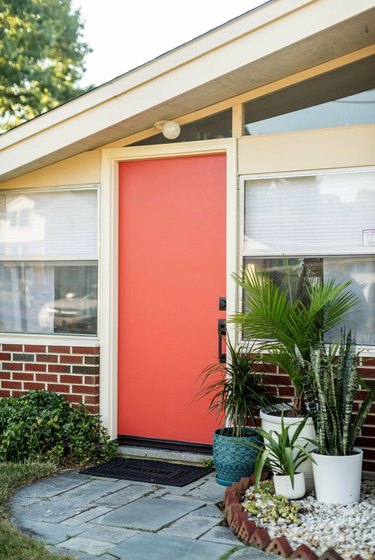 Flowers are great ways to add color to your home's front entry, but what happens in the winter when everything goes dormant? Achieve year-round personality by painting the front door a fun color to suit the style of your home. Sample a range of paints on your door (stepping back to look at them throughout the day in different lighting situations) to make sure you choose the right color for your house.
3. DIY Your House Numbers
4. Address the Landscaping
Speaking of landscaping, resist the urge to overlook groundcover. Have a local hardscaping crew dump a pile of river rocks or mulch right by your driveway, and spend an afternoon spreading the material along the front perimeter of your home to help ground its curb appeal.
5. Bring It to Life With Plants
Whether you're a gardening pro or you have a beginner's green thumb, don't forget to add plants. If your particular home doesn't allow for full-scale landscaping, simply group a bunch of planter pots by the front door and fill them with hardy greenery for easy maintenance.
6. Dress Up Your Doorbell
Don't confuse visitors with a hidden (or, worse, non-existent!) doorbell. Instead, make it a design feature by drawing attention to the button. We love the concept of adding a doorbell plate (like this retro starburst cover) to your old bell for an extra dose of curb appeal personality.
7. Focus On Your Front Path or Walkway
A front path or walkway is the easiest way to lead guests to your entry. For a low-maintenance and low-cost project, try laying individual flagstones in a way that encourages foot traffic toward the front door.
8. Match Your Door Handle to Your Decor
Just as jewelry completes an outfit, the handle on your front door is the perfect curb appeal finish. Choose a style that suits the era of your home (sleek and clean-lined for a modern house, for example, or curvy and ornamental for a traditional one), and make sure you order the handle in a metal that matches your already-existing exterior finishes.
9. Install Lively Lights
Do yourself and your guests a favor by creating a well-lit entry. A large globe light makes a bold, modern statement while also helping you access your home after the sun goes down. You may even want to go hands-free by installing a motion-activated front porch light.
10. Remember Your Mailbox Matters
Don't go out and buy the same old store-bought mailbox that everyone on your block has. Instead, get something custom-made in a fun shape, or repurpose a vintage box that matches the vibe of your equally 'vintage' mid-century home.