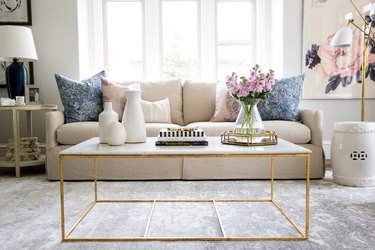 Selecting a carpet color is no easy task. It has to go with ​everything​ — the furniture, the decor, and the paint. Plus, it needs to hide dirt, be comfortable to walk on, withstand stains, and be something you can happily live with for years since it's not the easiest or most economical home feature to replace.
That's why it can be tempting to work yourself into a tizzy pondering different hues. Are white shades just asking for red wine spills? Will bold shades overwhelm a room? Is beige boring?
There are so many questions, but we're here to help with five rug and carpet color ideas that will transform your entire space.
1. Use carpet tiles to make a bold pattern.
If you're craving pattern, use geometric carpet tiles for a one-of-a-kind look. Chango & Co. went for a midcentury vibe with this graphic green and white flooring. It matches the oversize ceiling fan but doesn't overpower the rest of the decor. Plus, the vibrant color brings cheer to the more neutral furniture.
2. Add interest with texture.
Neutral carpet colors can feel expected, but this nubby, woven texture is anything but. The Heidi Caillier living room here features a natural carpet in shades of brown and white. The warm tones blend together to create an inviting, ultra-interesting look. But if you're worried a similar grasscloth material might feel rough on your feet, place a thin, soft rug directly underneath your sofa.
3. Layer a rug on top of neutral carpet.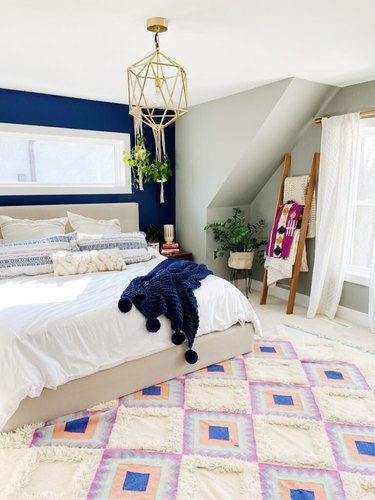 4. Consider pale blue as a neutral alternative.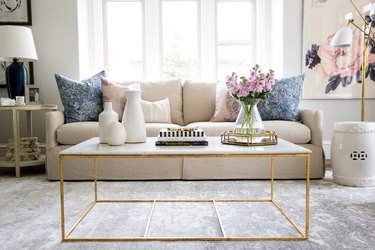 Any shade in the greige family can typically work for carpeting — they're just dark enough to hide dirt but light enough to open up a room. Have you considered pale blue as an alternative, though? The sweet floral flooring in this Studio McGee space adds a feminine twist and gives a subtle nod to the traditional decor. We especially love how the baby blue shade complements the glossy gold highlights in the coffee table and floor lamp.
5. Use multiple rugs to create a layered effect.
Writer David Coggins is rather famous because of his layering talents, and for good reason. His New York City apartment's living room is anchored by rug after rug after rug. Many of them were found on eBay and arranged to slightly overlap and create a carpeted effect. Coggins's advice for the tedious and oftentimes overwhelming rug-buying process: Know what you want, set a budget, and be patient during the search.