Installing carpet on your stairs is a practical design decision to be sure, but that doesn't mean that it can't be aesthetically pleasing as well. While most of us start the hunt for stair carpet ideas because of safety reasons (slipping and falling on wood steps is a valid concern, especially if you have little ones), it's a delightful surprise to find out that there are more options to choose from than beige — although that definitely has it's time and place, so don't rule it out!
In case you were wondering: carpeted stairs are different than a stair runner. While a stair runner can function similarly, it won't cover the full width of the risers and treads (meaning, it might be more expensive) the way that stair carpet does. If you're wanting to make a bolder statement with your staircase design, we say consider going all the way.
From pops of color to animal print to a subtle stripe, there are plenty of ways to jazz up your staircase ​and​ make it more functional. Ahead, we're sharing nine of our favorite carpeted stair ideas from around the web.
1. Add interest with stripes.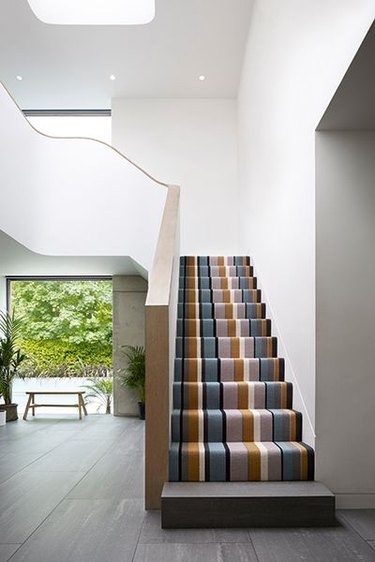 This striped staircase idea spotted on Style Flooring of York is not for the faint of heart. With that in mind, it's a foolproof way to add a pop of color to a neutral palette, while the linear pattern draws the eyes up, connecting the upper and lower levels. Plus, it adds a welcome dose of fun to this seriously modern entryway.
2. Make a bold statement.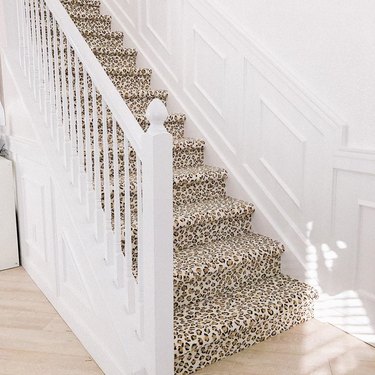 We love the way that this unique staircase idea by Courtney completely transformed a bright white space from traditional to statement-making. The leopard pattern juxtaposes the classic wainscoting on the walls adding balance and dynamic visual interest.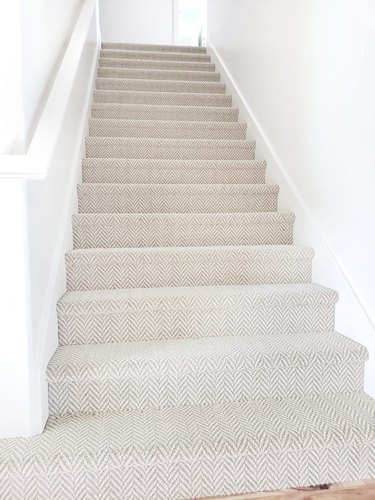 This houndstooth stair carpet idea from Kate over at White Lane Decor is a perfect example of a contemporary option that adds just the right amount of interest. Plus, subtle patterns can help conceal wear and tear over the years, making it ideal for a high traffic area.
4. Go old-school with plaid.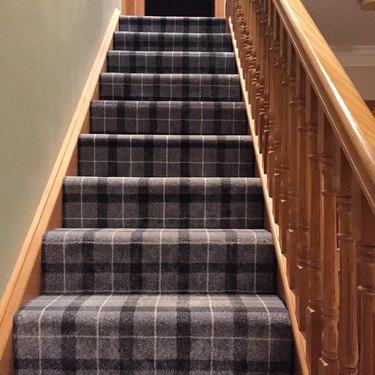 Speaking of patterns, this plaid staircase idea from Tannyoky Floors would work seamlessly on a set of basement stairs leading to a cozy entertaining space. Add roll arm sofas and a whiskey bar, and you'll easily feel transported to another place and time.
5. Keep it classic with sisal.
Sisal is the stair carpet option that most mimics the look and feel of wood, making it a perfect choice for someone wanting a seamless transition from the wood flooring throughout the rest of their home. Sisal is also incredibly versatile — it suits every type of decor, from English country to a beach bungalow.
6. Match a hallway runner.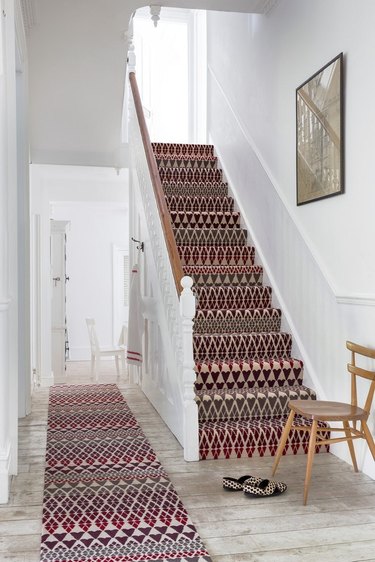 Take a note from Naked Flooring and match your carpeted stairs to a hallway runner for a bold yet cohesive look. This idea works particularly well when the rest of the space is kept simple and understated, allowing the carpet to act as the art in the room.
7. Choose a geometric pattern.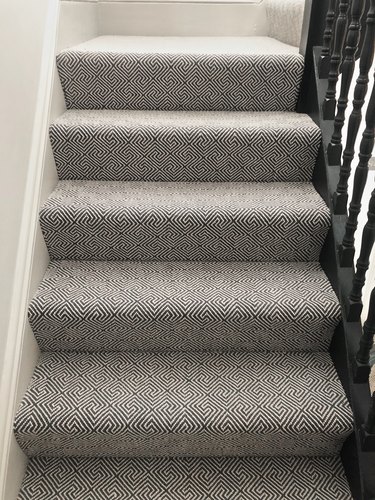 8. Opt for a pop of color.
Then again, this greenish-blue striped look from Three Legged Pig Design adds a cheery pop of color to an otherwise neutral foyer. Take note of how the subtle two-toned paint job on the railings and banister, also ties into the carpet coloring making the whole space feel cohesive.
9. Keep it simple with beige.
We said you shouldn't rule it out, and we meant it! Beige is making a comeback, after all. We love the way this simple design choice from Battersea Builders easily melds with the wall colors and wood furniture. To recreate this look, opt for a paint color with cooler tones to balance the warm neutral floor covering.