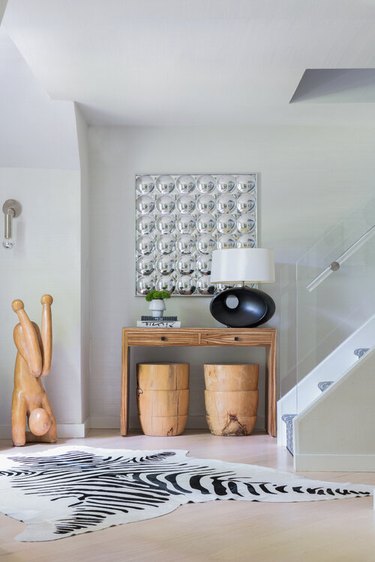 To modernize the stairs in your entryway or hallway, you might have to completely remodel; you might be able to get away with just a few coats of paint. But either way, we have all the tricks to take your modern stair railings to the next level.
Here are our insider tips.
1. Go for something gold and geometric.
The beautiful gold railing gives this foyer and hallway a modern touch. Yes, the space has minimal decor and only a little storage, but it's still so interesting and impactful. A bright blue light fixture draws the room together.
2. Invest in iron.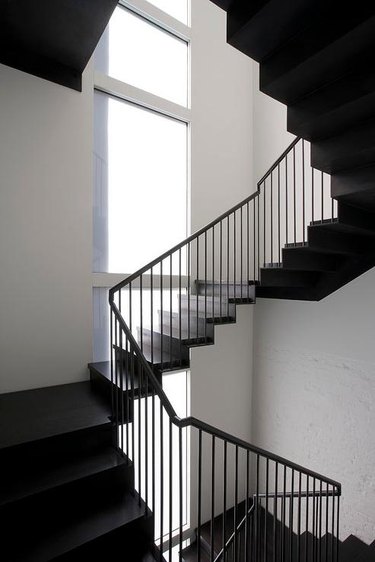 The thin, black iron railing on this staircase stands in sharp contrast to the large windows and white walls. In a space like this, feel free to completely skip extraneous decor. You can simply imitate the look by investing in iron spindles and installing them close together. Their proximity will create an intentional, modern look, especially on a narrow staircase with sharp turns.
3. Add a little bit of acrylic.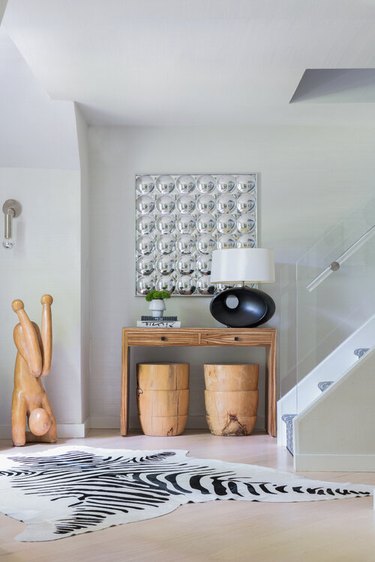 This foyer in the home of Denise Davies of D2 Interieurs is what dreams are made of. And that acrylic stair railing takes the cake. It keeps the room feeling bright and airy; light shines right through. Plus, the modern feature lets the entry table and decor be the stars of the show.
4. Paint the spindles white in your modern stair railing.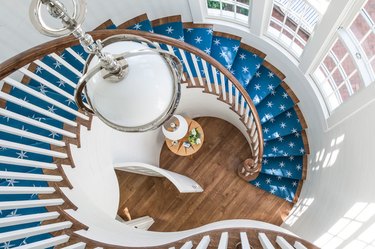 To easily modernize an otherwise older spiral staircase, paint just the spindles white. Not only will the crisp color lighten up the entire room, but it will also make the wooden railing stand out. Paired with a bright runner, this update will give the otherwise vintage foyer a modern feel.
5. Keep it simple with walnut railing.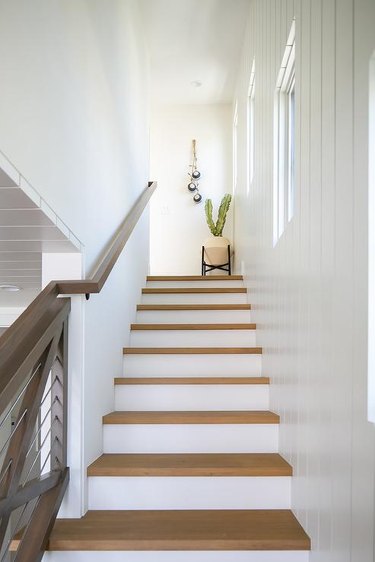 To modernize a minimalist entry, paint the staircase white. You can also add a little visual interest with a cactus and a bit of wall decor to draw the eye upward. But most importantly, stick to a simple, dark wood modern stair railing.
6. Let the pattern speak for itself.
Eye-catching, geometric patterns are common in modern staircases. And when paired with another modern trend, black iron railing, this bold style is hard to resist. In any foyer with large windows and white walls, this kind of railing will be the main attraction. But don't be afraid to do a fun ceiling light, too.