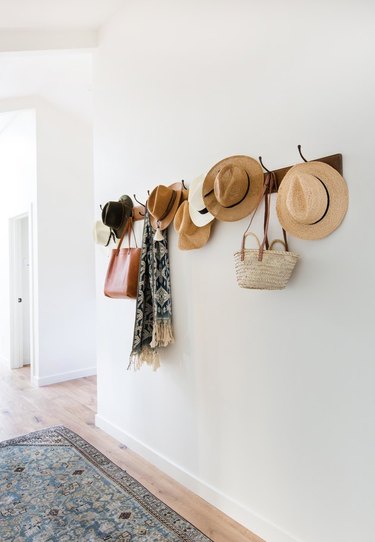 They get us from point A to point B in our spaces, but that doesn't mean they shouldn't look stylish, too. We're talking about your hallway — that space that can often go ignored in the grand scheme of decorating your home. Whether you have a large or small hallway, think about how you might use the wall space in your hallway to show off your personality.
Whether you commit to a new paint color or just play with art ideas, it's worth experimenting with your hallway walls to see what stylish things might happen.
Here's some hallway wall decor inspiration to get your started:
Choose a bold paint color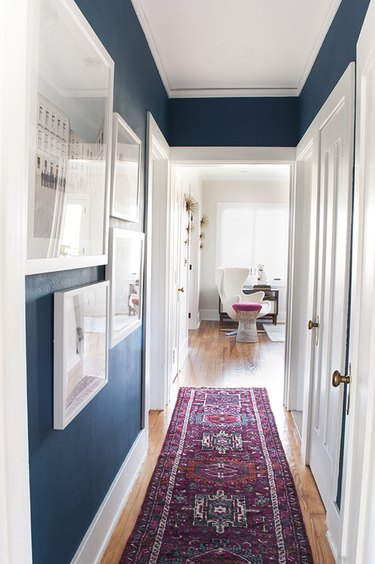 Choose a bold wall color that packs a punch to add some personality to your hallway. Leave the trim, ceiling, and doors in a neutral color to accentuate the pop of hue. Tie it all together with an eye-catching rug.
Create a hat display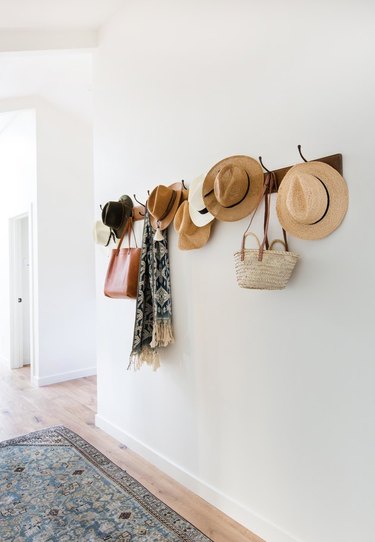 Use any regular old hallway to give your visitors somewhere to hang their hat — literally. Choose a decor piece with plenty of hooks to create more storage and a chic look. Show off your favorite pieces and leave room for guests to stash their own accessories when they visit.
Show off your hobbies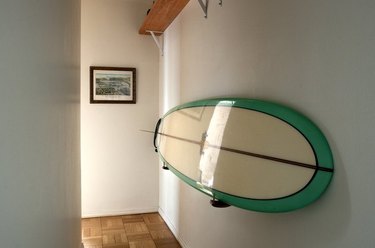 We love the way this California modern home shows a close attention to the little details. Use a hallway wall to display your hobbies and passions, especially when they fit the theme of your decor style, too. This unexpected surfboard in the hallway is a great conversation starter.
Add a statement mirror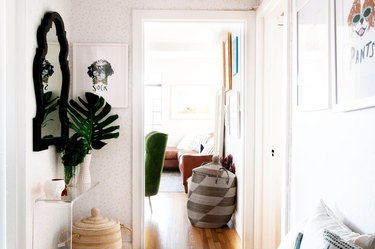 If you've already hung up all your prints and don't want to fill the hallway space just with art, pick out a statement mirror to complete the look. This eclectic space pairs framed dog art with an eye-catching mirror for a chic look. We love the thick black frame around the mirror, which works well with the plants displayed nearby.
Pair artwork with statement lighting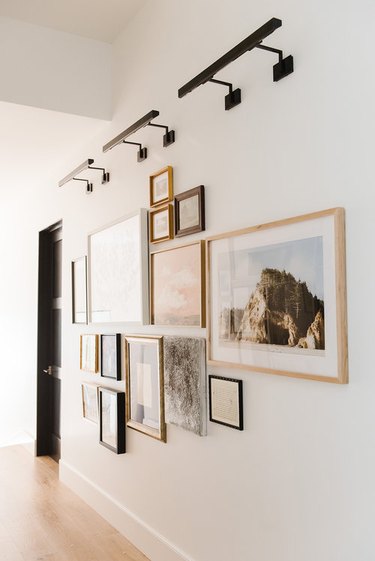 We love the way this hallway space pairs a gallery wall with industrial lighting pieces. Use a symmetrical layout and a consistent color in the lighting fixtures, but get creative with frame colors for a truly eye-catching wall.
Opt for black-and-white minimalism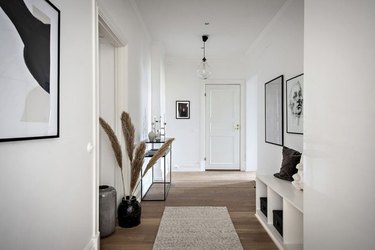 Choose a specific color palette for your hallway to tie everything together. This hallway, for example, sticks to a mostly black-and-white look with its framed art. We love the idea of mixing frame sizes on the wall and including one small piece at the end of the hallway, too.
Use every nook and cranny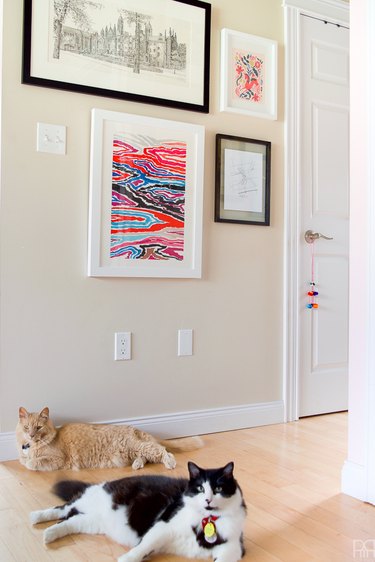 Even a wall that seems awkward or hard to work with can result in something whimsical and stylish. We love the way this hallway makes use of the space between the light switch and door frame. There's enough space for a small gallery wall that greets your guests just as they round the corner of the hallway.