We may earn compensation through affiliate links in this story. Learn more about our affiliate and product review process
here
.
"Don't do it ... don't do it ..." Katie Sturino chants, seemingly to herself at first, from her seat at the wood dining table that also functions as her desk. Her eyes are cast toward the living room of her top floor Manhattan apartment. "Don't you do it, girl."
After a beat, she shifts in the seat of her emerald velvet wingback chair, apologizing for the momentary distraction. "I'm just waiting for Sock to pee on the rug. She was thinking about it."
Sturino may be the brains behind The12ish, a popular plus-size fashion blog, and the founder of booming beauty and personal care brand, Megababe, but first and foremost, the 37-year-old is a dog mom. Sock, a blind 16-year-old Shih Tzu moved in along with Sturino's now-fiancé last year. And Sock, along with her other Insta-famous siblings (some of whom have sadly moved on to doggie heaven) hold an important spot in Sturino's home, in the form of a series of illustrated portraits by artist Ali Mac placed prominently in the entryway.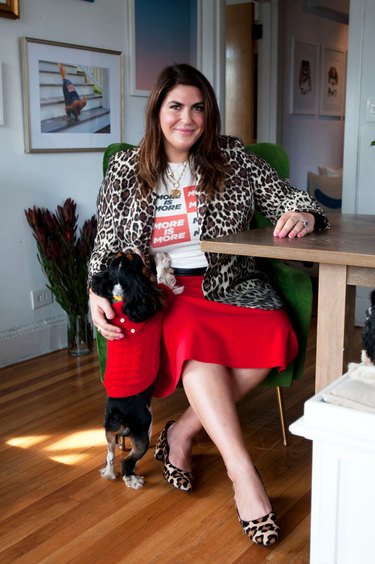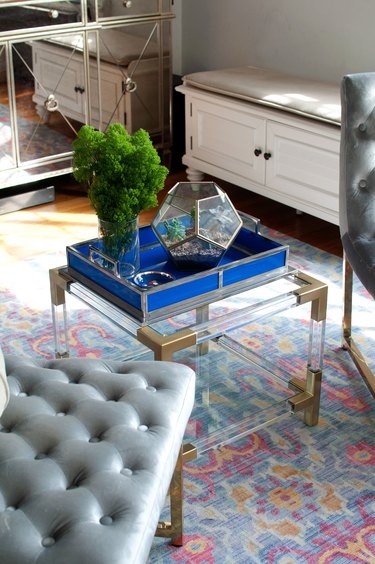 Sturino's twelfth floor apartment is located on a picturesque street in Chelsea. The one-bedroom has plenty of the post-war charm of the West Village, but with a bit more space and, thankfully, an elevator down the hall. The living and dining area is full of natural light, thanks to the bounty of casement windows facing in three directions, including a not-too-shabby view of the Empire State Building to the northeast.
Sturino works from home, and when she moved into the apartment, one of her first purchases was the long, wooden dining room table from Wayfair that functions as a desk. The honey-colored construction is complemented by eclectic seating — a pair of brilliant emerald green wingback chairs by Mistana at the head and foot, flanked by velvet cushioned storage benches by iNSPIRE Q. Aside from a Jonathan Adler banana sculpture centerpiece, the table is uncluttered on the day of Hunker's shoot, a rarity, according to Sturino, who jokes about the number of half-full iced coffee cups that would normally be sitting out.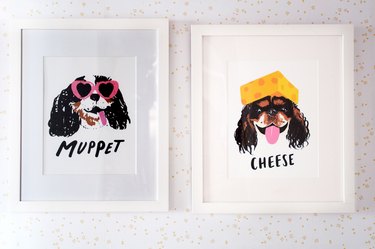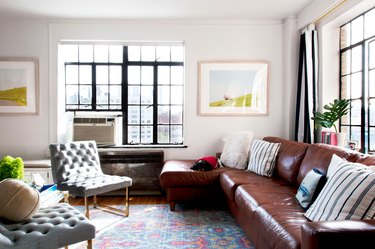 "I want it to feel like a place I'd want to be in and not a place I don't want to be in," Sturino says. "But it's also important that it doesn't feel like an office that I live in, you know what I mean? It's a home first."
Sturino moved in three years ago after splitting from her first husband and amidst a shift in her career from behind the scenes (as a former fashion publicist) to in front of the camera. It all started with her participation in a piece on Man Repeller about styles for curvy women. The story's success inspired Sturino to launch The12ish, her blog, which emanates an authentic, down-to-earth and utterly infectious confidence that fashion is for everyone.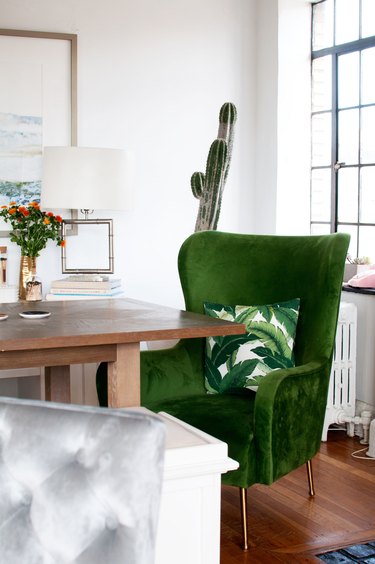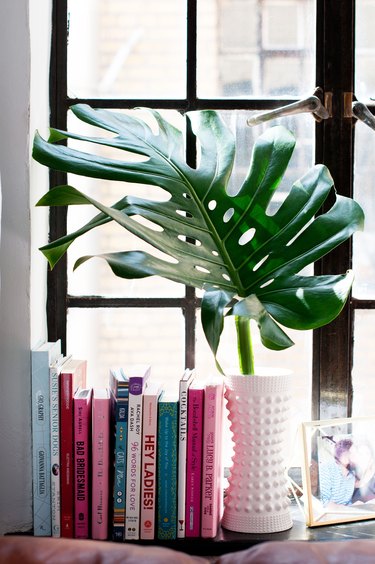 "The 12ish is for women of all sizes, because it's not a size thing, that's not the problem — women are just conditioned to feel bad," she explains. "We're just walking by the mirror and we're groaning and we're like, 'Ugh, ick, blech.' But really, we should be walking by a mirror and being like, 'I look awesome. I look amazing.'"
One delightful feature is "Supersize the Look," where Sturino recreates a celebrity's outfit using items from stores that carry a wide range of sizes. "Make My Size" is another recurring feature where Sturino shames brands that only carry a limited range of sizes, often posting dressing room photos of her attempts to squeeze into the store's largest size. The point is clear — women's bodies are fine, it's the clothes that have issues.
You can feel the same bold and brazen energy in Megababe, her line of self-care products that, in just a couple years, has garnered a cult following. There's a 5,000 person waitlist for Rosy Pits, a natural deodorant that's free of aluminum and chemicals. There's also Bust Dust, an anti-boob-sweat spray, and Thigh Rescue, an anti-chafing stick.
"I want it to feel like a place I'd want to be in and not a place I don't want to be in," Sturino says. "But it's also important that it doesn't feel like an office that I live in, you know what I mean? It's a home first." — Katie Sturino
Megababe's popularity owes a lot to its honesty. Sturino came up with Thigh Rescue when she realized the only anti-chafe products catered to only to men. Boob Dust finally acknowledges a problem women seem to only talk about behind closed doors. "We launched feminine wipes too, because I'm a messy person," Sturino adds. "Yes, they're feminine wipes, but I think of them more like wipes for anything that are [also] safe for your vag."
Of course, it doesn't hurt that Megababe's design is on-point. The line's aesthetic — a minimal, yet slightly girly take on '70s stripe motifs — feels tailor-made for Instagram.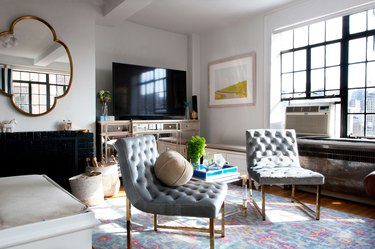 Just as her personal style can be unexpected, playful, and eclectic, Sturino's apartment effortlessly mixes aesthetics. Ultra feminine details like velvet, bright jewel tones, and brass accents are immediately eye-catching amidst the unfussy simplicity of the home's larger pieces of furniture, like the bright white sideboard in the dining area. There are bohemian, global touches, like the over-dyed magenta and turquoise Turkish area rug by Bungalow Rose, trio of decorative African fans, and handwoven seagrass baskets from Serena & Lily, while dramatic, split-leaf Monstera fronds and a large potted cactus add greenery.
Whitney Giancoli, an interior designer who describes herself as Sturino's "style partner," has helped Sturino update and adapt the apartment several times since she moved in. Cutting down on clutter, for example, became even more of a necessity when Sturino's fiancé moved in (her knockout engagement ring practically doubled the apartment's occupancy on its own).
"Katie really thoughtfully came to me and was kind of like, 'I want to make sure that he feels at home. We also need to make space for his stuff, but I also want to maintain my own personal style,'" says Giancoli. "So it was very much a conversation on how to meld the two, taking into account that he's a man and Katie has pretty feminine taste."
The primary objective? A new couch for the living room.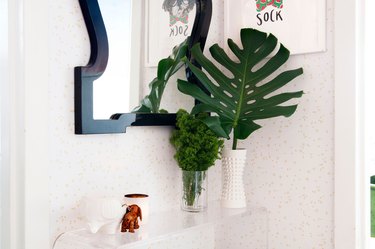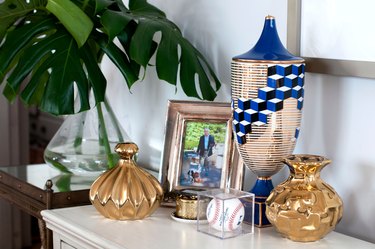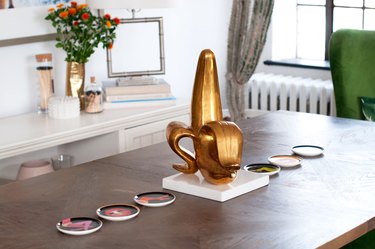 "Katie had this really lovely, very comfortable, blue velvet couch before," Giancoli says. "But it was kind of small. I don't know if you should say girl-size, but it was a petite couch. It definitely was not like a sink into it, watch a movie with your girlfriend type of couch."
"I think a lot of people think that brown leather is super masculine and kind of gross," Giancoli says, "but we softened it by having some pops of color in the rug and keeping brass tones all over."
The home is also filled with furniture with hidden storage that can be used to stash away the regular influx of stuff sent to Sturino from fashion and beauty companies — not to mention all the Megababe product. The flatscreen TV in the living room sits on top of a glamorous mirrored credenza from Wayfair that Sturino says is bursting with Megababe overflow.
Megababe's success has been beyond what Sturino could have anticipated, but she's mostly bewildered that there was ever such a significant hole in the marketplace for her to fill.
The next question is, though, just how much longer can a booming beauty brand operate within a one-bedroom apartment? If we've learned anything from Sturino — she can make pretty much anything work.