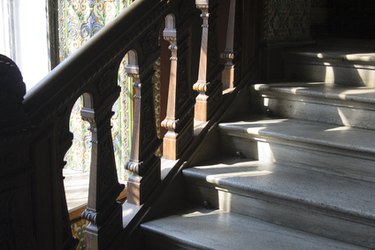 Carpet is a popular covering for stair treads because it is skid resistant and soft underfoot. Especially if you have children, carpeting can lessen the impact of slips and trips on the stairs. However, carpet also wears easily and, unless it is a very dark color, shows stains. There are at least five alternatives to carpet on stairs that are both functional and attractive.
Wood Stairs
Wood is the most traditional material for stairs. It is durable, attractive and you can easily paint or refinish it Hardwood is the best material choice for wood stairs; laminates can chip or split if subjected to high foot traffic. If you're concerned about slipping on wood floors, lay down anti-slip tape near the nose of the stair tread, or consider installing a carpet runner. This way, you can enjoy the benefits of both wood and carpet on your stairs.
Stone Stairs
Solid stone or concrete stairs are incredibly heavy, so before installing, make sure the structure of your house and your foundation can support this weight. This type of stairs is extremely durable but also very expensive. You can reduce the cost by using using solid stone stairs for shorter runs. For longer staircases, consider adding stone veneer for a look similar to solid stone.
Tiled Stairs
Tile is another popular stair finish. Tiles are available in a range of materials and styles, from small and artistic mosaic tiles to terrazzo, stone and ceramic tiles. Like stone, tiles are heavy, so be sure your stair structure can support them before installing. To prevent slipping, consider using textured tiles or anti-slip tape.
Leather Stair Treads
If you like the softness of carpet but prefer a more luxurious finish, consider leather stair treads. Leather feels good underfoot and is available in a range of colors and textures. Some manufacturers create special designs with engraved borders for an especially elegant effect.
Cork Treads and Risers
Cork is a sustainable stair covering. You can apply cork to both the treads and risers of your steps. It proves a worthy alternative to carpet because it is highly cushioned and textured to prevent slipping, but looks more like natural wood. This floor finish is low-maintenance and durable as long as you use a hard nose (the trim that covers the front edge of the step), because cork can chip at corners.