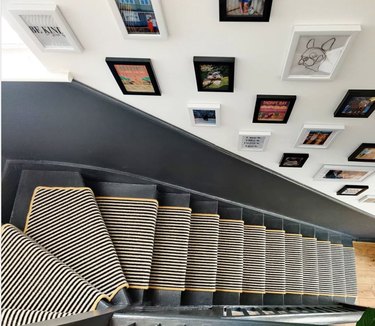 Stairways are functional, high-use areas that are all-too-often neglected when it comes to design. But they're usually the first thing you see once you open the front door, especially in older homes. A little effort can go a long way toward elevating your home's overall style, though. You can paint your stairs. You can wallpaper them. You can modernize your railings. Or you can find one of many stunning stair runners.
Stair runners can elevate a more subdued space (or even ground a louder one) while adding texture and softness underfoot.
1. Add a pop of color.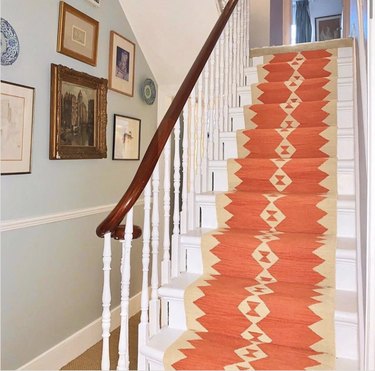 KD2, a London-based design firm, loved this stunning orange and cream stair runner, from Sophie Cooney Runners, for its soft texture and chic pop of color. Cooney's runners use traditional weaving techniques from India and patterns inspired by kilim rugs. This design, the Amulet Eye, adds a wonderful bit of boho sophistication to the small hallway.
2. Go for a bespoke layered look.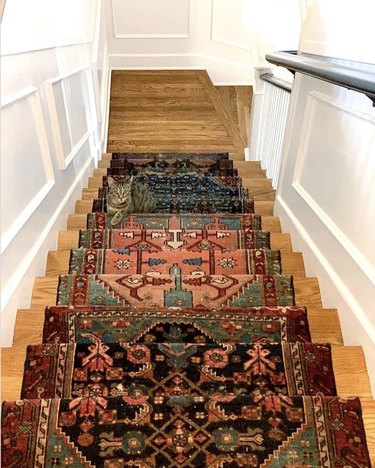 Caitlin Sourapas of Cait Sourapas Design in Southern California used five different vintage Persian rugs, all sourced from Blue Parakeet Rugs, to create this one-of-a-kind look for a Hollywood client. Think of it as another way to layer your rugs. (Bonus if you can spot the cat).
3. Invest in a durable texture.
Wide stair runners can give a carpet-like feel to a traditional space, like this centrally-located stairwell. Carly Jade Hammerman of CJH Interiors used this woven design from Starr Carpets in New Jersey, to help make the dark wood floors pop. But the key? Durability. Hammerman notes that it is "the perfect runner to withstand babies, dogs, cats, and everything in between."
4. Look for stair runners that ground bold colors.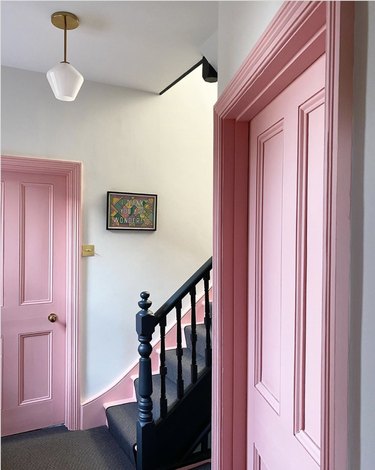 In this decidedly bold South East London home, the stair runner is the least visually-interesting element in the space — and that's on purpose. Emily Murray, of The Pink House blog and the Pink House Living book, went with the Wool Iconic Stripe rug from Alternative Flooring. It grounds the space, which otherwise has all pink everything.
5. Spice things up with a little feline glam.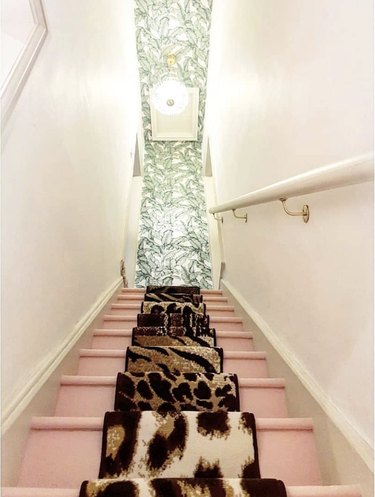 Melissa Holly Bramall, the designer behind & Some Leopard, appropriately chose a narrow, mixed leopard-print runner for her pale pink painted staircase. And the brass stair rods (not visible in this photo) are topped with pineapples. It all comes together for a look that is somehow both art deco and almost minimalist.
6. Have fun with chic stripes.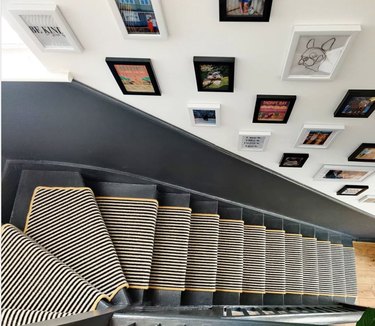 Classic, striped stair runners are gorgeous, of course. But this one from Carpetright has an added pop of mustard yellow piping that really stands out against the dark gray paint. It lends a modern touch to this 1930s British house near the sea.
7. Experiment with patterns.
8. Sprinkle in black and white.
9. Install a geometric runner.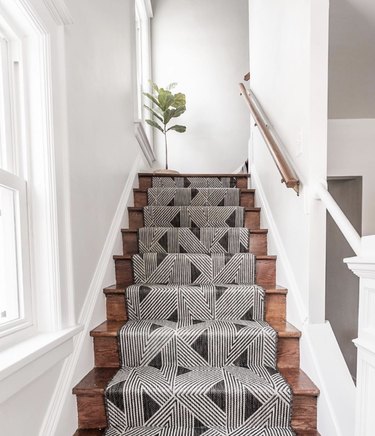 Ashley Thurman of Cherished Bliss installed this geometric stair runner as a DIY project. She turned worn wooden stairs into a focal point with a boho indoor-outdoor runner and completely changed the look and feel of her entryway.