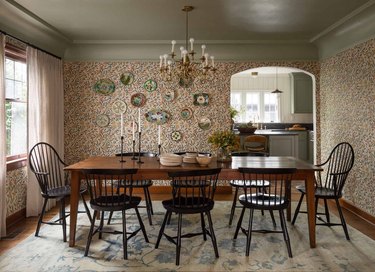 Trends come and go, and while it's fun to stay on top of what's current in interior design, it's not possible to continuously update your humble abode to include all of them. Bucking the trends and making choices that have longevity is one of the reasons why traditional decor continues to be celebrated.
The classic style can be traced back hundreds of years and is steeped in European history. It's appealing for its timeless design elements like subdued palettes, crown molding, classic patterns like ticking stripes and florals, and metallic accents. If you appreciate a calm and orderly home with subtle flourishes, traditional home decor is for you.
Check out the following seven spaces for inspo so you can incorporate the beloved aesthetic into your own refuge.
1. Opt for luxe fabrics and pattern.
If you're drawn to sophisticated fabrics like silk and velvet, and gravitate toward traditional patterns, but are looking to incorporate them in a way that's both welcoming and current, may we present The Harper OC. This private event space located in Southern California has created a luxurious venue with an ambience that manages to feel fresh and youthful while still calling to mind old world elegance.
2. Focus on crown molding.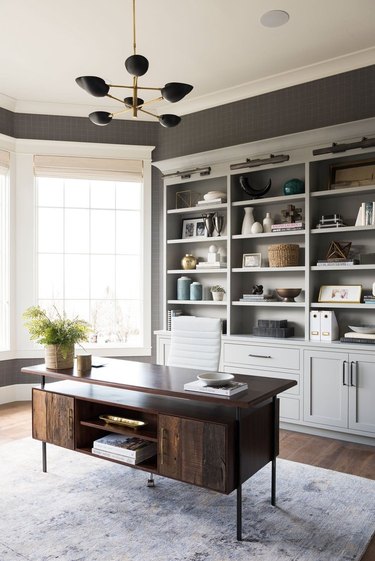 Don't overlook opportunities to make a big impression with quintessential traditional home decor ideas like crown molding, picture lights, and dark wood finishes. Studio McGee anchored this handsome office with an expansive built-in bookcase, and adorned the walls in a classic windowpane pattern wallpaper. A plush rug softens the look, while a black and gold pendant light introduces modern undertones.
3. Dress up your bath.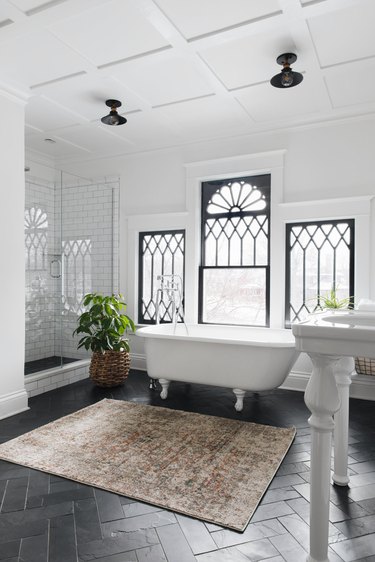 Dress up your bathroom with traditional home decor that you'll never tire of, like a gleaming clawfoot tub and a porcelain pedestal sink. Jean Stoffer creates a refined yet approachable lavatory with a foundation of bright white paint, a trio of decorative windows, and vintage accents. Tumbled blue stone tile laid out in a herringbone pattern ground the space and add a dose of texture.
4. Use tried and true materials.
If you're contemplating a kitchen remodel, it's worth considering traditional materials like Carrara marble, stainless fixtures, brass hardware, and greige cabinets that never go out of style — as seen in this thoughtfully appointed cook space by Elizabeth Roberts. Countertops that seamlessly transition to a backsplash are a welcome alternative to subway tile and create a beautiful focal point.
5. Incorporate wallpaper.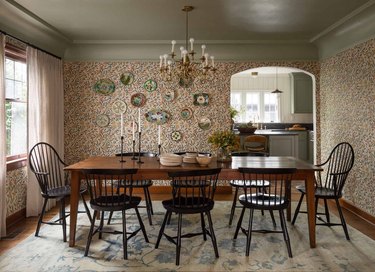 6. Choose muted colors.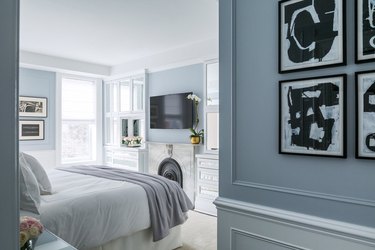 Create a soothing bedroom escape by coating your walls in a timeless hue like the Robin's egg blue in this elegant refuge by Chango & Co. Wood paneling adds depth and character to the space while a set of mirror-paneled cabinets introduce symmetry — both of which are telltale traditional home decor details.
7. Hang a peg rail.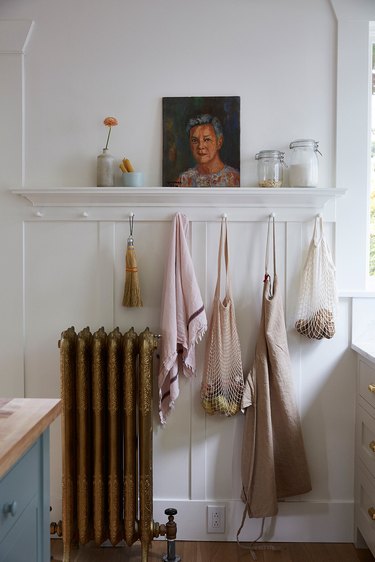 Traced back to the Shakers, the humble peg rail may not be the first item to come to mind when considering traditional home decor ideas, but take note from interior design masters like Katie Hackworth who proves just how versatile and sophisticated (not to mention practical!) wall hooks can really be. A gold embossed radiator, unframed portrait, and board and batten wall treatment are big on charm.