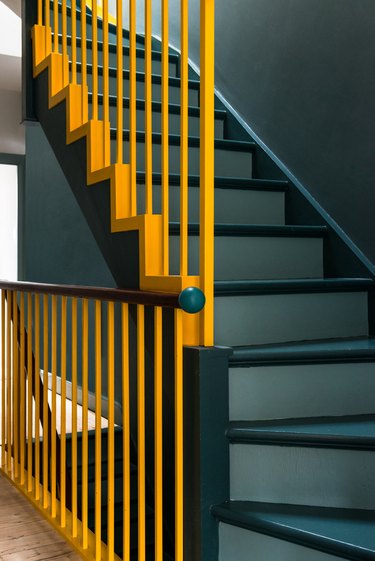 While there are many ways to spice them up, we love the idea of using paint. After all, it's cost-effective, relatively easy to change down the road if you tire of the look, and is practically limitless in terms of creative opportunity. Read on to discover 10 stairway ideas that will have you busting out your paintbrush.
1. Create an optical illusion.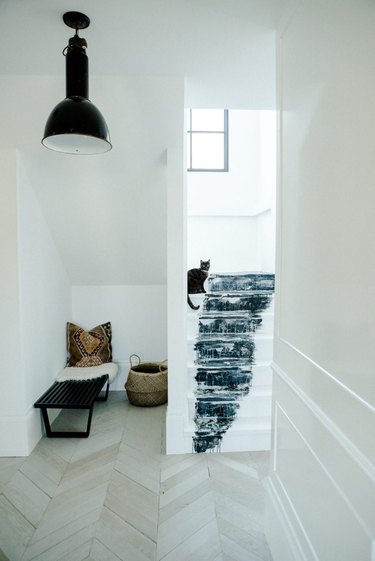 Make like Leanne Ford and transform your stairs into an optical illusion. A coat of white paint is the perfect backdrop for high-contrast black and white layers and splatters. No need to stay in the lines or follow strict directions because you can't go wrong here. Herringbone floors are an elegant juxtaposition to the freeform paint application.
2. Paint your stairs AND handrails.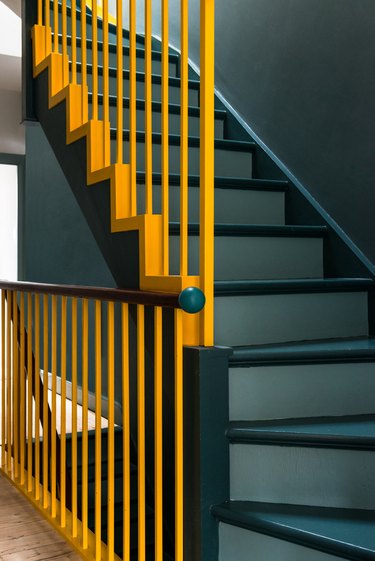 For a painted stairs idea with maximum visual impact, coat your handrail in an eye-catching hue (canary yellow for example) and your steps in a contrasting, yet equally dramatic shade. The folks at Office S and M paired this vibrant railing with risers and treads in dual tones of teal for added depth and visual appeal.
3. Ombre all the way.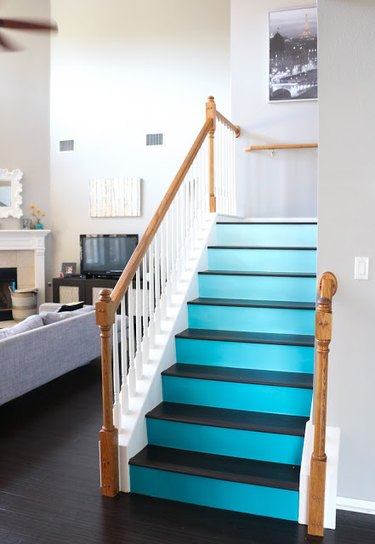 4. Opt for nautical vibes.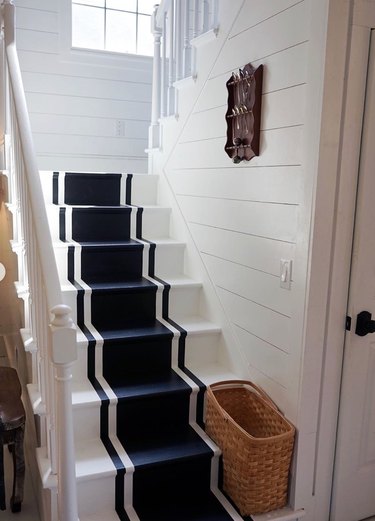 If you love the look of a traditional runner, create one using navy and white for a painted staircase idea with nautical undertones. Lay the pattern out with a roll of painter's tape and then get to work. Katherine Fish added character and texture to her walls with shiplap which enhances the maritime vibe.
5. Make a subtle statement.
Looking for a more subtle painted stairs idea? Numbering your steps is an understated look for those not sold on color. The trick is to make them big enough that they look purposeful. Deb of Seeking Lavender Lane painted her risers in a creamy beige and used black vinyl number decals (but you could just as easily accomplish with a stencil and a little black paint) to coordinate with the handrail for a warm and welcoming statement with cottage undertones.
6. Go vertical with stripes.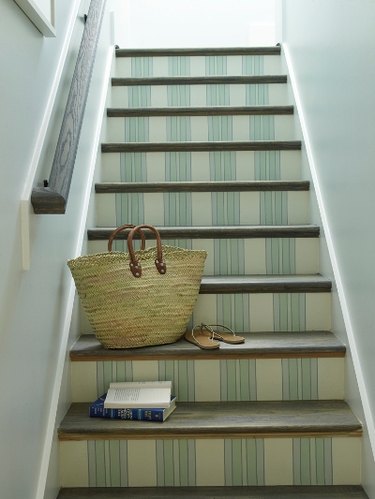 Add a few vertical stripes to incorporate pattern without taking over. Follow the lead of Phoebe Howard and go with a classic combination like the mint green, lilac, and cream showcased on these painted stairs. Natural wood treads and white walls render the look surprisingly sophisticated.
7. Make it monochrome.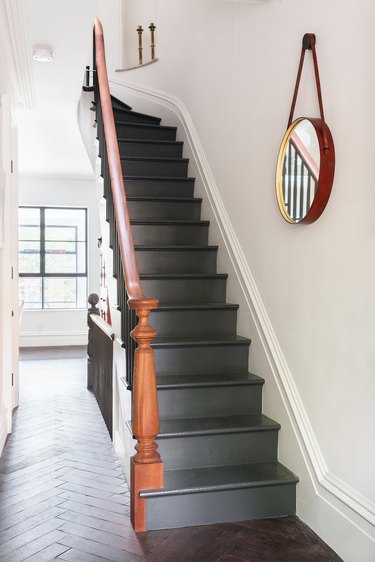 Looking for a refined painted staircase idea you won't tire of? Paint your risers and treads a moody gray that will instantly elevate your entryway, à la this Brooklyn townhome by Elizabeth Roberts. Then pair them with a hand-turned spindle, salvaged herringbone floors, and a fresh coat of white paint.
8. Channel the rainbow.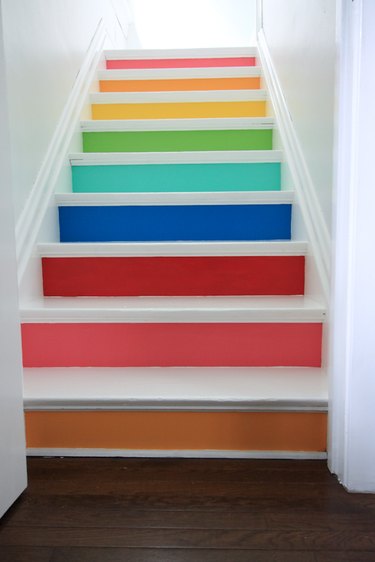 Who doesn't love a rainbow? Create happy vibes at home with a painted stair idea that showcases all the colors. Meg Duerksen painted the walls and steps bright white which allow the risers to become the focal point: This is one passageway we wouldn't mind spending time in.
9. Tap into your inner artiste.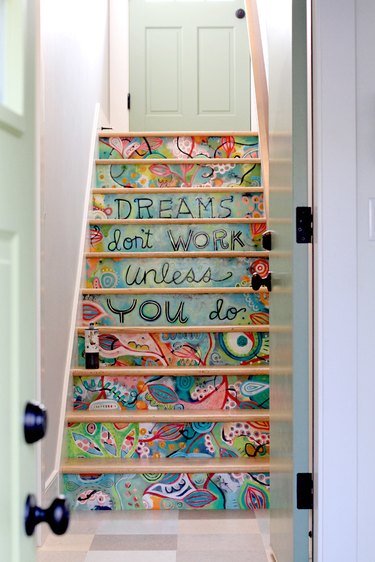 If you live in a light and bright space, use your painted staircase as an opportunity to infuse a graphic punch. Think of your risers as a blank canvas, and let your creative side takeover. Michelle Allen did just that and the final result is a vibrant, one-of-a-kind work of art.
10. Reference the desert.