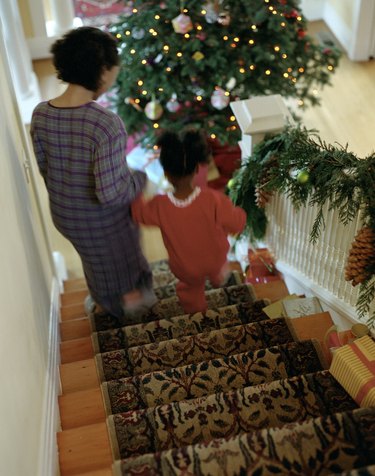 A stairway may be one of the first things a visitor to a home sees. It also presents one of the largest surfaces in the living room or entry. In either case, a stair runner can beautify its appearance and tie it to the rest of the living space. Stair runners can also soundproof wooden staircases and make them feel warmer in the winter. Their installation costs depend on material and location.
Materials
The least expensive way to install a stair runner is to do-it-yourself, which confines the cost to that of the runner and supplies, like padding, strips and the rental of a knee kicker. Runners are generally priced by the linear foot, which includes the full width of the carpet. This width ranges from 2 to 3 feet or more. An inexpensive domestic 26-inch wide runner made of polypropylene can cost about $7.77 a linear foot, when it's on sale. An expensive imported runner that is also 26 inches wide and made of wool can run $51.81 a linear foot on sale. All prices are from Rug Depot and are accurate at the time of publication.
Options
Costs are listed for stair runners with unfinished ends and no options. Options such as ends with capping or fringes, and padding add to the price. For the expensive example, adding serged ends costs $40 or more, while capping runs an extra $305. Padding ranges from $8 for four steps to $60 for 30 steps. Adding a fringe costs $44 per end. Stair rods, which are decorative accents across each stair step, start at about $14 for brass plated versions. They do not hold the carpet to the stairs.
Installation
Professional installation is more expensive but takes less time and provides a more finished appearance. Runner installers charge about $318 to lay a 26-inch wide carpet across 13 steps of a straight stairway. Compare this to an average cost of $200 for a do-it-yourself project. Both prices include materials. Much of the labor involves preparing the stairway, such as removing molding, and old tack and nails, cleaning up any dirt, and painting or staining exposed edges. Costs are from DIY-Or-Not and are current at the time of publication.
Labor
The wages of carpet installers vary by location and can affect the cost of installing a stair runner. The Bureau of Labor Statistics puts the mean wages of carpet installers a $19.39 per hour throughout the country as of May 2010. The highest rates were in Massachusetts at a mean $26.71 per hour, New Jersey at a mean $25.78 per hour and Illinois at a mean $23.77 per hour. Lower rates were available in Oklahoma at a mean $12.03 per hour, Texas at a mean $13.63 per hour and New Mexico at a mean $13.74 per hour.