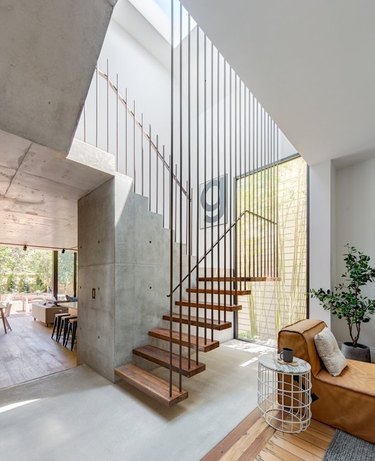 Regardless of the shape, size, or style, staircases tend to be a standout element in the home. But take the bulky supporting structure out of the equation and you instantly have a design-forward moment that's pretty hard to rival.
While at first glance floating stairs may seem all too similar, there are a variety of ways to customize them to fit your home. Opt for a glass railing for a glam finish or go for open-risers to achieve an ultra-modern look. The possibilities are seemingly endless. Intrigued to learn more? Read on to discover eight unique staircase ideas that are serving us with a major dose of inspiration.
1. Mix two styles.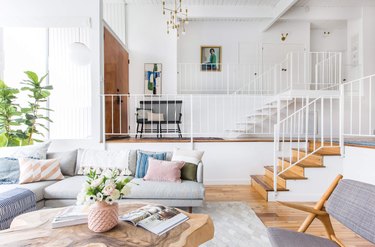 Emily Henderson's former Los Angeles home featured the best of both worlds, with a regular staircase in the foreground and floating stairs in the background. The latter, which leads to the upper third of the home, blends right in with the thin, steel railing and contemporary surroundings, resulting in a seamless transition from the main floor to the next.
2. Make them pull double-duty.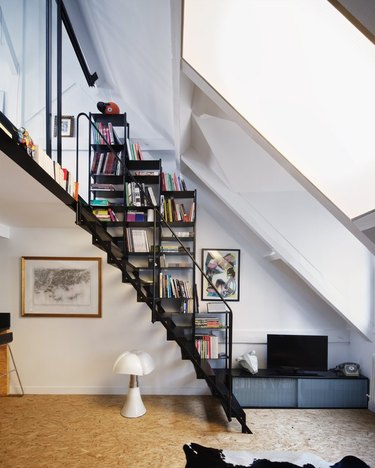 3. Turn it into a design moment.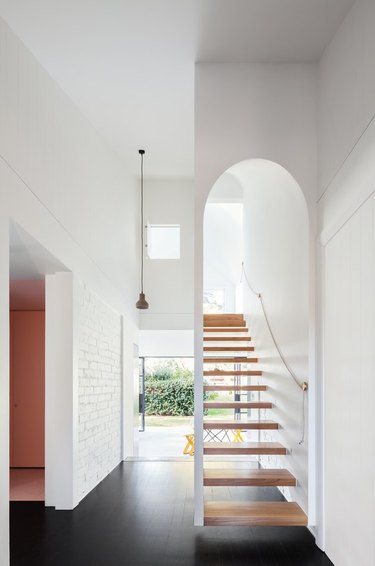 4. Keep it light.
5. Make it industrial.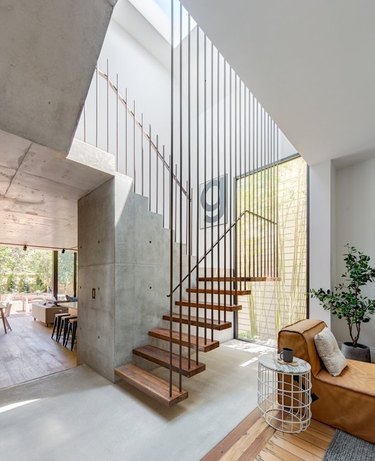 Floating stairs come in all shapes and sizes and can be just as safe as standard staircases if installed correctly. In this modern home by CO-AP Architects, cantilevered stairs — this is where each independent step is anchored to the wall — come with a steel spindle railing for extra reinforcement and an added dose of industrial style.
6. Get creative with the space below.
On the list of clever ways to maximize the empty space below your floating stairs, turning it into a makeshift home office ranks pretty high. Follow the lead of Crü in this stunning Barcelona pad, the platform at the base doubles as a display for plants and books, while still leaving room for a desk and chair to boot.
7. Channel your surroundings.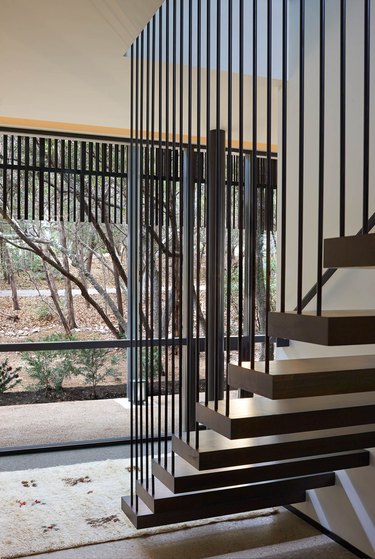 Think about the type of home you'd imagine finding floating stairs. Chances are, it will look a little something like this modern design by Tim Cuppett Architects. Floor-to-ceiling windows revealing a vast forest backdrop are all you really need for an impactful finish. And the dramatic, black steel spindles don't hurt either.
8. Play with color.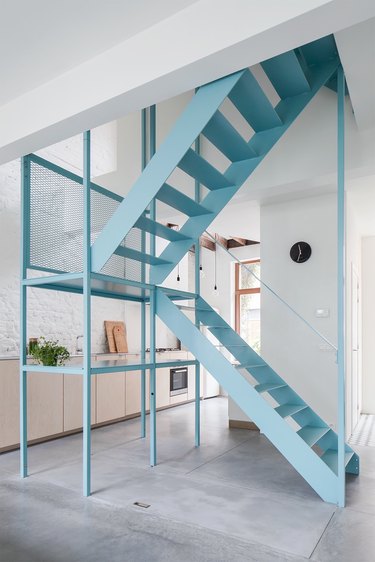 In this minimalist home by architect Tim Rogge, a blue staircase — located in the very center of the house, no less — is the star of the show. Its floating design allows for visibility from the open kitchen to the rest of the lower level, and also permits natural light to flow easily throughout the entire house.