Basically all the designs we see on Instagram today count as modern style, right? Short answer: yes. Long answer: sort of, depending on the furniture and decor featured in any given room.
We're taking a look at modern design a little more closely to trace back its beginnings and offer a few suggestions for how to incorporate it into your space.
A Brief History of Modern Design
You've probably grown used to hearing a building or interior referred to as modern. The word has been used to refer to everything from visual art to philosophy to design as far back as the 17th-century. But it was at the turn of the 19th century that we started to see it used in the way we recognize it today. It all comes back to technology and new modes of production — factors that would spark the new era of modern design.
The history of modern design and architecture spans movements like Bauhaus and midcentury modern. Some of the iconic modern buildings in recent history include Philip Johnson's Glass House, I.M. Pei's glass pyramid entryway at the Louvre, and the Case Study houses of the midcentury modern era.
How to Incorporate Modern Design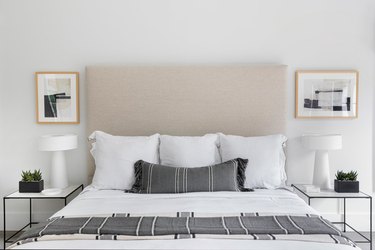 The simplest way to put it: modern design stands in contrast to traditional. Styles like old-school patterns and grandma chic, therefore, don't fall into this category. For a modern interior look, keep spaces uncluttered and open. If you're a homeowner with the resources or space, consider changing the layout of your space to an open floor plan. This creates a more modern flow and look.
If you're planning the layout of your modern bedroom (or you're considering a refresh), pay attention to every element. Take bedroom lighting for instance. Opt for modern wall sconces or a statement chandelier with clean lines. Work in subdued hues, like grays and whites, and keep the layout simple and symmetrical.
Need to rethink your bathroom? The modern bathroom is all about minimalist touches and uncluttered surfaces. Try experimenting with different patterns for floor tile and wallpaper, too. When it comes to bathroom sinks and vanities, the cleaner the shape, the better. There are also plenty of modern bathroom fixtures that can really change the look of the entire room.
Where to Shop for Modern Furniture and Decor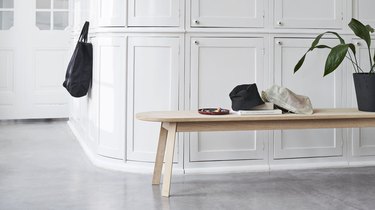 Depending on your style (modern, after all, encompasses a lot of different approaches like Scandinavian modern or midcentury modern), you can find plenty of modern furniture and decor out there. Here are a few of our favorites for browsing, dreaming, and shopping.