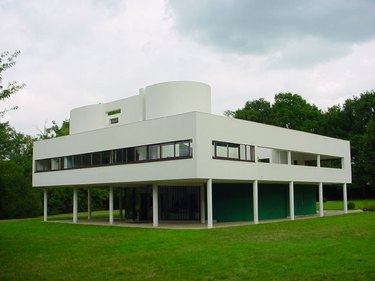 While the dictionary definition of "modern" is "of, relating to, or characteristic of the present or the immediate past," when you speak of modernism in the art and design sense, you're actually talking about a specific period of time — one that starts more than 150 years ago.
Modernism is a specific philosophical movement that primarily took place between the 1870s and the 1970s, spanning the visual, literary, and performing arts, not to mention architecture and design. Creatives sought to interpret, confront, and express the challenges facing post–Industrial Revolution society, and later on, the impact of two world wars.
While the modern era in the broader sense of history could be extended back to the 17th-century dawn of the Age of Enlightenment, the early period was more philosophical and scientific than visually creative. If you're looking to put a pinpoint on the birth of visual modernism, you could make a strong argument for the Realists in the 1840s, followed by the French Impressionists in the 1860s. After these pioneers, numerous art movements would be birthed: Post-Impressionism, Fauvism, Cubism, Futurism, Expressionism, and Surrealism, to name a few.
As for architecture and design, however, modernism didn't really catch on widely until the turn of the century, when technological innovations from the Industrial Revolution were able to be implemented into construction methods. These would usher in a new era of modern design.
Early Modernism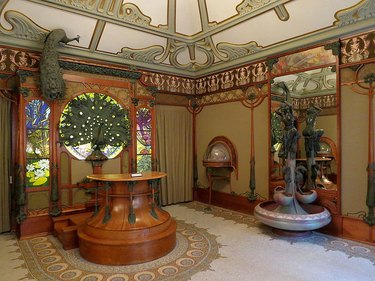 Art Nouveau, which began roughly in the 1890s, was one of the earliest modernist design movements, focusing on dramatic curving lines inspired by nature. It became highly popular in Europe, while Frank Lloyd Wright's then-avant-garde Prairie style spread across the United States. Both movements veered from traditional architectural styles, like neoclassicism and beaux-arts, thus the label of modern design.
Interwar Modernism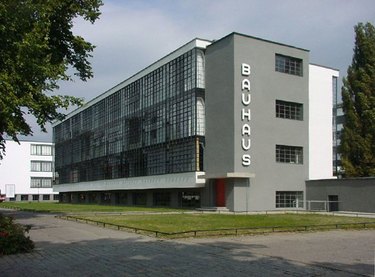 World War I then halted architectural innovation, but during the interwar years, sleek and utilitarian architecture and design flourished — this was the peak of modernism. Frank Lloyd Wright continued to innovate in the United States, developing his Usonian style. In Europe, there were two highly influential modernist movements: the International Style favored by such architects as Le Corbusier and Ludwig Mies van der Rohe, and the Bauhaus, developed at the German school of the same name by Walter Gropius.
The International Style, according to the Getty Research Institute, is "the style of architecture that emerged in Holland, France, and Germany after World War I and spread throughout the world, becoming the dominant architectural style until the 1970s." The style showed "an emphasis on volume over mass, the use of lightweight, mass-produced, industrial materials, rejection of all ornament and color, repetitive modular forms, and the use of flat surfaces, typically alternating with areas of glass." You can certainly spot a few buildings in this style in major metropolitan cities today (spaces that are synonymous with modern living).
The Bauhaus school, while informed by the International Style, was focused on the combination of art and design. According to the Museum of Modern Art, "Gropius explained this vision for a union of art and design in the Proclamation of the Bauhaus (1919), which described a utopian craft guild combining architecture, sculpture, and painting into a single creative expression."
Interestingly, though the art deco movement coincided with both the International Style and Bauhaus, it's not traditionally classified as a modernist design movement by architectural experts, as it doesn't eschew ornamentation in favor of utilitarian austerity.
Midcentury Modernism
After World War II, midcentury modern style became the prevailing architecture and design aesthetic across the world, but particularly in the United States. Furniture design was particularly impressive during this time, with luminaries like Eero Saarinen, Charles and Ray Eames, Florence Knoll, and George Nakashima investigating new forms, many of them using newly available materials like plastic.
Late Modernism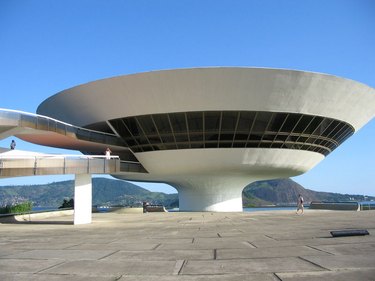 Moving on from midcentury modernism, architects and designers around the world began to push the envelope yet again. In Latin America, Oscar Niemeyer, Lina Bo Bardi, and Luis Barragán impressed with their concrete work, while architecture firm Skidmore, Owings, and Merrill (SOM) worked on high-profile International Style skyscrapers in the United States.
The very tail end of modernism in architecture and design belonged to architects Philip Johnson, known for his Glass House in Connecticut, and I. M. Pei, famous for his glass pyramid entryway as the Louvre in Paris.
---
Stefanie is a New York–based writer and editor. She has served on the editorial staffs of Architectural Digest, ARTnews, and Oyster.com, a TripAdvisor company, before setting out on her own as a freelancer. Her beats include architecture, design, art, travel, science, and history, and her words have appeared in Architectural Digest, Condé Nast Traveler, Popular Science, Mental Floss, Galerie, Jetsetter, and History.com, among others. In another life, she'd be a real estate broker since she loves searching for apartments and homes.