We often look to the past for timeless aesthetics to add to our spaces, and we see certain styles come up again and again. You might've heard both of these terms before, but do you know the major differences between art nouveau and art deco?
When thinking about art deco versus art nouveau, there are some major differences to keep in mind.
What Is Art Nouveau?
For starters, art nouveau refers specifically to a style that largely takes its inspiration from nature. Translating to "New Art," it extended to the areas of art, architecture, and illustration, among others.
The name made its debut in the 1880s in a Belgian journal called L'Art Moderne. It specifically referenced Les Vingt, a group of 20 artists that in many ways referenced the ethos of the arts and crafts movement. Art nouveau was greatly influenced by Rococo and Japanese artists like Katsushika Hokusai. Some of the most recognizable names from the style include Aubrey Beardsley, Gustav Klimt, and Alphonse Mucha.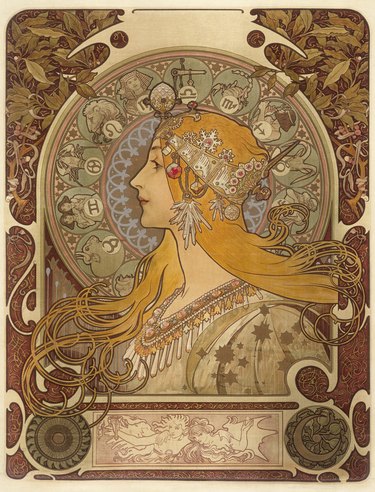 According to the Metropolitan Museum of Art, art nouveau centered around the "sinuous lines and "whiplash curves" found in many works in this style. "The unfolding of Art Nouveau's flowing line may be understood as a metaphor for the freedom and release sought by its practitioners and admirers from the weight of artistic tradition and critical expectations," Cybèle Gontar writes.
By the late 1890s, artists like Klimt were making waves with their work; a German art dealer named Siegfried Bing debuted a Paris gallery called Maison de l'Art Nouveau in 1895. Louis Comfort Tiffany led the charge on creating the highly recognizable Tiffany style; the now-legendary Snowball Table Lamp dates to 1904. Other iconic works made their mark around this time — for instance, Klimt's iconic 1907 artwork "The Kiss."
Flowing forms and dramatic swoops also made their way into art nouveau's architecture. And you can find these structures around the world. Take, for instance, the Hôtel Tassel, built in Brussels in 1893. It's now on the UNESCO World Heritage List. Victor Horta, the architect of the space, is "one of the earliest initiators of Art Nouveau," according to UNESCO's site. Antoni Gaudí is also often cited as having been influenced by art nouveau in his Modernist works; Casa Milà was completed in 1912, with other structures like Casa Batlló (1904) also gaining recognition.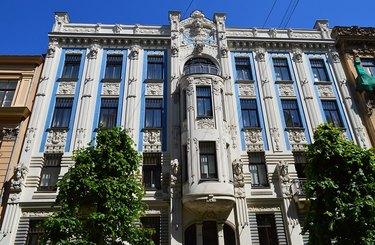 The Rise of Art Deco
By the time World War I started in 1914, the craze around the art nouveau aesthetic waned. In France, designers were "disillusioned by the commercial failure of art nouveau," writes Jared Goss in an essay for the Metropolitan Museum of Art. The French government decided to sponsor "an international exhibition of decorative arts to promote French preeminence in the design field" in 1912, but it got postponed because of the war and didn't debut until 1925.
The term art deco traces its roots to this specific event — the Paris Exposition Internationale des Arts Décoratifs et Industriels Modernes, which introduced the style to the masses in a big way. The U.S. would later fall for the look too, once Americans visited the exhibitions and incorporated art deco into their own designs.
Art deco draws a lot of inspiration from Mayan, African, Native American, and Egyptian symbolism and culture. Some of the major materials used in this style include glass, aluminum, wrought iron, and steel. The look would end up influencing architecture as well, with major buildings like Radio City Music Hall in New York embracing the art deco craze.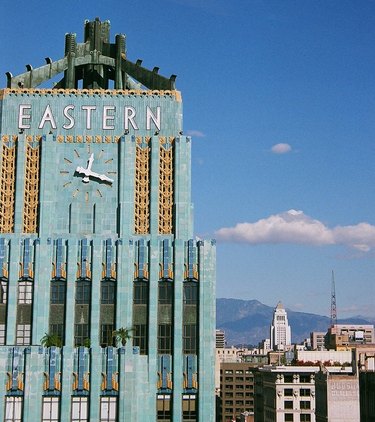 Modern art deco style today incorporates everything from wallpaper to modern lighting. Some designers and homeowners have also experimented with blending it with other aesthetics like boho.
Yet you can see the influence of art nouveau clearly. Both styles, in many ways, are about sumptuousness. And they're timeless and classy in their own right. Art deco leans more towards a more industrial edge, rather than taking influence from nature. It is, of course, the aesthetic we associate with The Great Gatsby, which is all about modern luxury. Art deco would continue to be a shining start in the decor world until around 1940.
No matter which style you prefer, these two aesthetics are important parts of design history — and we predict they aren't going anywhere anytime soon.