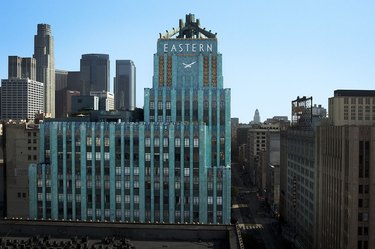 Established at the 1925 Exposition Internationale des Arts Décoratifs et Industriels Modernes (International Exhibition of Modern Decorative and Industrial Arts) in Paris, the art deco movement was one of the most popular styles of design in the early 20th century, peaking between the '20s and '30s. Inspired by industrialization and the proliferation of global travel, it's defined by geometric forms, design motifs from cultures around the world, sleek lines, bright colors, and shiny materials like chrome.
While the art deco style was born in the decor world, it soon spread across design industries, from jewelry to graphics, but the style is perhaps most famous for its role in architecture. Check out some of the most famous art deco buildings around the world.
1. Chrysler Building, New York
The poster child for art deco is undoubtedly the Chrysler Building in New York, which features a highly geometric (and quite shiny!) top. Designed by architect William Van Alen, the tower was the tallest in the world when it was completed in 1930.
2. Empire State Building, New York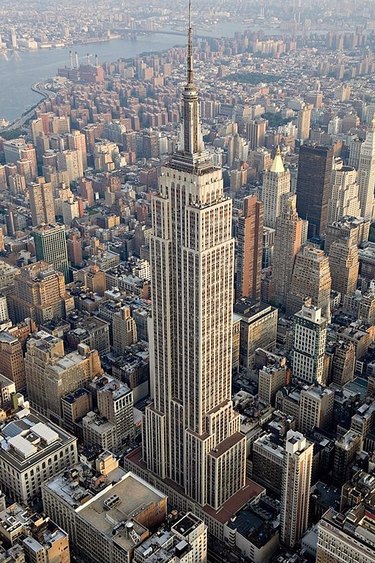 Just a few blocks away from the Chrysler Building is New York City's most famous skyscraper, the Empire State Building, which also features the art deco style. It was designed by firm Shreve, Lamb & Harmon and completed in 1931. One of its most famous art deco details is its massive spire, which today can put on dazzling light shows.
3. Cavalier Hotel, Miami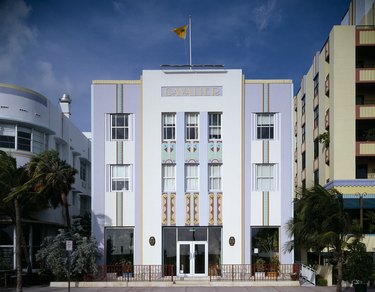 Miami Beach is one of the most famous destinations for art deco architecture, with dozens of representative structures lining its streets. A quintessential example from the Miami Beach Architectural District is the Cavalier Hotel, which features hallmarks of art deco style including a colorful façade decorated with geometric patterns. It was designed by Roy F. France and completed in 1936.
4. Hoover Building, London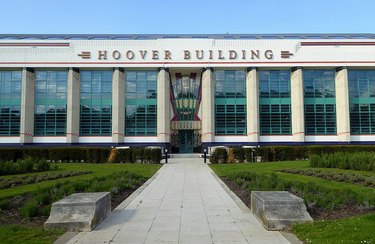 While art deco mania took hold in the United States in the 1920s and '30s, it was also all the rage in London. The heritage-listed Hoover Building — built by Wallis, Gilbert and Partners as the U.K. headquarters of The Hoover Company in 1933 — isn't a skyscraper like its New York brethren, but rather a long, low-slung building.
5. Bullocks Wilshire Building, Los Angeles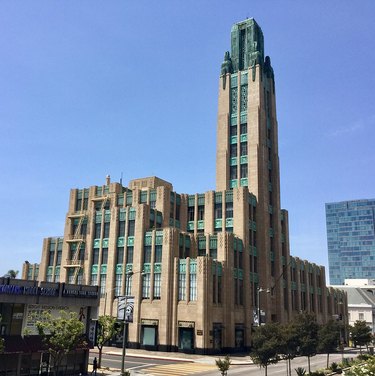 Originally built in 1929 by John and Donald Parkinson as a department store, the Bullocks Wilshire Building in Los Angeles features a copper tower top, tarnished green.
6. Guardian Building, Detroit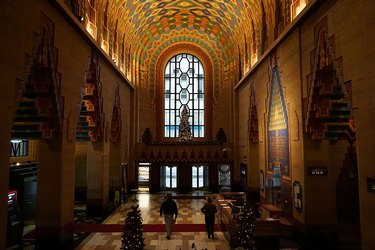 Head inside the Guardian Building in Detroit to see a magnificent example of the branch of art deco known as Mayan revival, which was inspired by the designs of pre-Columbian Mesoamerican cultures. The building, designed by Smith, Hinchman & Grylls, opened in 1929.
7. Eden Teatro, Lisbon
The rise of art deco coincided with the growth of the film industry, and the Eden Teatro in Lisbon combines both worlds, with a geometric art deco façade and a cinema within. Architects Cassiano Branco and Carlo Florêncio Dias designed the structure, which opened in 1931.
8. Eastern Columbia Building, Los Angeles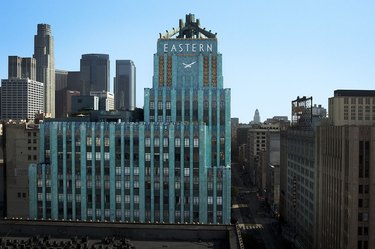 Also in Downtown L.A., the Eastern Columbia Building shares the Bullocks Wilshire Building's blue-green hue, but here it's due to turquoise terra cotta tiles. Claud Beelman designed the building, which opened in 1931 as a department store.
9. Fairmont Peace Hotel, Shanghai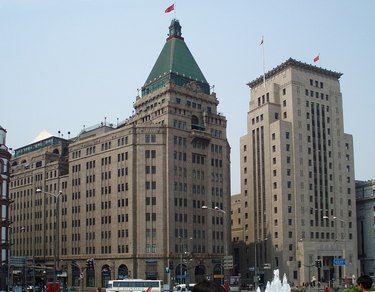 The Bund in Shanghai is an iconic waterfront full of architectural history, with numerous buildings boasting a range of styles from the 19th and 20th centuries. It's particularly known for its art deco edifices. One of the most famous on the strip is the Fairmont Peace Hotel, designed by Palmer and Turner and opened in 1929.
---
Stefanie is a New York–based writer and editor. She has served on the editorial staffs of Architectural Digest, ARTnews, and Oyster.com, a TripAdvisor company, before setting out on her own as a freelancer. Her beats include architecture, design, art, travel, science, and history, and her words have appeared in Architectural Digest, Condé Nast Traveler, Popular Science, Mental Floss, Galerie, Jetsetter, and History.com, among others. In another life, she'd be a real estate broker since she loves searching for apartments and homes.