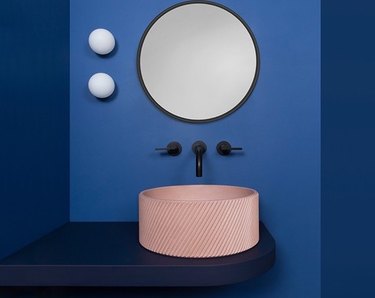 We know what the experts say: When you're redoing your bathroom, go neutral. But after seeing one all-white bathroom after another, we're usually ready for something with a bit more pizzazz and personality (and, to be honest, we're wondering how homeowners keep their bathrooms so pristinely spick and span!). So when we started seeing bathroom fixtures that packed a bit more punch in their shapes, color, and texture, we were immediately excited — and decided to gather some of our favorites below. Read on to find companies making pieces that will immediately enliven any restroom!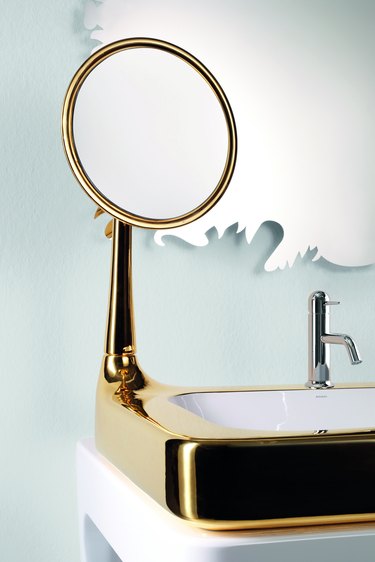 The Hayon Studio line of bathroom accessories from Italian tile and fixture company Bisazza Bagno is named after the collection's collaborator, Spanish designer Jaime Hayon. The collection skillfully blends 1920s-inspired aesthetics with sleek shapes and a silky smooth texture in this gold sink with integrated magnifying mirror — the perfect mixture of functionality and glamour.
If you're in search of a sink that pairs pastel tones with sculptural detailing, look no further than the Kast's Canvas Collection, whose concrete basins feature sculpted surface treatments that play with light and shadow to create an irresistibly tactile fixture. The basins come in a range of shapes including square with rounded edges, oval, and circular, and are cast with vertical or horizontal fluting and grooves for that extra attention to detail.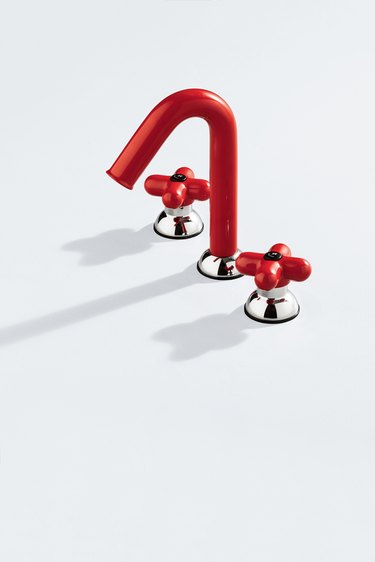 Created in 1978, Fantini's I Balocchi collection of bathroom hardware was one of the earliest and most popular fixtures available in a range of colors, from eye-popping cherry red to moody dark blues, greens, and purples. The bold forms play with proportion and color to create a set of fixtures for your sink, shower, or tub that enliven any bath or kitchen. The line was reintroduced in 2012, when they also started their 100 Fontane: Fantini for Africa campaign, a project which continues to create and provide clean drinking water in the town of Masango, Burundi.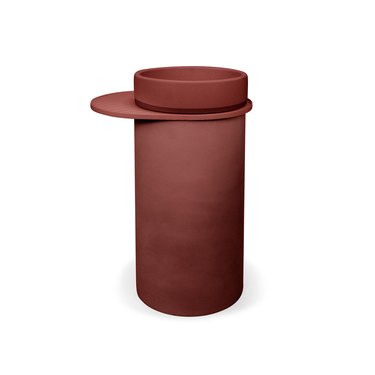 Nood's newest line of concrete basins features multiple distinct sink designs that are available in 14 different colors and can be wall-mounted, supported by a pedestal, or are stand-alone pieces, like the Cylinder line pictured here in Clay. Available shapes include circular, pill-shaped, rectangular, and oval, and select lines also have the option of a tray or small shelf. Colors range from creamy Custard to evocative Teal, and small details like stepped edges, rounded corners, and a beveled lip make these sinks unique, and their smooth, silky texture with a satin finish declares them undoubtedly modern rather than outdated or retro.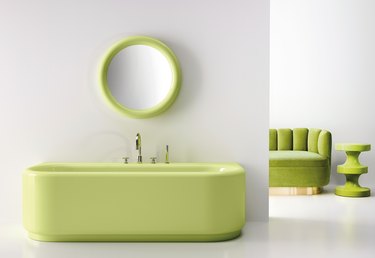 French designer India Mahdavi has created a line of bathtubs, sinks, stools, and mirrors that are the embodiment of fun and playful yet still refined and sophisticated. We love the "gourmet" color palette she selected, including fixtures in pistachio green, blueberry blue, and strawberry pink. The saturated colors and rounded edges are an ode to the colorful porcelain bathroom fixtures and accessories of the 1940s and 1950s, but their high-gloss finish and minimalist forms make it clear that they're very much ready for today's bathrooms!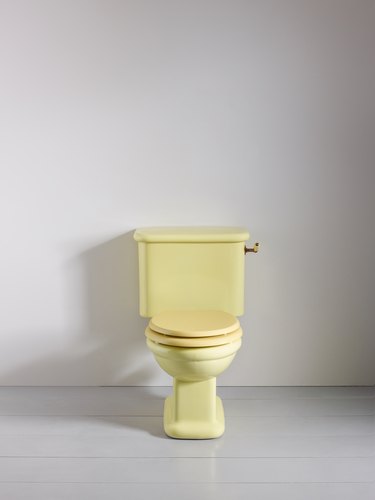 The Rockwell line of bathtubs, lavatories, sinks, showerheads, faucets, and taps marries vintage-inspired shapes with subtly modern hues and details, down to the flush handles on the toilets and the round, orb-like feet on the tubs. The sink basins and lavatories are only available in yellow, green, blue, and white; however, their bathtubs are available in any custom color your heart desires!