Unless you're building a home from scratch, the likelihood of finding a new or previously owned residence that's completely perfect in your eyes is slim to none. Typically, you'll want to make a few tweaks and adjustments here and there to really make it your own, and that's where the joy, or struggle, of remodeling comes in. From a fresh coat of paint to adding a few new windows, if you want to breathe new life into your pad, we have you covered with nine modern home interior design ideas that will transform your newly acquired digs into the dream house you've always wanted.
1. Revamp an existing fireplace.
In this airy, white living room freshened up by interior designer Amber Lewis, a heavy, awkward fireplace surround was removed to allow for the slick, clean version that took its place. The new fireplace also includes a mantel with enough space for the homeowner's TV. Let the Netflix binge-a-thon begin.
2. Get creative with small spaces.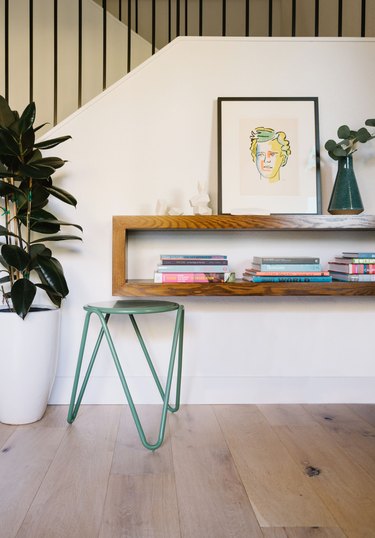 Old homes tend to be small in many respects, from low ceilings to teeny hallways. So Emily Henderson got inventive with this entryway, working with the space they had while providing extra storage with a floating credenza.
3. Take away unnecessary details.
If you're not loving all of the architectural elements that come with your home, there are clever ways to not only remove them, but to replace them with more current accents. Shauna from The House of Silver Lining replaced the two-foot soffits in her kitchen with sleek, steel transoms, which define the space without blocking the view.
4. Rethink the floor plan.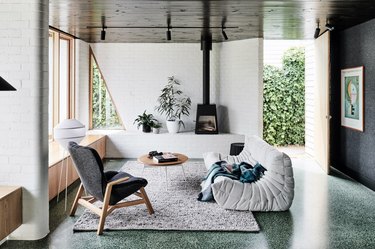 With an older home you have two options: Either completely gut it to create more flow, or keep the existing floor plan, only updating it as needed. In this California bungalow designed by Taylor Knights Architects, the layout was changed slightly in order to make the midcentury-style living room look and feel more open.
5. Keep the bones and punch up the decor.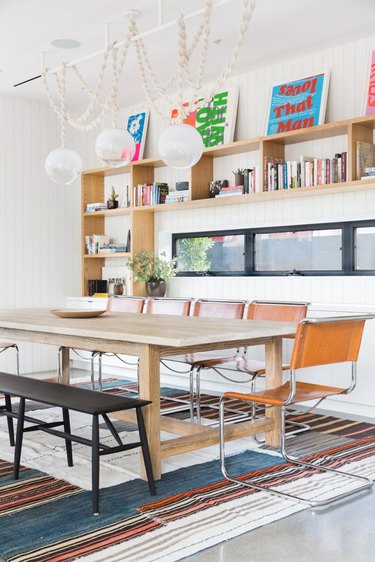 Accent your home's original features, such as shiplap walls or hardwood flooring, with ultra-modern decor. In this dining room crafted by Amber Lewis, white shiplap walls blend seamlessly with vibrant au courant furniture and accessories, resulting in a space that's full of charm and texture.
6. Install lots of windows.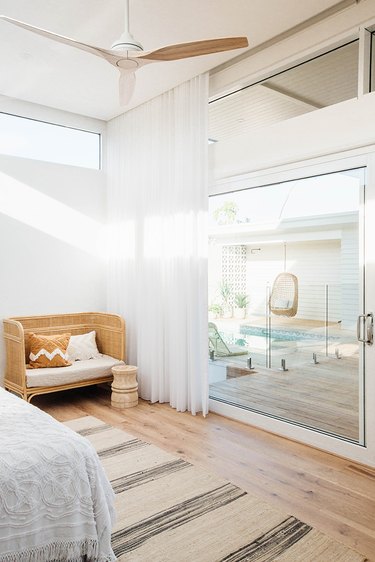 More often than not, older homes don't take advantage of natural light so they tend to be pretty dark inside. Take a page out of designers Kyal and Kara's handbook and install windows upon windows like they did in their breezy, beach chic home remodel.
7. Mix vintage and new tile.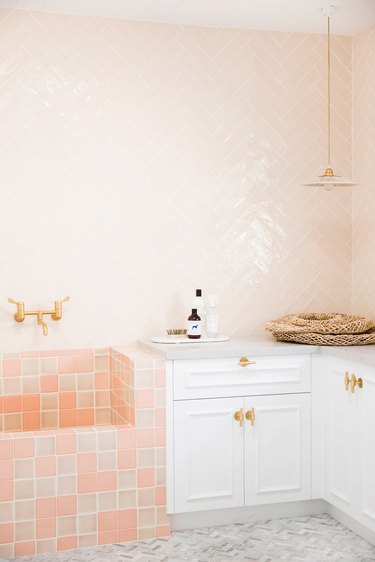 8. Brighten things up.
Emily Henderson says that this home was once filled with dark features like black granite and brushed aluminum. Today, it's fresh and light-filled thanks to painted white walls, light wood accents, and a dash of bohemian flair.
9. Update the light fixtures.