Books are the ultimate home accessory: they can cost next to nothing, pull double-duty as entertainment, and outlast almost any other trendy decor element in a space. But displaying them comes with its own challenges — after all, their versatility means that you have countless ways to incorporate them into your decor. We tend to think that libraries should be an address staple, since books have a way of making a place feel warm and inviting. That's why we've gathered 14 different designs from Pinterest to spark our imaginations, which range from traditional to eclectic, so that our personal collections of must-reads can look their best. Read on for swoon-worthy style.
A Mixed-Media Gallery
Even if your literary collection is sparse, you can still showcase your favorites by incorporating various sculptures, plants, and souvenirs alongside those reads. Take note from this chic study and hang two pieces of coordinating art in front of the empty space to create the perfect mixed-media gallery.
A Living Room Library
You don't need a massive room dedicated to your books to put together an eye-catching arrangement. Designate one empty wall and let it act as a statement piece in your design. By hanging adjustable shelves, this living room display can be rearranged the next time a new treasure is added to the collection.
A Dual-Purpose Display
This minimalist bedroom features an unexpected — and efficient — design choice: a library under a bench at the foot of the bed. When space is an issue, this seating option can anchor your library. The stacks also bring in color to an otherwise sparse palette.
Industrial-Chic Shelving
The wall-mounted industrial bookcase in this room provides a streamlined focal point to display plant life, artwork, and knickknacks alongside books. Plus, the addition of baskets add in fun texture and storage into the mix.
A Balanced Built-In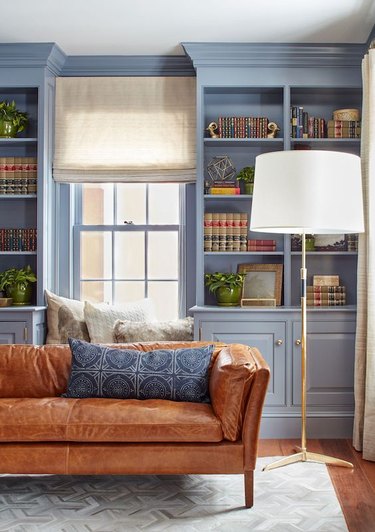 The painted blue built-in shelves are obviously the room's showpiece here, and the rows of books are the ideal accessories. Their brass covers shine against the blue paint, making this room feel comfortably uniform.
Artful Cohesion
Art and literature are one in the same in this casual living room. All of the artwork falls under the same pink-and-blue palette, giving the haphazard arrangement a sense of cohesion. Meanwhile, the black bookcase acts as a tabletop for interchangeable decor, and displays a wide collection of books.
Colorful Cubbies
The painted cubbies in this bookshelf are nothing short of eye-catching. And to make sure that those colors weren't lost to a full library, a few shelves were reserved for just a few trinkets. It's balance at its best.
A Curated Corridor
Empty walls of a long hallway are prime real estate for an expansive library, as evidenced by this curated corridor. The distressed runner draws your eye down the length of the space, and minimal accessories keep all attention on the good reads.
A Noteworthy Reading Nook
Turning a formerly unused corner into a space for a book collection is a great way to maximize square footage. The functional and decorative ladder mimics the tone of the pendant light, table, and floor, too, tying everything together.
A Minimalist Library
The floor-to-ceiling white decor in this space allows the stacked library to blend in with its surroundings. The display of pictures in the far corner gives height to the arrangement, too, and complements the large window on the far end of the wall.
A Literary Lineup
Make a small room feel even cozier by lining it with bookshelves that only cover half of the walls. The blank space above the shelves will still make the room feel bright, as will a few colorful details, like this green chair and desk.
A Space-Saving Solution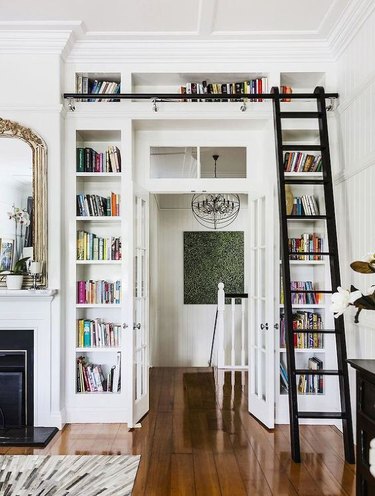 This space-saving display takes advantage of a typically overlooked space in the house: the door frame. But since this option looks so good — especially given that bold black ladder — you may want to consider rethinking this spot in your space, too.
The Reading Rainbow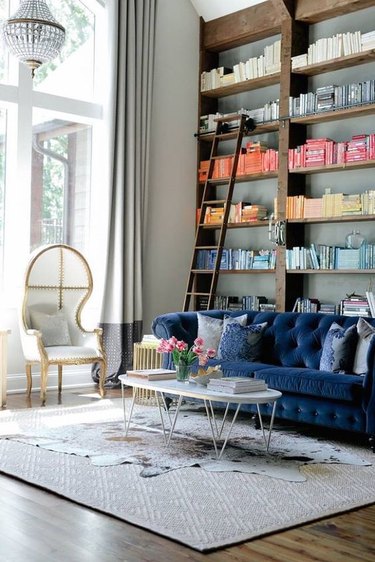 This color-coded library makes a grand statement with its rainbow effect of books, which cleverly blends into the same color as the sofa below. And since all of the other accessories in the room are muted, the colors of the meticulously arranged books really pop.
An Eclectic Arrangement
The simple wood shelves of this library provide a laid-back foundation to show off a growing collection of books, art, and accent pieces. Gold accents help give this monochromatic look a glam finish, too!