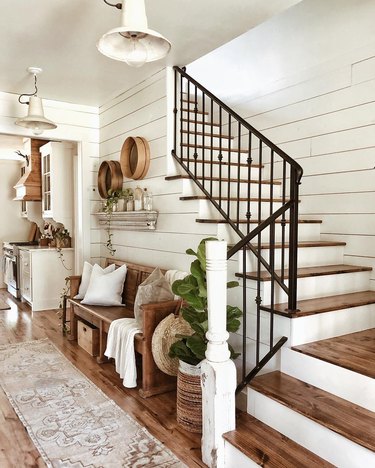 A farmhouse stair railing might not be at the top of your list when refreshing your home, but we think it should be given a higher priority. This small detail can instantly weave country charm into your entryway while bringing aesthetic value to your stairwell. Simply put, it's a way to add a final dose of farmhouse flair to a central fixture in your home.
Feeling inspired? You're not alone. Scroll on for eight ideas to get you started.
1. Go old-school.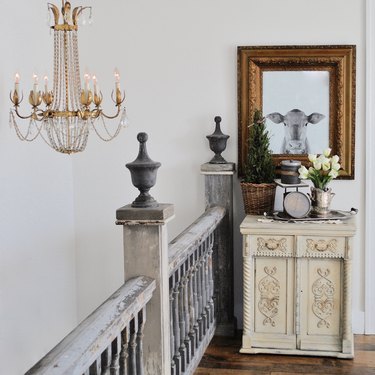 Guess what? You can actually go to a flea market or an architectural salvage yard and purchase an antique farmhouse stair railing to install in your home. We guarantee it will look as unique as the beautifully weathered railing seen in this corner styled by Deb and Danelle of House on Winchester.
2. Subtle geometric shapes add visual interest.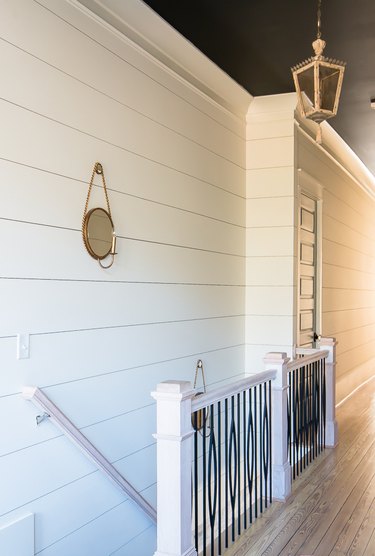 3. Linear black details provide a modern touch.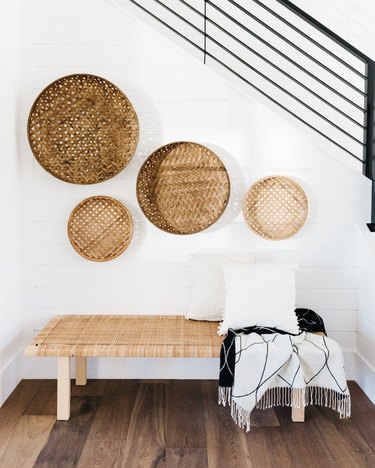 We are all about modern farmhouse style, and what better way to make your stairs look on-trend, than with a black, linear railing? We love the look in this abode designed by the team at Lexi Grace Design.
4. You can't go wrong with a classic.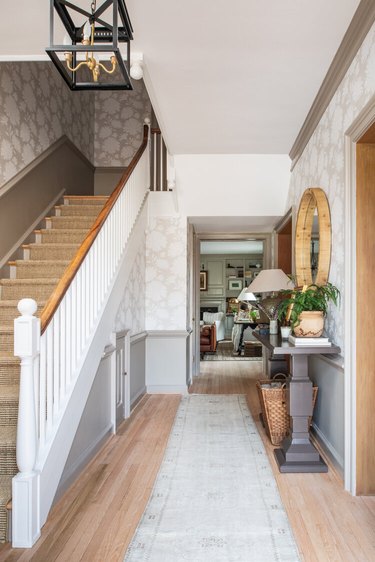 A white farmhouse stair railing with a wood handrail? You literally can't go wrong with this tried-and-true combo. It works in a wide variety of spaces, like this traditional-meets-farmhouse entryway by Alison Giese Interiors.
5. "X" marks the spot.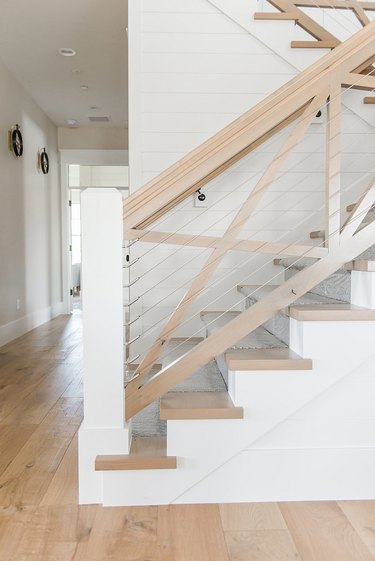 Reminiscent of barn doors, an "X" design for a farmhouse stair railing is a home run. Dressed up in cables to add a dash of industrial flair, this staircase designed by Remedy 2 Design and featured on Home Bunch is perfection.
6. Black and white is an ideal choice.
If you were to ask us to pick two colors that are unmistakably farmhouse, we'd say black and white. They're timeless hues that have worked together since the beginning of time, and your stair railing is no exception. Here, in a home belonging to Jen of Our Haven Bliss, the elegant black and white staircase invites the eyes to linger.
7. Warm wood finishes work flawlessly.
While white tends to be a standard shade for a farmhouse stair railing, we'd like to advocate for a warm wood finish, too. It's just as classic and brings warmth to an otherwise all-white space, which is what Erin and Kirsten of House of Jade Interiors chose for this breezeway.
8. Decorative balusters add to the aesthetics.
While a handrail is practical, the balusters of a staircase really make the visuals shine. The black, decorative, wrought iron design in a home belonging to Jamie of Whitetail Farmhouse add a little something without overwhelming the rest of the farmhouse decor.