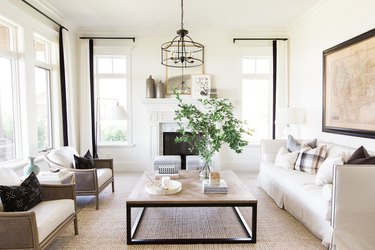 Thanks to Fixer Upper and its darling co-hosts, Chip and Joanna Gaines, the modern farmhouse style is one of the most popular aesthetics in interior design today. If you're looking to add a rustic-chic flair to your own home without doing a complete overhaul, consider adorning your walls with some farmhouse-inspired elements. Here are just a few farmhouse wall decor ideas to incorporate into your home.
1. Add shiplap accents.
Found in barns across the country, shiplap is a smooth wood board that's a staple in farmhouse designs. Install a row of white-painted planks as an accent wall for a subtle farmhouse touch.
2. Enlarge and brighten up a space with rustic mirrors.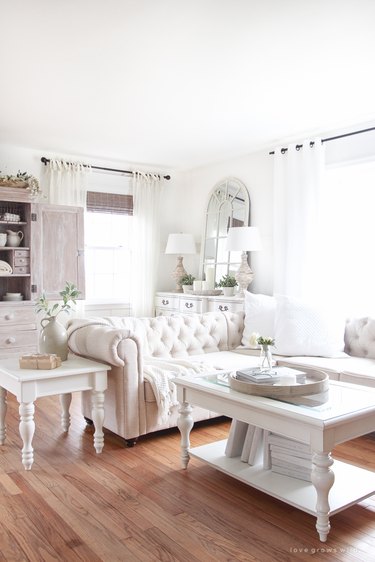 Everything about farmhouse-style decor is bright and airy, and you can maximize those qualities by using mirrors on your walls. If you can find one with a rustic-style frame — perhaps an old, repurposed window frame — that'll double the farmhouse vibes.
3. Hang decorative baskets.
A handmade aesthetic is firmly tied into farmhouse style — opt to hang decorative baskets for a handcrafted touch. They can also double as shelving for plants.
4. Focus on nature when selecting artwork.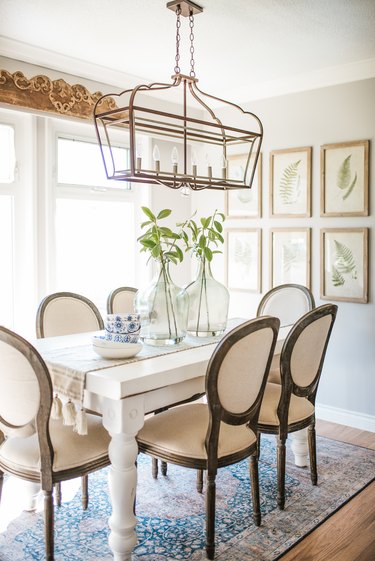 Choose art that has a natural theme to capture the essence of farm life. You can choose between black-and-white photographs, vintage landscape paintings, or even framed pressed flowers — anything goes, so long as it brings nature indoors.
5. Add a reclaimed wooden coat rack.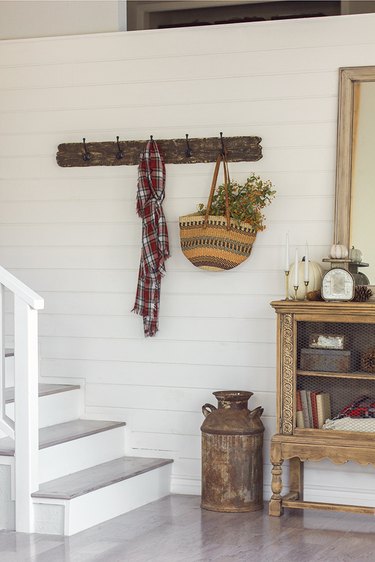 Something as simple as a small rustic addition to an entryway can make an impact. For this project, Jenna Sue took an extra wooden beam from another project and transformed it into a farmhouse-chic coat rack.
6. Display antique clocks.
We love the idea of using clocks as decor — combine multiple timepieces with different styles for a fun display.
7. Style a wreath.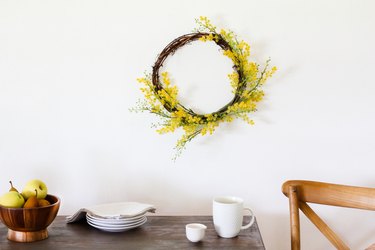 Farmhouses are often filled with fresh florals plucked from the garden. Though you might not have your own garden to supply a fresh bouquet, consider hanging a wreath to bring nature in. Change it out with the seasons to keep it interesting.
8. Install a textile wall hanging.
Lean into crafts with a textile wall hanging, which is a great way to add pattern, color, and texture to a minimalist farmhouse-style space.
9. Find a new purpose for an old door frame.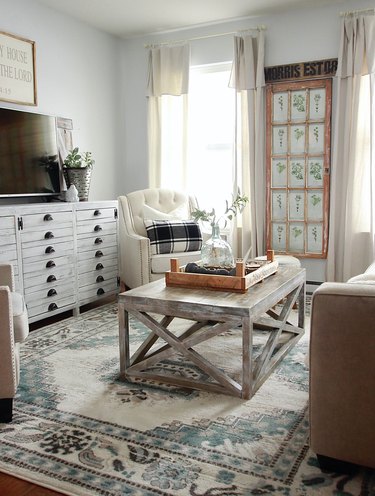 Farmhouse really lends itself to reusing and upcycling materials. Case in point: this door frame reimagined as a way to frame art. We love the way it turns an otherwise boring, small area of wall space into an eye-catching feature.
---
Stefanie is a New York–based writer and editor. She has served on the editorial staffs of Architectural Digest, ARTnews, and Oyster.com, a TripAdvisor company, before setting out on her own as a freelancer. Her beats include architecture, design, art, travel, science, and history, and her words have appeared in Architectural Digest, Condé Nast Traveler, Popular Science, Mental Floss, Galerie, Jetsetter, and History.com, among others. In another life, she'd be a real estate broker since she loves searching for apartments and homes.
View Work