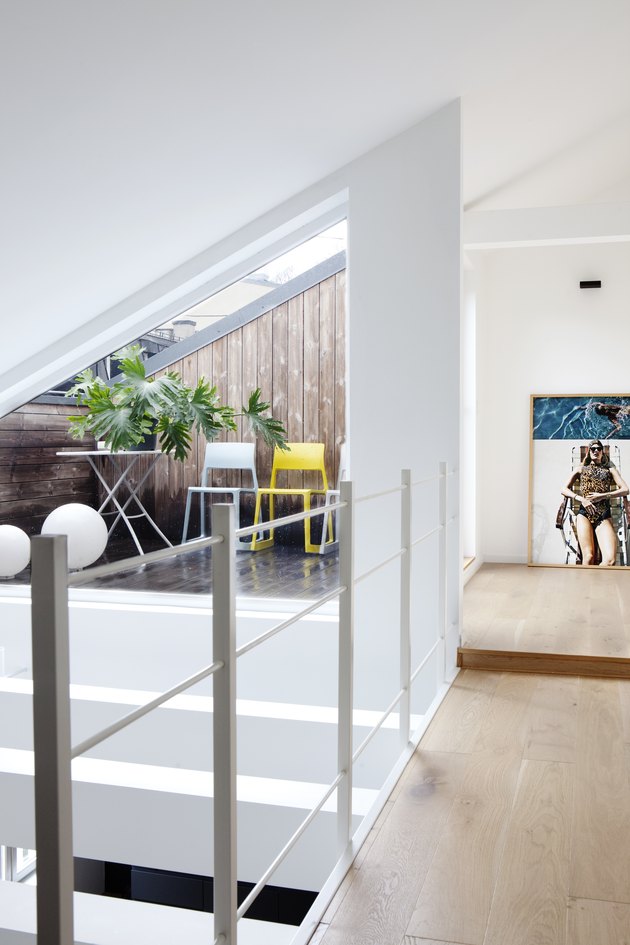 When a couple in Oslo moved in together, they did more than combine two lives — they also combined two spaces. One half of the pair had been living in an apartment in a 19th-century building in central Oslo, and when his girlfriend moved in, they took the opportunity to purchase the loft space above. "They wanted to turn the place from a one floor bachelor pad to family duplex," says Nikki Butenschøn of Haptic Architects.
"They wanted an overall Scandi feel to it," says Butenschøn. "Lots of daylight, light materials, and as few walls as possible." The firm worked to unify the two levels, connecting them with a striking staircase that became the centerpiece of the apartment. Part of the upper area was used to create a double-height dining area, adding to the bright, airy feel of the apartment. The architects also played with level changes to make the space more dynamic. The end result is a modern take on Scandinavian style and a fresh space for a newly cohabitating couple.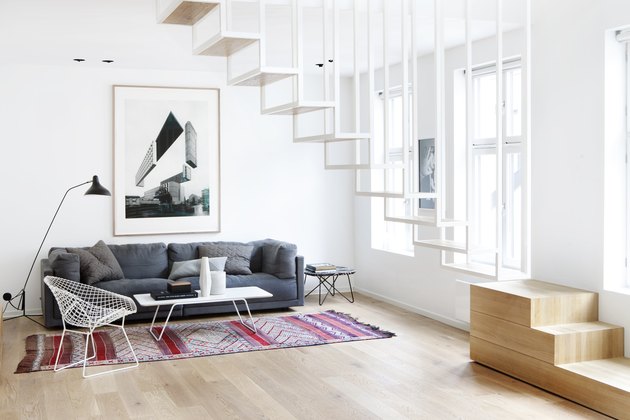 1 of 8
Living Room
The white powder-coated steel staircase connects to a built-in seating area and separates the living and dining areas without blocking light. White walls and pale wood floors add to the Scandinavian aesthetic.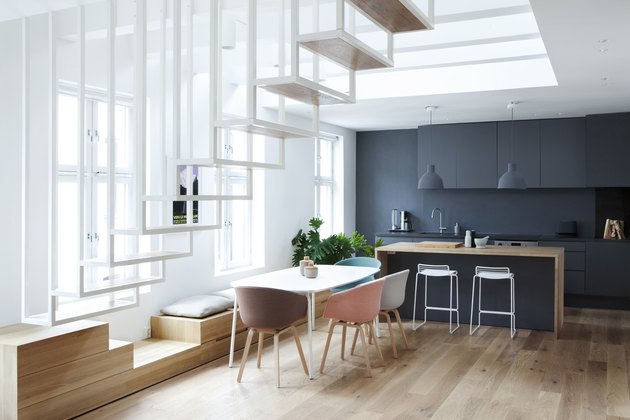 2 of 8
Dining Area
The space above the dining area was left open to let light flow in from a glass-walled terrace above. Colorful chairs surround a minimalist dining table.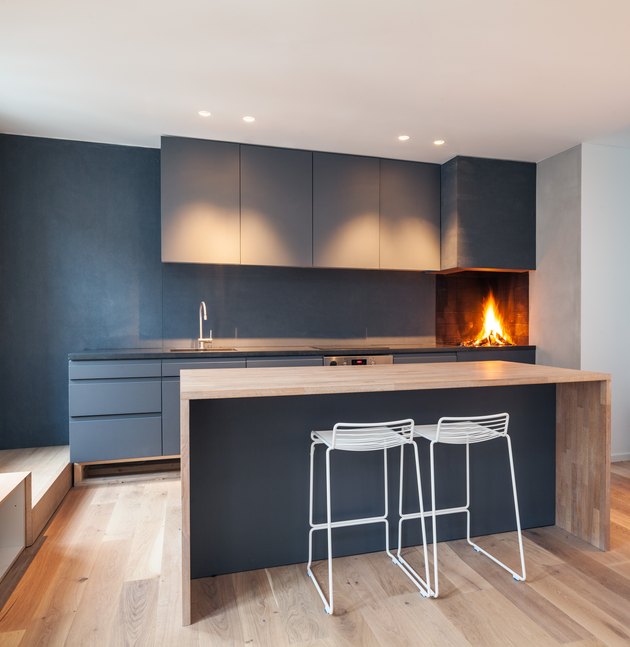 3 of 8
Kitchen
The previously cramped and inefficient kitchen was moved into the common area, creating an open and social space that's perfect for entertaining. Dark walls and cabinetry add contrast to the bright room.
4 of 8
Fireplace
A fireplace was integrated into the corner of the kitchen and inspired the color of the cabinets.
5 of 8
Landing
A small glass-walled terrace was incorporated into the upper level. The minimalist railing lets light flow between floors.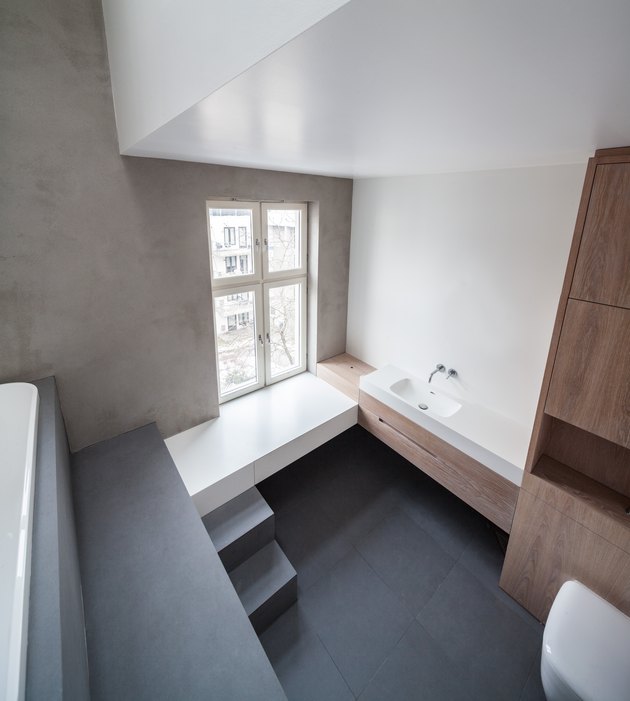 6 of 8
Bathroom
The architects used found space to devise the multilevel master bathroom. The dark stone echos the dark walls and cabinetry of the kitchen.
7 of 8
Bathroom
The firm wanted to make the bathroom look like it had been carved out of a single piece of stone. The upper level is outfitted with a soaking tub and open shower.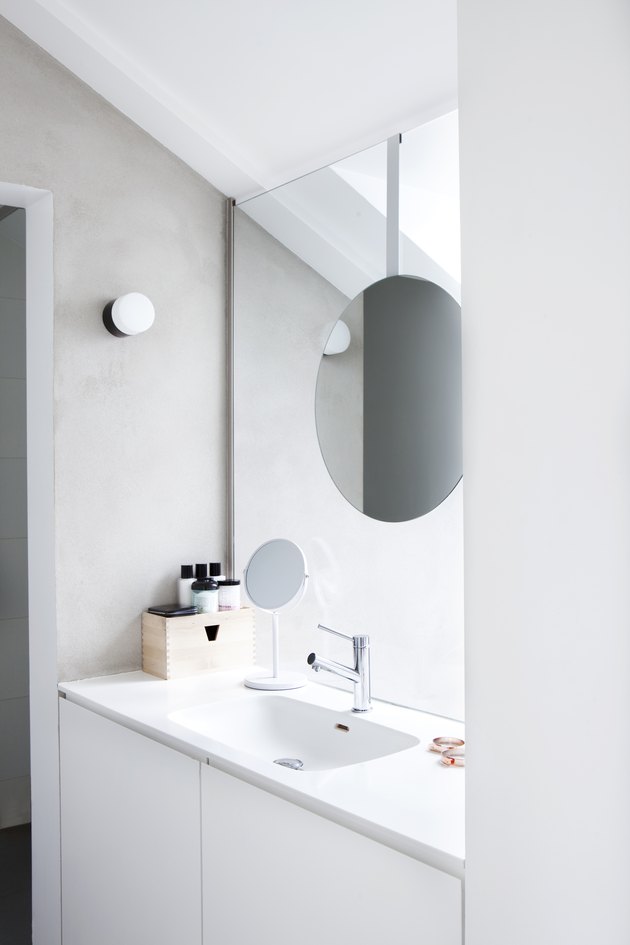 8 of 8
Bathroom
A bathroom on the upper level overlooks the master bathroom.
---
Elizabeth Stamp is a freelance writer in Los Angeles. Her work has appeared in Architectural Digest, Elle Decor, and CNN Style.
View Work