Decorating a home is never easy, but the challenge gets even harder when you consider how many "dead zones" there are throughout your space. From the cubby-like corner under your staircase to the blank wall above a living room bookshelf, these areas can create style dilemmas that don't usually come with easy answers — until now. We've rounded up nine ideas for all of those hard-to-decorate locales that will turn these otherwise empty spaces into stylish and functional additions. Soon every inch of your address will look like a cohesive part of your design.
Turn Your Staircase Landing Into a Library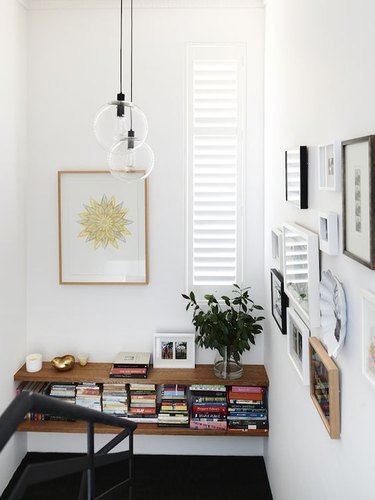 Turn a blank staircase landing into a cool transitional space by outfitting it with a horizontal bookshelf and eye-catching artwork. The floating bookshelf in this home featured on The Design Files makes the area look larger by keeping the floor exposed underneath.
Make Your Staircase Nook a Small Home Office
This modern home featured in the Danish publication ALT utilizes the overlooked nook under the stairs as an inviting work space. Since the desk is visible from the main living area, you'll want to keep things tidy — look for something with a drawer that you can use to store away papers when you're done for the day.
Incorporate Storage Into a Living Room's Gallery Wall
The big blank wall behind your television can be an especially tricky spot to style. One solution? A gallery wall and storage space. Fill in the area with uniform prints, and then add a simple bookshelf that picks up on the photos' colors. This room by Homey Oh My features the largest piece of art just slightly behind the television to make it appear like it's a part of the look, too.
Fill an Empty Corner With Floating Shelves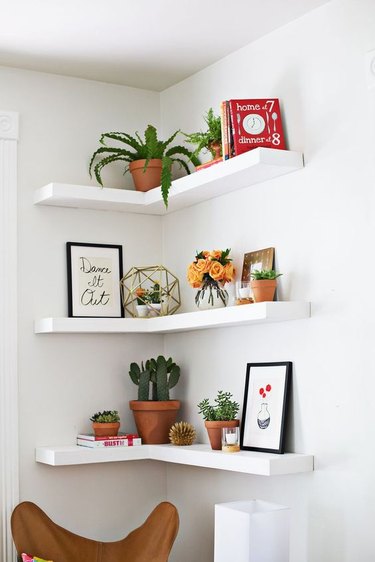 Gain a few extra feet of storage and style in an empty corner by going vertical. These chunky floating shelves seen on A Beautiful Mess are painted the same color as the wall, which allows these details to fit in seamlessly. Be sure to add pieces that speak to your personality!
Transition a Patio Window Into a Poolside Bar
Step up your patio game by adding a countertop and a few barstools to a window adjoining the back of your house, just like in this project by Three Birds Renovations. This typically unused area of your home will easily become the hub of your outdoor entertaining.
Use a Staircase Ledge to Showcase Greenery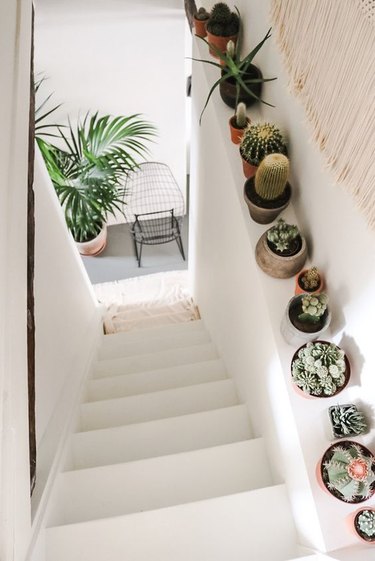 The slim edge along your staircase is just the right size to hold your cacti collection, as seen in this bohemian dream home of The Life Traveller. Cacti are ideal for this look, since they don't require a ton of water, light, or upkeep. It's an easy upgrade!
Add a Sitting Area to the End of a Hallway
There's never enough space at the end of the hallway, but it still has potential to be stylish and functional. Opt for a slim bench and lumbar pillow in a color and print that flows with the rest of your decor. This hallway, as styled by Z Design, also uses a mirror to brighten the area.
Style an Unused Attic Into an Airy Bedroom
Instead of using your attic to store a bunch of dusty boxes, turn it into an extra bedroom that your guests will be more than happy to sleep in. Take notes from this airy inspiration by Adventures in Cooking and use this room's quirky slanted ceilings to your advantage: reclaimed wood beams will add warmth and texture to the look.
Accessorize the Very Top of a Bookshelf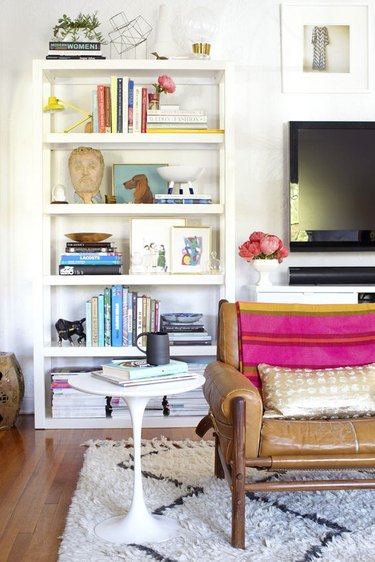 It can be tough to figure out how to style your bookshelves if there's still a lot of space between them and the ceiling. Thankfully, this living room designed by Emily Henderson gives you a great solution by treating the top of a bookshelf as an extension of the other shelves. By carrying the modern mix of books and accessories to the top shelf, the entire bookcase looks taller and makes the design seem more complete.