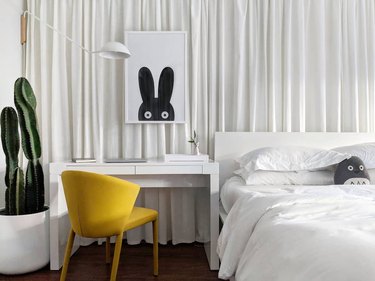 Creating distinct zones in an open layout is never easy. That's why it pays to know what kinds of furniture and decor items can double as room dividers inside a large, uninterrupted space.
To help you make the most of your open layout apartment, we called on some of our interior designer friends for their unexpectedly chic and savvy room divider ideas. From noise-cancelling drapes to tall plants and more, here are eight surprising ways to divide a room in style.
1. Use decor accents to separate an open living-dining area.
"If your living and dining area is one large open space, make it feel like two separate rooms with rugs and lighting," says Jessica Davis of Nest Studio. "Rugs can create an outline for a distinct living room area while overhead lighting, like a chandelier, can anchor and define a dining space."
2. Employ a tall plant to section off a space.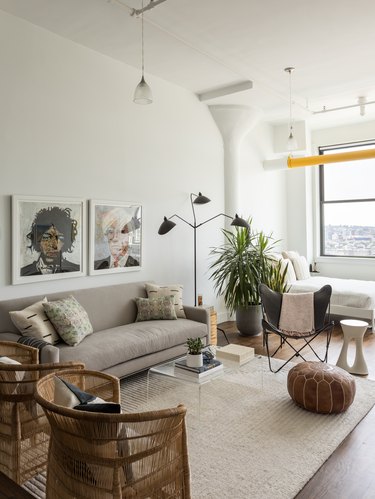 "I like to use plants to separate an open layout because it does the trick without looking contrived," says Jess Blumberg of Dale Blumberg Interiors. "Plus, both spaces get to reap the benefits of the feel-good vibes that the greenery adds."
3. Lay down different rugs to create intimate zones.
"I'm a firm believer in using rugs to demarcate open concept spaces," says Becky Shea of Becky Shea Design. "This method creates little rooms within a bigger room and establishes intimate zones inside a large and spread-out space."
4. Use furniture to separate a space.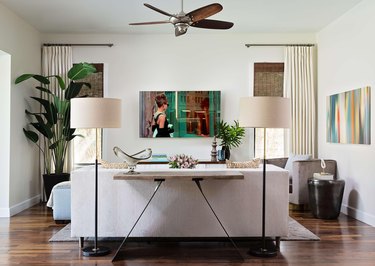 "A sofa or console tables are great to visually divide two spaces while also providing the perfect spot to display your favorite objects," says John McClain of John McClain Design. "I also like to flank the console table with floor lamps to provide lighting for the space and they also add a slightly taller visual separation."
5. Create a visual end point.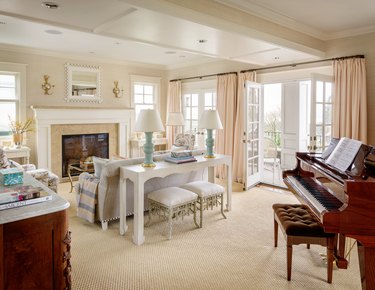 "A sofa with a console behind it can easily divide up a room without being obvious," says Melissa Warner Rothblum of Massucco Warner Interior Design. "The console helps give the sofa seating arrangement an ending point, and welcomes in the next seating arrangement."
6. Set up a screen.
"A beautiful painted screen is a really unique way to divvy up an open layout space," says designer Ariel Okin. "They come in all shapes and sizes and can add not only a visual delineation to a room, but also some unique color and pattern."
7. Frame your furniture with rugs.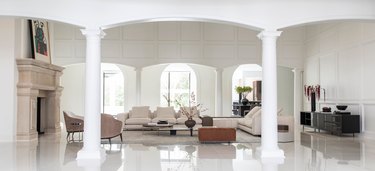 "One unexpected way to divide an open space is to place an area rug or a couple of area rugs and frame the furniture around it while keeping the area between the spaces open," says Nina Magon of Contour Interior Design. "This way, you are creating two separate seating areas without blocking one from the other."
8. Use drapes to carve out a sleeping nook.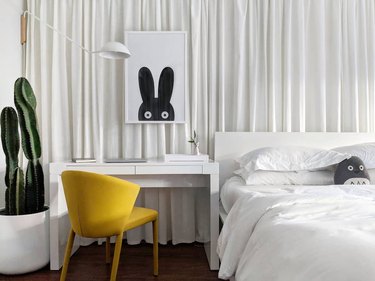 "Drapes are a lovely way to divide up an open space," says designer Crystal Sinclair. "Not only can they designate a sleeping area in a large room, they're wonderful acoustic softeners—aka noise-blockers—as well."
---
Caroline Biggs is a writer living in New York City. Her work has appeared in The New York Times, Apartment Therapy, Refinery 29, and more.