When gathering closet door ideas for bedrooms, you could always go the safe route and choose the tried-and-true, found-at-a-hardware-store option — wood, a standard doorknob, and maybe a slight sheen if you want to push the boundaries a bit. While we're all for traditional design, there are times when a little risk pays off.
"How?" you might ask. Though it might not seem like it, a closet door is an amazing way to show off your distinctive style. By selecting doors with ornate details, unexpected textures, or a vibrant hue, these fixtures will work double duty as an art piece, infusing a jolt of creativity. We also applaud clean, classic lines and neutral shades, too.
From DIY doors to knobs and colors that are sure to stand out, here are seven closet door ideas for bedrooms that are guaranteed to give your sleeping quarters a boost.
1. Modern and Neutral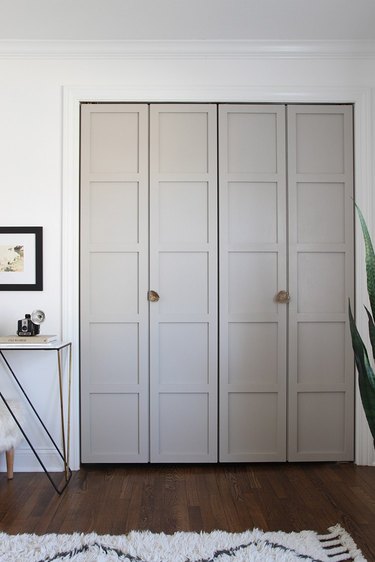 If you've been searching for closet door ideas for bedrooms and have come to the conclusion that you'd rather update the ones you already have, look no further than a quart or two of paint and brand-new knobs. For instance, Sarah of Room for Tuesday covered her existing doors in a fresh coat of paint and installed swanky new door pulls. We really dig the agate option that she selected.
2. Cool and Textured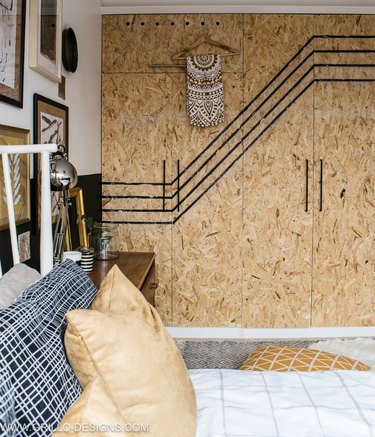 There are very few rules nowadays when it comes to design (and sometimes, you can even throw those rules out). So if you're drawn to an unexpected material for your closet doors, we say go with it. Medina of Grillo Designs chose unfinished oriented strand board (OSB) to construct her closet doors and then added black washi tape for a striped design. Everything comes together for a one-of-a-kind look.
3. Moody and Monochromatic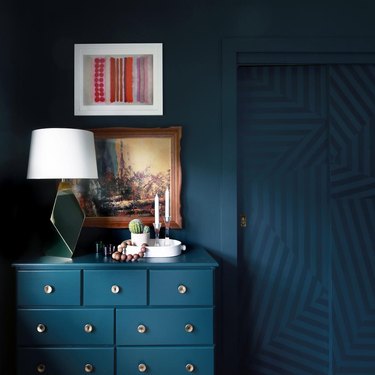 Monochrome continues to permeate modern spaces, and this bedroom styled by Kristin of Hunted Interior is an example of the trend executed flawlessly. She chose a deep navy for her walls and dresser and also painted her geometric-patterned closet doors in the same shade. The effect really dials up the drama in this bedroom.
4. Sleek and Streamlined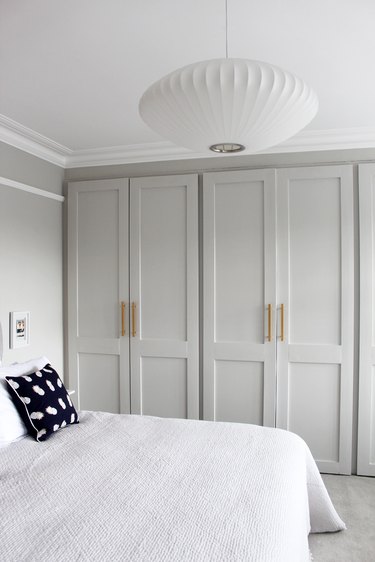 Perhaps you're not all about the punchy, patterned closet door ideas for bedrooms. In this case, may we suggest light-colored paint and a linear design? In this boudoir belonging to Anneli Bush, the polished gray closet doors fade into the wall, achieving an attractive aesthetic that doesn't compete with the rest of the room.
5. Classic and Dramatic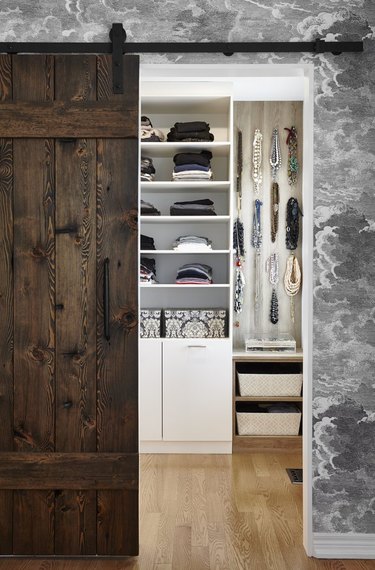 For a farmhouse look with a twist, consider pairing a sliding barn door with striking wallpaper. In this bedroom designed by the team at Square Footage Inc., billowing cloud wallpaper matches up beautifully with the dark wood closet door and iron hardware.
6. Stylish and Simple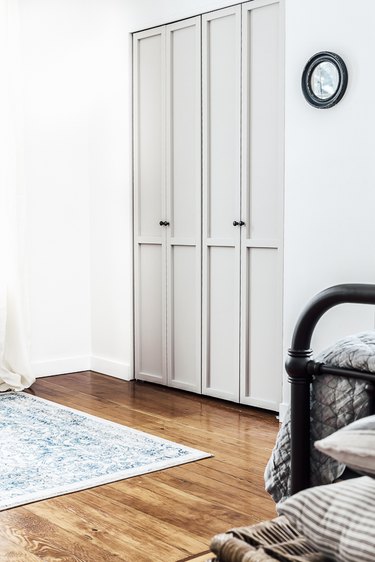 Perhaps all your bedroom needs is a pair of bi-fold closet doors in an ideal shade of greige. For an unfussy option that we think still looks gorgeous, get inspired by these doors in a space belonging to Sarah of She Holds Dearly. The contemporary look in a mushroom hue makes this room even more exquisite.
7. Pretty and Pink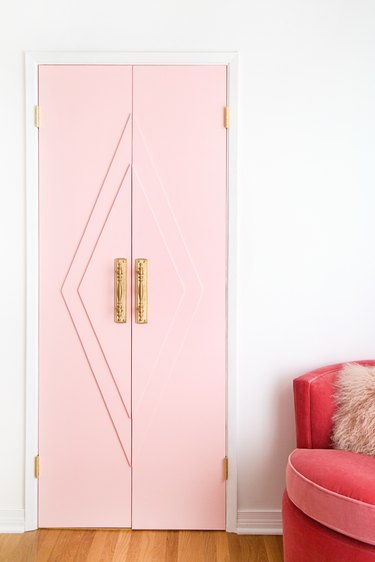 We love it when someone chooses a color that's totally and completely unexpected, like painting a pair of closet doors in a lovely shade of pink. That's what Kelly of Studio DIY did in this space, and the effect is positively charming. The geometric accent plus gold hardware also make these French doors sing.